The El Dorado Rotary Club met Monday, hosting Dr. David Montague and Paige Bowers, co-authors of "Overnight Code - The Life of Raye Montague, the Woman Who Revolutionized Naval Engineering."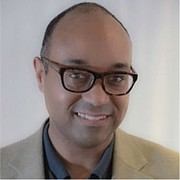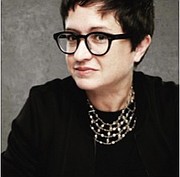 Raye Montague, David Montague's mother, could be classified as another "hidden figure" whose work in the field of engineering went largely unrecognized until recently. She developed code that allowed the United States Navy to do design and drafting work for ship building on a computer, instead of entirely by hand, and used the technology to become the first person to use a computer to design a ship.
"She revolutionized how the U.S. Navy designed naval warships. Prior to what she did in the 1970s, the process took about two years," David Montague said Monday.
David Montague and Bowers' book is titled "Overnight Code" because the code Raye Montague developed shortened the drafting and design process to 18 hours and 26 minutes, so that it could be started during an overnight shift at the Navy facility she worked for, Bowers explained.
"If an Admiral came in and said we needed to have two more people on this ship … it meant you had to redraw the entire thing, recalculate the entire thing," Bowers said. "After World War II, the ships that were in the U.S., they were very dated. … At the time, the Soviet Union was in a Cold War with the U.S. and their ships were up-to-date, there were more of them, so this tension after the war is one of the many things that shaped Raye Montague's life."
In fact, Raye Montague decided at the age of 7 that she wanted to be an engineer when she grew up.
A mini-submarine that had been used in the attack on Pearl Harbor and captured by the U.S. was being toured around the country as the military tried to raise money for war bonds, Bowers said. Raye Montague's grandfather took her to see it one fall day.
"She remembered descending the stairs into that mini-submarine and she remembered that it smelled like sweat. … Not being one for playing with dolls, she saw all the little dials and switches inside … and her eyes got big and she turned to the white man in the white Navy suit and she said 'Woah! What do you need to learn to do this?'" Bowers said. "And he said 'you need to become an engineer, but you don't need to worry about that, little girl.'"
When Raye Montague returned home to her mother, she told her she had decided to be an engineer when she grew up. Her mother, Flossie, then had to share a lesson she herself had learned; already, at the young age of 7, Raye Montague had three strikes against her achieving the future she was dreaming of: she was Black, she was a girl and she would be attending a segregated school in the South.
"But her mother turned around and told her 'you could be anything you want to be if you get a good education,' and she took Raye down to the library and they looked into what it took to become an engineer," Bowers said. "Where Raye couldn't pursue a degree that other people could … she was able to put together an education that served her as well, if not better, than a conventional degree."
"She caught a glimpse of her future that day," Bowers added.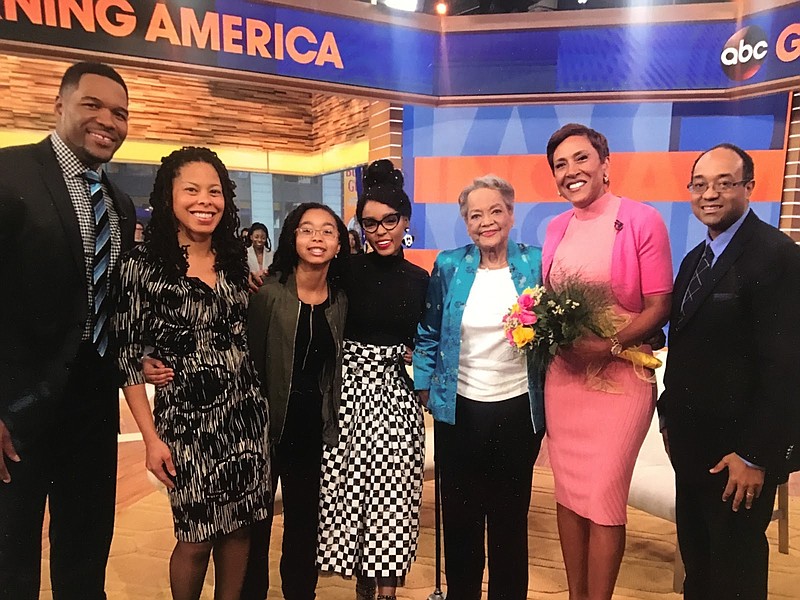 Raye Montague, third from right, and Dr. David Montague, right, pose with the hosts and guests of "Good Morning America" after Raye Montague appeared on the show in 2017. (Contributed)
David Montague explained that by the time his mother graduated high school, there was an engineering course of study available at the University of Arkansas at Fayetteville; however, it wasn't open to Black students.
Instead, he said, his mother attended what is now known as the University of Arkansas at Pine Bluff, where she earned a degree in business administration while also taking all the math and science courses she could.
A few days after she graduated, Raye Montague got on a train to Washington D.C., where she'd have more job opportunities, David Montague said. In 2017, as he travelled with her via train to D.C. where she was due to be honored by the Navy, as they ate in the dining car, she recalled travelling by train as a child, when the dining cars were still segregated.
"The porters, they befriended her when she was a child and they'd sneak her into the dining car to let her eat," he said. "When we went up there by train to be honored by the Navy in 2017, I took her over to the dining car to have a meal and she started smiling and laughing and said 'this is the first time I've ever legitimately eaten in a dining car in my life.' She was in her 80s."
When Raye Montague first took a job with the Navy, she did a little bit of bluffing, Bowers said. While she'd seen computers before, she'd never used one; however, after figuring the machine out, she began training other workers on it.
Soon, she saw white men being promoted above her and getting raises before her, despite her having trained them. Her boss explained that it was because they had cars and could drive to work the overnight shifts at the Navy facility, Bowers said.
That night, Raye Montague bought a car, and then she volunteered for a month of midnight shifts. When the dayshift made their way in in the mornings, she'd stick around for a couple of hours to help them set up — and also to wait out the morning traffic.
Eventually, during a visit to Little Rock, Raye Montague was able to practice driving on the familiar streets of home in her mother's car. While there, she got a drivers' permit, which was honored upon her return to D.C. When she showed off her license to her co-workers, her boss, surprised that she hadn't known to drive during that month of midnight shifts, promoted her on the spot, and with that came her raise.
Raye Montague eventually became the first female program manager of ships for the U.S. Navy. She was honored with the Meritorious Civilian Service Award by the Navy in 1972; the Society of Manufacturing Engineers Achievement Award in 1978; and was inducted into the Arkansas Black Hall of Fame in 2018. She died that same year.
Some of the ships Raye Montague designed are still in use today, David Montague said. Her career ended after 33 years with the Navy, her only employer, coming full circle as the last vessel she designed was a submarine.
"She really didn't think people would be interested in a book about her," David Montague said. "I think that what's interesting, is that she used all that platform to inspire others, to pull people up, to open doors. She always believed in professional development. She never used the challenges against her to be bitter."
After retirement, Raye Montague continued to give speeches, teach and encourage other girls and women to pursue their dreams. David Montague said seeing the emphasis that exists now on getting girls and women into STEM (Science, Technology, Engineering and Math) fields was gratifying to her.
"She just couldn't believe it, to go from a point where girls in school were not allowed to take shop — they had to take home economics … to now being on the opposite end of that, where you have actual institutional academic programming to encourage academic and career options (for women and girls)," he said.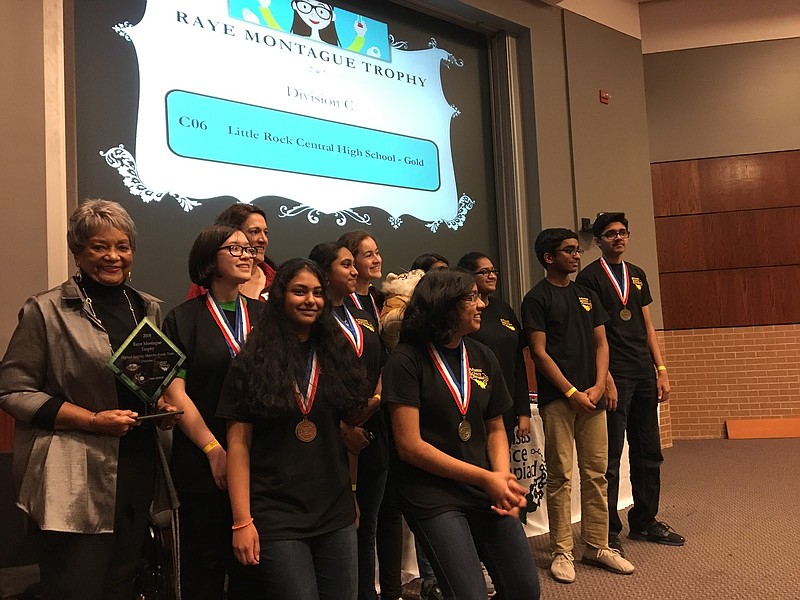 Raye Montague holds the trophy named after her at a recent Arkansas State Science Olympiad Tournament. (Contributed)
"Until she literally could not physically do it any more, she used every ounce of energy she had to inspire people, to encourage people," he added. "I've had people coming to me for years, even during the pandemic, saying 'I met your mother at this event or here or there and I went back to school because of her.' … The legacy of this continues. She used this notoriety not just as a way to smell her flowers as she was living, but to make sure that she could impact others."
Bowers noted that Monday was International Women's Day, and said she couldn't think of a better way to celebrate than by recognizing Raye Montague's pioneering work and dedication to others.
"This is sort of a portrait of a very special person who was not willing to just sit there and take it," she said. "She thought her story didn't matter, and it absolutely did. Today is International Women's Day; what better way to celebrate than to talk about David's mother and her contributions to engineering and her community, in her backyard and beyond."
"Overnight Code - The Life of Raye Montague, the Woman Who Revolutionized Naval Engineering" is available at major bookstores and from online retailers. The El Dorado Rotary Club meets every other Monday at noon.