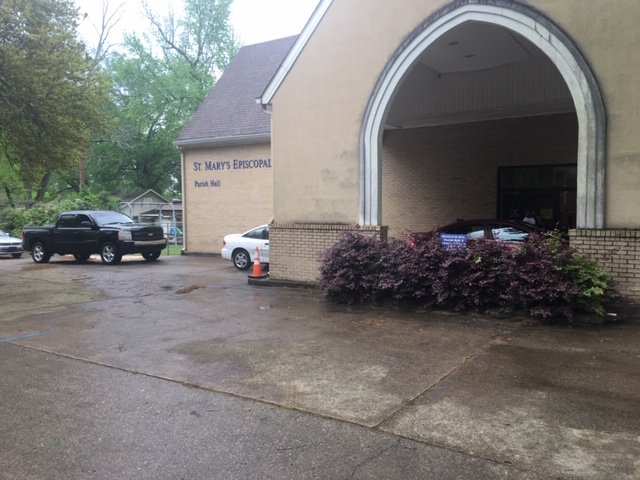 In this file photo, Union County residents receive food donations from the Interfaith Help Services at St. Mary's Episcopal Church.
Gina Mitchell, president of the Interfaith Help Service Board of Directors, spoke Monday at a meeting of the El Dorado Rotary Club.
The meeting was held over Zoom as Rotary's meetings will continue to be through February due to the rise in local COVID-19 cases.
Mitchell spoke about the IHS food pantry and other services provided by the organization, such as utility help and occasional assistance with medical bills.
"We try to assist the residents of Union County with our food pantry," Mitchell said, explaining that it is the primary avenue of giving utilized by the IHS currently. "And we assist people with utility bills; we have assisted with emergency dental care; with travel expenses — when people have out of town doctor's appointments —; … and we have assisted with prescriptions."
IHS, which is funded by local churches and donations from individuals, local groups and grants, has been giving back to the community for 30 years, Mitchell said.
When local businesses were shut down for a period last year due to the COVID-19 pandemic, the IHS modified its services to focus on the food pantry, starting in March, when the first local cases of the virus were identified.
"We have changed our organization and our operation procedures drastically since March. When we heard that everything was shutting down in March … we discussed the plans for IHS," Mitchell said. "We wanted to continue to assist people, especially with food, but we just had to make a plan for the best way to do that."
Before the pandemic, Union County residents could receive food from the food pantry once every three months and utility assistance once every six months. Once the pandemic began, the IHS threw its focus into the food pantry, Mitchell said, and suspended utility assistance until June. They now provide food to clients every two weeks.
"We anticipated the need for food would be greatest during the shutdown," Mitchell said. "We wanted to put all our funds into the purchase of food."
The IHS makes monthly orders from the Arkansas Food Bank, which Mitchell says allows the organization to re-supply its pantry at a lower cost than they'd be able to if they purchased from grocery stores. When food runs out before the month is over, the IHS is able to make additional orders, sometimes travelling to a food warehouse in Warren to pick up the additional items.
Local and state organizations have also contributed to the IHS' food stores. Members of the Cooking Together group, made up of local men and women, some of whom are members at St. Mary's, have started making casseroles and soups in small groups or individually after disbanding for a period due to COVID restrictions.
Additionally, Mitchell said the IHS recently received a donation of frozen ground venison from Hunters Feed Arkansas. The IHS also received fresh produce and dairy products through the Farmers to Families program, sponsored by the United States Department of Agriculture, through 2020.
"We were the recipient of about 200 pounds of frozen venison last week, so that was a nice addition to give out to our clients," Mitchell said. "(And) because farmers were having less opportunities to sell their produce, they partnered with the government and the food was packaged and given out to food pantries … That was something we got for free. It had some fresh produce, dairy. That was a supplemental thing the food banks got and passed on to us."
From March through December 2020, the IHS distributed 4,687 bags of food in four-day-a-week drive-throughs at St. Mary's Episcopal Church, where the IHS office and pantry are housed. Mitchell said that while IHS volunteers, who make up all of the organization's staff, initially expected the pandemic to last maybe three months, they are prepared to continue the regular drive-throughs as long as is necessary.
"We plan to continue this drive-through food distribution just as long as it's necessary, as long as the pandemic continues," Mitchell said.
Mitchell said while the need was great when businesses were shut down across the state, she has actually noticed a steady increase in demand for food from the pantry as the pandemic has stretched on. She estimated that the IHS distributed about 500 bags of food last March, while they gave out 677 in December.
"We have seen a gradual increase in the demand. A lot of the people that come are coming every two weeks as they're eligible," Mitchell said. "It's remained steady, but a steady increase as we approached the end of the year. I don't anticipate it slacking up any time soon."
Nine local churches — St. Mary's, Holy Redeemer, First Baptist, First United Methodist, First Presbyterian, CrossLife, East Faulkner Church of Christ, Faith Lutheran and Faith Community Church — are members of IHS. Other local churches help out as well, Mitchell said, and some serve the same clients the IHS does at their own food pantries, like St. Paul's Methodist Church.
Mitchell noted that while utility shut-offs were suspended for a period, many people now have outsize utility bills, some upwards of $1,000. The IHS has resumed utility assistance and can provide a maximum of $50 towards clients' bills once every six months, she said.
"Some of the people who come in to ask for help have bills well over $1,000. I don't know how they'll catch up," she said.
The IHS has an office at St. Mary's. To donate, one can send a check addressed to the IHS to 512 Champagnolle Road, Mitchell said.
Drive-through food distribution is held Monday through Thursday at St. Mary's from 10 a.m. to noon.
Sponsor Content
Comments