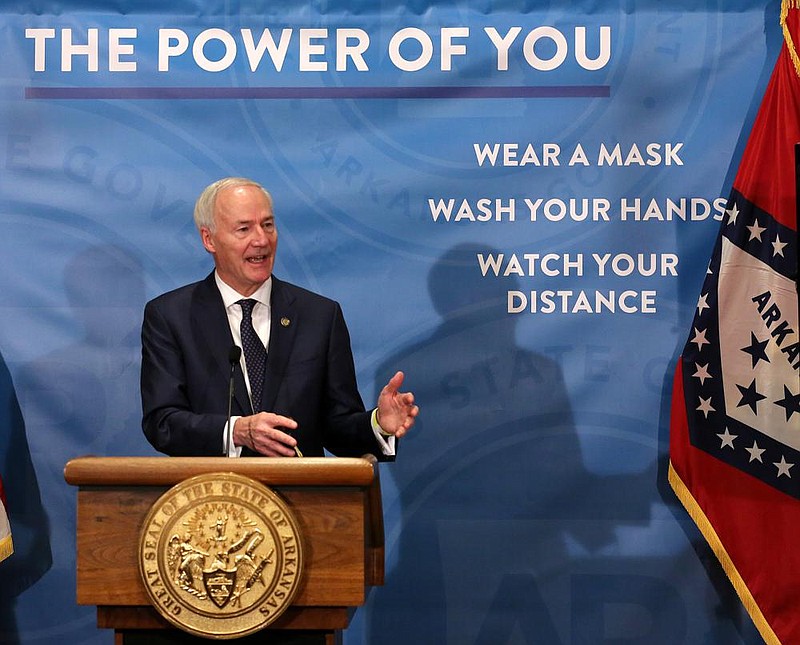 Gov. Asa Hutchinson answers a question during the weekly COVID-19 press conference on Tuesday, Jan. 5,, at the state Capitol in Little Rock. (Arkansas Democrat-Gazette/Thomas Metthe)
Seven new COVID-19 cases were reported in Union County by the Arkansas Department of Health Tuesday, bringing the cumulative total of cases identified in the county to 2,584. Confirmed cases in the county increased by two to reach 1,999 and five probable cases were added to make 585.
The United States Centers for Disease Control considers positive results from PCR (polymerase chain reaction) tests to be confirmed cases and positive results from antigen (rapid) tests to be probable cases.
Local active cases dropped to 287, a decrease of 29 from Monday; they represented 11.1% of all the cases identified in the county and included 246 confirmed cases and 41 probable cases. There were 2,224 Union County residents considered recovered from the virus Tuesday, up 36 from Monday.
No new local deaths attributable to COVID-19 were reported Tuesday. In 2020, 73 Union County residents died as a result of the virus. There were 206 people hospitalized, including 77 in intensive care units and 36 in on ventilator support, in the Southwest hospital region of the state, where Union County sits, on Tuesday.
The ADH reported 148 new negative test results returned from Union County Tuesday. In all, 21,696 COVID-19 test results have returned from Union County, including 19,112 negatives, indicating an overall local positivity rate of 11.9%.
Gov. Asa Hutchinson reported 4,107 new COVID-19 cases in the state Tuesday during his weekly update on the virus. The cumulative total of cases in Arkansas rose to 238,888. The cases in the state were comprised of 195,930 confirmed cases, up 2,275 from Monday, and 42,958 probable cases, up 1,832 from Monday.
Hutchinson dedicated the bulk of his update Tuesday to an overview of the state's plans for distributing and administering COVID vaccines. He explained that Arkansas is currently in Phase 1-A of vaccine distribution, which will cover about 180,000 health care workers, first responders and nursing home residents and workers. He said his goal is to see Phase 1-A completed by the end of the month and noted that the state's plan to vaccinate first responders in the first round represents a modification from CDC guidance.
"We believe that they should stay in 1-A because they are putting themselves at risk," he explained.
In Phase 1-B, those age 70 or older will be eligible for vaccinations, as will frontline workers like teachers, food and agricultural workers, manufacturing workers, grocery store workers, public transit workers, child care workers, United States Postal Service workers, essential government workers and police and firefighters that are not included in Phase 1-A. Hutchinson said this second round will vaccinate about 400,000 people, and he hopes to see it completed in 60 days.
Phase 1-C will cover people 65 to 69 years old, as well as those 16 or older with high-risk medical conditions. Also included are essential workers in fields including transportation and logistics, water and wastewater, food service, shelter and housing, public safety, finance, IT and communications, energy, media and public health.
"It's necessary to have these priorities simply because we have a limited number of doses and our supply chain is limited. As it (vaccines) comes in, we'll be able to move more quickly through these different categories," Hutchinson said.
He also noted that depending on the acceptance rate of the vaccine, the opinion of the state's medical advisers and other data, some of the priority groups for Phases 1-B and 1-C could shift. Phase 1-C is currently scheduled to begin in April.
Hutchinson said the state has thus far been allocated 134,425 vaccine doses for health care workers, 28.2% of which has already been administered, as well as 24,700 vaccine doses for nursing home residents and workers, 5.4% of which has been administered. John Vinson, CEO of the Arkansas Pharmacists Association, said he is pleased the state is utilizing private entities to assist with vaccine distribution.
"Our profession is excited about this week. We want to reassure the public in the state of Arkansas, our pharmacists and their teams are ready to begin vaccinations this week," he said. "We're about to bring the heat to this virus. … We're ready now that we have the vaccine to fight back and save lives."
Dr. Cam Patterson, chancellor of the University of Arkansas for Medical Sciences, spoke about hospital resources in the state. He noted that UAMS celebrated the release of their 1,000th recovered COVID patient Monday, and began administering the second dose of vaccines to health care workers there the same day.
However, Patterson highlighted a record number of Arkansans hospitalized due to the virus Tuesday — 1,323 total — as a cause for concern.
"We are stressed, we are strained, but the system is not breaking at the present moment," Patterson said in regard to health care workers.
"We do have finite resources and so we need to be careful as to how we manage those resources and we need to continue to do everything we can as a state to mitigate the consequences of COVID-19 while we wait for the effects of the vaccine to impact us in a positive manner," he added.
Dr. Jose Romero, ADH secretary, further highlighted how critical the COVID situation in Arkansas is becoming.
"These cases will increase. … What we are seeing now is what I and all of us have warned about: that is, a surge on top of a surge," he said. "How much of a second surge we have on top of that first surge is unknown. It's concerning that today we have over 4,000 cases."
Romero said while the state does still have hospital and ventilator capacity, "if we don't guard them carefully, we will exceed the capacity that we do have."
"It is up to each citizen to adhere to the three W's we talk about. This can be slowed down - it cannot be completely stopped at this point - but it is up to each citizen to adhere to this," he said. "This is not an exaggeration … so wearing the mask, social distancing, washing your hands is essential. Avoiding all nonessential (congregation or) joining of individuals is essential or we will have this problem with (hospital) beds in the future."
Further driving the point home was a new backdrop behind the speakers' podium at the update, which is typically held in the state Capitol building, listing the "Three W's" (wear a mask, wash your hands and watch your distance). Hutchinson highlighted it at the start of the update, also drawing attention to the tagline "power of you" across the top of the banner, emphasizing each person's responsibility to help stop the spread of the virus.
Romero also touched on vaccination efforts the state has undergone thus far, noting that only 22 people who have received it in the state have reported side effects, all of which have been minor.
"This vaccine has shown to be safe," he said
Like hospitalizations, active cases in Arkansas also reached a record high Tuesday, with 1,351 cases considered active added to the total, which reached 24,408; they represented 10.2% of all the cases identified in the state and included 16,883 confirmed cases and 7,525 probable cases. There were 210,617 Arkansans considered recovered from the virus Tuesday, up 2,719 from Monday.
The ADH reported the deaths of 36 more Arkansans which resulted form the virus Tuesday, bringing the state's COVID death toll to 3,836, indicating a state COVID mortality rate of 1.6%. As noted, hospitalizations in the state reached a record 1,323 Tuesday, including 426 in ICUs and 224 on ventilator support.
Since the state began testing for COVID-19, 2,366,251 results have returned to the ADH, including 2,119,372 negatives, indicating an overall positivity rate for the state of 10.1%.
At 5:15 p.m. Tuesday, Johns Hopkins University reported 21,007,694 COVID-19 cases in the United States. Data wasn't available then on the number of U.S. residents considered recovered from the virus or the number of active cases in the States. By Tuesday afternoon, 356,540 deaths resulting from COVID-19 had been reported in the U.S., indicating a national COVID mortality rate of 1.7%.
Johns Hopkins reported 86,230,870 COVID-19 cases worldwide Tuesday afternoon. There were 48,378,256 people considered recovered from the virus then, leaving 35,987,347 cases — 41.7% — active around the world. By Tuesday afternoon, 1,865,267 deaths attributable to the virus had been reported, indicating a global COVID mortality rate of 2.2%.
Sponsor Content
Comments