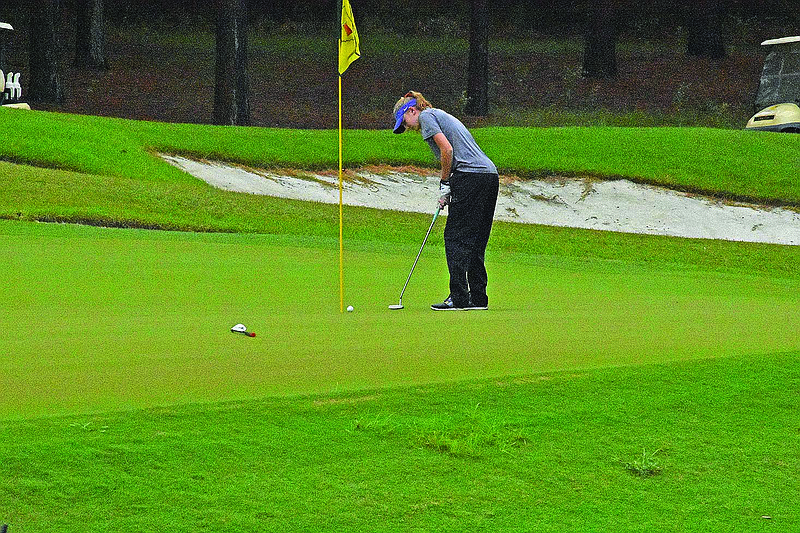 El Dorado's Hope Walthall hits a putt while competing in the conference golf tournament last week at Mystic Creek. The Lady Wildcats will play for the 5A State championship today in Mountain Home. - Photo by Laura Fairris
El Dorado returns the entire team from last year that finished fifth in the 5A State Girls Golf Tournament. The Lady Wildcats, fresh off a conference championship last week, will try to improve on last year's showing in this year's state tournament, which tees off today at Big Creek Golf & Country Club in Mountain Home.
El Dorado coach Chris Ezell has high hopes for this year's squad.
"Our goal is to go out and get a good game plan during the practice round and compete for the state title," said Ezell. "This team has the talent to win the state tournament this week. We just need to go play with confidence and concentrate on playing it one shot at a time. And not get caught up in worrying about the final scores until that last putt drops."
Aubrey Marx, Hope Walthall, Alexa Hulsey and Lani Hammock won last week's tournament at Mystic Creek despite a continuous rain that fell throughout the day. Ezell hopes that grit and determination will carry over.
"The girls really grinded it out in the rain Tuesday to win the conference tournament. Our girls never checked up and took the weather in stride for the most part," he said. "We had a spell where it was really coming down and they seemed determined to complete the round and not stop play. I told them (both girls and boys' teams) how proud I was of the concentration and grit they showed playing in the weather like that. Some kids were ready to give up and others simply gave up. There is a slight chance of rain again on Monday at the state tournament, so the experience would be a plus for us in that situation. We had a couple of matches that it rained on them, so we had a little idea of how to try to maintain dry grips and maintain our focus.
"I don't think anyone at the conference tournament at Mystic Creek that day will forget that experience any time soon. Winning our conference in those conditions will be a lifetime memory for all of us."
The state tournament field could be fairly open. Mountain Home and Greenwood will be contenders, but Ezell believes El Dorado will also be in the hunt.
The Lady Wildcats scheduled a practice round in Mountain Home on Sunday and will compete for the 5A State Championship on Monday.
Sponsor Content
Comments