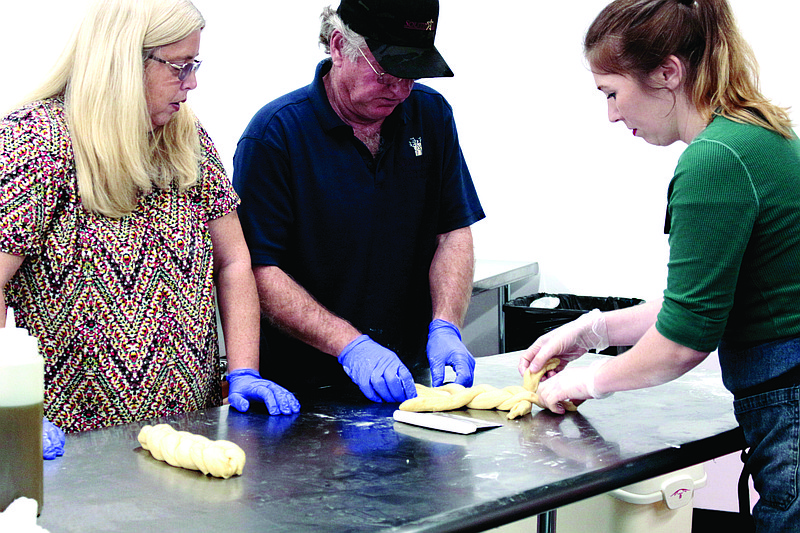 Michael Roberts, center, braids challah dough with the help of Lillian Ellen, director of South Arkansas Community College's Culinary Arts program. Denise Roberts, left, looks on. Ellen hosted a bread baking workshop in January as part of a series of community classes SouthArk offered earlier this year; she will host a Pumpkin Carving and Cooking class on October 10 and a holiday cooking class on October 29. (News-Times/Caitlan Butler)
SouthArk Community College's community education classes are back after hiatus due to COVID-19 and the schedule is filled with a variety of topics and skills to learn about.
"These classes are educational and non-credit based in a relaxed and fun environment. We try to keep them affordable, informative and enjoyable," said SouthArk community education specialist Lisa Antoon.
Antoon said many of the classes are born from requests made by community members. Antoon gauges interest in the class and, with enough interest, attempts to find an instructor.
Particularly frequent requests include computer literacy classes from local senior citizens, according to Antoon.
Two upcoming classes, Basic Microsoft Excel and Quickbooks, are in part a result of those requests.
A Basic Cricut cutting machine class is currently ongoing, taught by Michele Hildreth. That class will continue with an intermediate level course starting September 24 and an Advanced class beginning October 8.
Other upcoming classes include the Poetic Forms class taught by Moriah Hicks on October 6 and a Watercolor Painting class taught by Chris Stone on October 8.
Antoon said the department also has several holiday-themed classes scheduled.
A Halloween-based day of classes is planned for Saturday, October 10. First will be the Pumpkin Painting class for children taught by Chris Stone starting at 10 a.m. The event is "bring your own pumpkin" and children should be accompanied by a parent or guardian. Antoon said the class will be held at the covered portico outside the Center for Workforce Development if weather allows.
Later that day will be Pumpkin Carving and Cooking class taught by Chef Lillian Ellen starting at noon in the McGehee Building. In that class, children will learn to carve pumpkins and create dishes including pumpkin seed brittle from the insides.
The final class on October 10 will be the Halloween Special Effects Make-up class taught by Gary Hall, director of Entertainment and Media Arts for SouthArk. Hall will demonstrate advanced methods for Halloween make-up starting at 2 p.m. via Zoom.
The holiday-themed learning does not end there. On October 29, Ellen will lead the Farm to Table Holiday Cooking class. Then, throughout November, Cricut students will be able to learn to design Christmas cards, ornaments and plates with the device in a series of classes.
Antoon said that even more classes are currently being planned, including sewing and quilting classes and more basic computer class.
The Continuing Education department is also on the lookout for more ideas, according to Antoon, and can be reached by email at [email protected] or by phone at 870- 864-7192.
Antoon said the department is open to requests for classes from prospective students or teachers.
"If somebody has a skill, trade or talent and wants to share it, we certainly want to know about it. It can be a basic or an advanced class," Antoon said.
A full schedule and listing of upcoming classes, as well as registration information, can be found at southark.edu/ce.
Sponsor Content
Comments