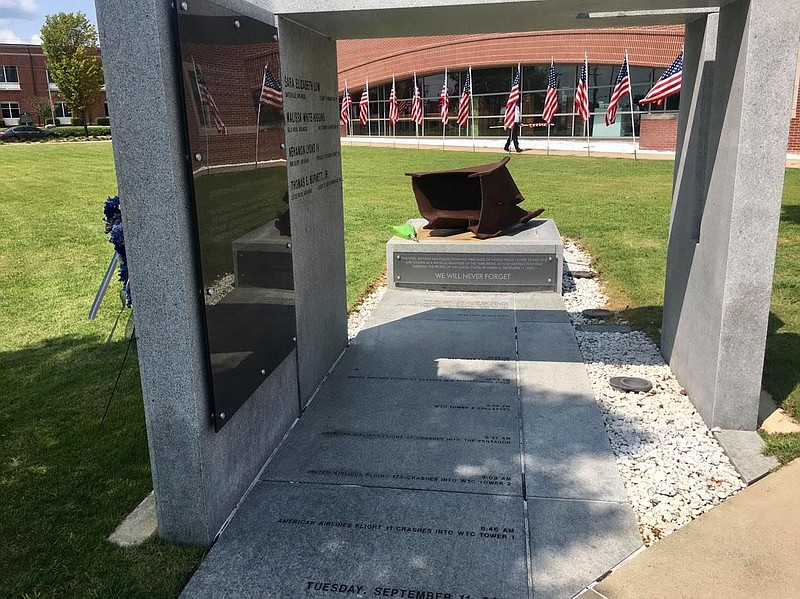 The 19th Anniversary Memorial Ceremony of the Sept. 11 terrorist attacks took place at the official Arkansas State 9/11 Memorial on the south lawn of the El Dorado Conference Center on Friday.
A small crowd with police officers and first responders were in attendance. Nineteen American flags served as the backdrop and theme of this year's ceremony.The memorial's curator and South Arkansas Community College professor Sterling Claypoole led the ceremony.
"We didn't do a lot of promotion around this year's ceremony because of COVID, but we are thankful for those that are here and we're always going to celebrate this great nation that we're in," Claypoole said.
Claypoole gave a lot of history around the Arkansas 9/11 memorial and the significance of the 699 pound steel artifact at the center of the memorial.
"It is believed that this piece of steel came from between the 73rd and 105th story of tower one. It is a symbol of freedom. This memorial will always stand to show what we have overcome as a nation," Claypoole explained.
The steel artifact on display at the memorial is one of five 9/11 artifacts in the state of Arkansas.
Gallery: September 11, 2001 remembered in El Dorado
Dr. Bentley Wallace, President of South Arkansas Community College also spoke during the ceremony.
"We're very proud that South Arkansas Community College can host this memorial. This special artifact was brought to us 10 years ago," Wallace explained. "A lot of us remember with such clarity the events of 9/11. We understood the enormity of that day and may something like that never happen again in our country."
The ceremony was brief. As Claypoole closed out the ceremony, he presented a couple of challenges to those in attendance.
"I want you all to take some time today to explain to the younger generation the significance of 9/11. Though a lot of them were not alive during it, we must not let them forget it," Claypoole said.
In his second challenge, he shared with the audience the story of Michael Judge, chaplain to the New York City Fire Department and the first recorded fatality of September 11, 2001; and the lesson we can learn from his example.
"Michael Judge was one of the first to rush in and help. He put others before himself. He had the heart of a servant and I challenge us all to have the heart of a servant," Claypoole said.
Sponsor Content
Comments