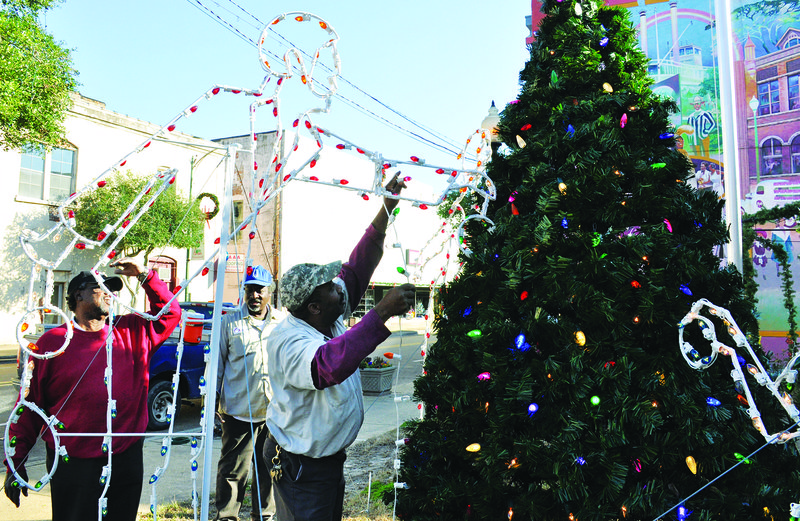 City of Camden employee John Pace, right, strings Christmas lights on the display in the city park downtown as Park Supervisor Nathion Jenkins, left, and Matt Thompson, center, look on. - Photo by Photo by Stephanie Dunn
While the city won't be able to pack stores with crowds or have some activities previously celebrated , Camden is planning several safe holiday shopping and dining experiences for the holiday season.
Local residents will again get to enjoy the giant community tree, along with other new decorations at the corner of Washington and California Ave. in Camden. Residents and guests are invited to come hang their own ornament on the community tree.
A new display will be located downtown in the city park located at Washington and Adams. This display will delight the imagination of both young and old. Children should be sure to come drop their letters off in the Santa Mailbox and get their wish lists in early.
This year Camden will also have a new huge 19 foot LED Christmas tree complete with digital light shows. There will also be two special photo opportunities located in the park, one for daytime and one for night.
The Christmas light poles throughout Camden will be decked out as the "Parade of Trees".
Those who would like to reserve a light pole to decorate as a tree should email [email protected] to reserve one.
The 2020 Camden Christmas Campaign schedule is filled with lots of activities from for the entire family:
Find Camden's Elf on the Shelf: December 1 – 18 (except Sundays). Camden's Elf will be moving all over town. Watch for the clue to be released on the City of Camden Facebook page each morning on where to find it. Be the first person each morning to find it and post a selfie for your name to go into a drawing for a great grand prize.
Courthouse Lighting: Friday, December 4 is a special night to delight all children. The evening will start off at 6 p.m. with the lighting of the Ouachita County Courthouse. City officials will flip the switch accompanied by holiday music.
At 6:30 p.m., the Ouachita County Fair Board invites all kids to come ride in the special "Kid's Light Parade". Children of all ages may bring their trikes, bikes, wagons, hoverboards and battery operated cars. Deck them out with battery operated lights and decorations. The line up will be at the parking lot at Jefferson Street and Harrison Avenue across from the courthouse. Parents are invited to walk beside their child or pull their wagon. The children will make their way around the block and past the Christmas displays to celebrate their own night parade. To sign up, contact Missy Chambers.
At 7 p.m., join the Camden Police Department on the Farmer's Bank Parking Lot for the Flashlight Candy Cane Hunt. Children, bring bags to hunt throughout downtown to find the dozens of hidden candy canes. The hunt will be open to children 10 and under. This is free to the public. All children should be accompanied by an adult and bring a flashlight.
Christmas market: Saturday, December 5 will be a fun filled day at the Ouachita Recreation Center sponsored by Ouachita County Fair Board. Residents will find a Christmas market set up from 10 a.m. until 3 p.m.
Join in the fun of a Chili Cook Off and sample all the goodness from 11:30 a.m. until 1:30 p.m. Tickets cost $1 per tasting and $25 for a booth. There will be awards for the winners.
The Run, Run Rudolph 5K on the Trace will begin at 8 a.m. Sponsorships cost $100 for a Blue Ribbon T-shirt sponsor and $50 for general sponsors. Sponsors must respond by Nov. 24 to be listed on t-shirts.
A Baggo Tournament will start at 10 a.m.
As the evening winds down, the "Winter Wonderland Walk Through," will begin, where residents may make their way through different North Pole stations. It will cost $5 to walk through Wonderland, with free hot chocolate provided on the walk.
The Ouachita Community Concert will also present Jimmy Lewis & 8 Second Ride at the Event Center at Fairview Park. Tickets will cost $10 at the door, or free for those with memberships.
12 Strays of Christmas: H & P Alliance and Native Dog will sponsor the "12 Strays of Christmas." on Dec. 12. Bring your four-legged children out for this special time to get their Christmas photos, shop pet booths and learn how one can be a foster home to help a pet through a difficult time. The evening will end with a "Deck the Paws" pet parade.
A Living Nativity will also be held on Dec. 12 in the Farmer's Bank Parking Lot. 4 Performances of the Living Nativity will be held at 6, 6:30, 7 and 7:30 p.m. There will also be Christmas vendors and strolling carolers.
The Winter Wonderland Pageant at Ouachita County Recreation Center, presented by the Ouachita County Fair Board, will begin at 1 p.m. Dec. 12.
Camden Co-Ed Softball League invites residents to participate in the First Annual Toys for Tots Benefit Tournament. This is not a team event, but an individual entry. Cost is $10 + $10 toy entry fee for each person. Participants will be placed on teams by computer aided draft. To register a participant, contact Tami Beevers via Facebook Messenger or call/text 870-818-4755
Guys Night Out: On Thursday, Dec. 17, Camden will host a "Guys Night Out." Ladies are invited to stop by participating stores to make Christmas "wish lists." The stores will contact your guy, which might be your husband, dad, son, brother or another loved one to let them know they have your list.
On this Thursday, stores will be open a little later for shoppers. Restaurants will also be offering "Guy Specials" to top off their shopping night.
Sponsor Content
Comments