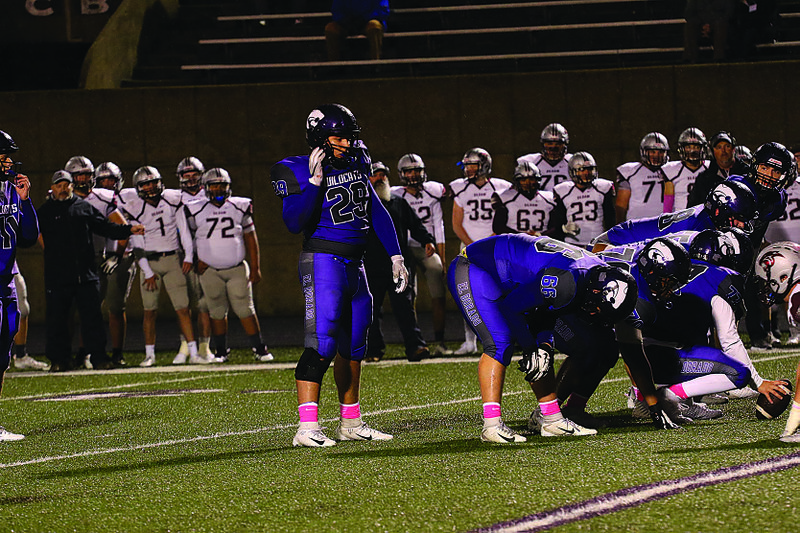 El Dorado's Patrick Sixbey (29) surveys the defense before the ball is snapped in action last season at Memorial Stadium. After playing fullback as a sophomore, Sixbey will move to the defensive side of the ball next season. - Photo by Siandhara Bonnet
The fullback in a spread offense is sort of like pineapple on a pizza.
What's the point?
O.K. There are quite a few people who enjoy pizza with pineapple, so the analogy isn't perfect. But El Dorado's Patrick Sixbey playing fullback last season did pose a curious glance or two.
Big, at 6-foot-2 and 240 pounds, athletic, hard-nosed and aggressive, he had no rushes on the season and finished with two receptions for 28 yards. Sure, he was a dominant lead blocker but, like pineapple on a pizza, it still seemed like a bit of a waste of talent.
El Dorado's coaching staff thought the same thing. A priority during the off-season was finding a way to get Sixbey more involved on the field.
"Patrick is a guy we felt like could help us on the other side of the ball, so we moved him to linebacker," said El Dorado coach Steven Jones. "He started every game last year for us at fullback. He played a good bit for us on offense. He's a big kid that's athletic. We feel like at the fullback spot, we just weren't able to do enough with him. We think he can add some value to our team by moving over there to mike linebacker."
With a talented group of receivers returning, the Wildcats anticipate using more spread sets on offense next season. Those sets dramatically reduce or eliminate the role of the fullback.
"We look around the locker room and see what best fits our team as far as what we put on the field. We expect to see more spread sets out of our offense so we didn't want to have a kid like Patrick get lost in the mix when he could be an immediate help on defense," said Jones, who added linebacker might be Sixbey's best position anyway.
"He's a big, physical player, really what you're looking for in a linebacker. We feel like he's going to help that unit out immediately. He's somebody that can move very well. He can take on offensive linemen. With his athleticism, he moves really well in space. He's also a soccer guy. It's kind of different for a linebacker to play soccer. But soccer has been great for Patrick in growing him athletically."
"He is a natural at the position, picked up everything we asked him to do really quickly," said defensive coordinator Trey Outlaw. "I think linebacker is a natural fit for him. When opposing offenses see him in the middle of the defense next year, they will want to run away from him. I think Pat could be playing linebacker for some team on Saturday's in two years. He's that great."
Sixbey, who will be a junior next season, is pleased with the move.
"While it was fun to be an offensive player for my first year on varsity, I am extremely excited to be switching from offense to defense. Having experience from playing defense in my 8th and 9th grade years, I can say that it was fun on that side of the ball," said Sixbey, who said, despite the COVID-19 lockdown, he's getting up to speed at his new position.
"It has been a very smooth process thanks to my coaches. We have been doing weekly Google meets, which have been very productive and helpful. It has really kept us focused and motivated for this upcoming season."
Sixbey, who played defensive line in the ninth grade, had no complaints about how he was used as a sophomore. Just being on the field was the most important thing.
"Coach Jones incorporated a variety of personnel (units) throughout the season that I was involved in even though the spread offense was our base set," he said. "This wasn't something that frustrated me as a sophomore but humbled me just to start in my position and against our opponents."
Sponsor Content
Comments