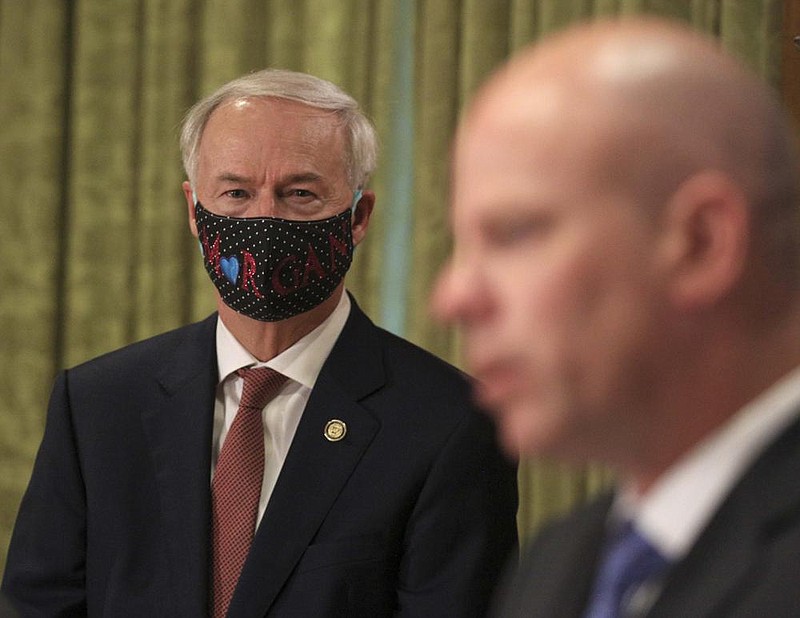 Gov. Asa Hutchinson, left, listens to Troy Wells, president and CEO of Baptist Health speak Monday June 22, at the state Capitol in Little Rock during the governor's daily COVID-19 briefing. (Arkansas Democrat-Gazette/Staton Breidenthal)
The Arkansas Department of Health continued to list Union County's cumulative total of COVID-19 cases at 232 Wednesday, representing no change from Tuesday.
Of those, 183 are considered recovered, up three from Tuesday, and 36 cases — 15.51% of the county's cumulative total — are still active. There were three fewer active cases Wednesday than there were on Tuesday.
No new local deaths attributable to COVID-19 were reported Wednesday; in all, 13 Union County residents have died as a result of the virus. No changes were reported in any of the congregate living facilities where COVID-19 has been identified, which include Courtyard Healthcare and Rehab, Advanced Health and Rehab of Union County, Timberlane Health and Rehab and Community Living Arrangements, on Wednesday either.
Only eight new negative test results returned from Union County were reported by the ADH Wednesday, following several days of three-digit negative test result returns. In all, 3,084 COVID-19 test results have returned for the county, with 2,852 negatives, indicating a local positivity rate of 7.52%.
Arkansas saw its cumulative total of cases grow by 697 between Tuesday and Wednesday to reach 17,375 cases. Of those, 11,568 are considered recovered, while 5,567 cases — 32.04% — are still active.
Three Arkansans died as a result of the virus between Tuesday and Wednesday, bringing the state's death toll to 240, indicating a state mortality rate of 1.38%. There were 267 Arkansans hospitalized because of COVID-19 early Wednesday afternoon, a new record in hospitalizations for the state. Fifty-eight of those hospitalized Wednesday were on ventilators.
Gov. Asa Hutchinson said the state plans to increase the number of contact tracers contracted for the task in Arkansas. He previously announced that 350 contracted contact tracers will be hired, and said Wednesday they will be working by mid-July. He announced that the state intends to contract at least 350 more for 700 total on Wednesday. It will cost about $22 million, which Hutchinson said he will seek from federal coronavirus relief funds.
"It's going to be essential, whether it's now or it's in the fall. Hopefully that will be more than sufficient," he said. "But right now we have an insufficient capacity to do the job we need to do in terms of our contact tracing."
There are more than 200 contact tracers currently working in-house for the ADH, Hutchinson said. He said he has set a goal to test 180,000 Arkansans, about 6% of the state's population, in July. His goal to test 120,000 Arkansans in June has already been exceeded.
Several states have put in place quarantine measures for residents that travel to Arkansas following the surge in cases seen in the past month. COVID-19 cases in Arkansas have increased more than 230% since Memorial Day on May 25, according to the Associated Press.
Hutchinson said he will make a decision by Aug. 1 on whether no-excuse absentee voting will be allowed in light of the ongoing pandemic. Currently, state law restricts absentee voting to those with illness, physical disability or for those who will be unavoidably absent from the state. He previously waived those requirements for a runoff election in April.
The ADH reported 269,981 total COVID-19 test results returned statewide Wednesday, with 252,606 negatives, indicating an overall positivity rate for the state of 6.43%.
Johns Hopkins University reported 2,376,263 COVID-19 cases in the United States Wednesday at 7 p.m.; of those, 656,161 were considered recovered, leaving 1,598,200 cases — 67.25% — active nationwide. There have been 121,902 deaths attributable to the virus in the U.S., indicating a national mortality rate of 5.12%.
Johns Hopkins reported 9,391,433 COVID-19 cases worldwide Wednesday evening; of those, 4,701,298 were considered recovered, leaving 4,209,099 cases — 44.81% — active around the world. There had been 481,036 COVID-19 related deaths by Wednesday evening, indicating a global mortality rate of 5.12%.
Sponsor Content
Comments