Two candidates running for State Senate District 27, which includes Union County, visited the El Dorado Rotary Club Monday to discuss their platforms.
Republican incumbent Sen. Trent Garner was unable to attend due to a prior commitment. Keidra Burrell and Garry L. Smith will face off in the Democratic primary on March 3 to face Garner in the general election in November.
Burrell, an attorney and small business owner who lives in Pine Bluff, emphasized the importance of supporting small businesses and workforce development, investing in education, supporting children in the foster care system and supporting first responders.
Burrell owns two preschools, one in Arkansas and one in her hometown of New Orleans, as well as two property investment companies. She's also a Court Appointed Special Advocate (CASA) and has worked with a local women's shelter. She has worked as chief of staff to the Pine Bluff mayor and as assistant district counsel for Army Corps of Engineers in the Little Rock district. She also serves on the board of United Way of Southeast Arkansas.
"I want to make sure small businesses continue to thrive," she said. "In District 27, we have many small communities, so we need to make sure small businesses are supported so they can build up the communities. I hope to be able to figure out a way to incentivize people to become entrepreneurs by diminishing the employee tax. The employee tax is difficult for small businesses, to make payroll and continue to survive without raising prices so people can continue to support you."
Workforce development is important to attracting and retaining local business, Burrell said.
"You can't ask someone to use local talent if we don't have it there," she said. "We have to find a way to assist our high schools and colleges to make sure we have the workforce training and development that's needed. Every child is not going to attend college, so instead of making that a stumbling block, give a child an alternative."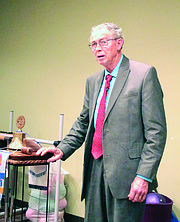 Smith, a small business owner and former state representative, said it's important to invest in infrastructure, fund pre-kindergarten classes and give veterans a real estate tax break. Smith owns Garry's Plumbing & Electrical, served as Ouachita County Justice of the Peace for 14 years and on the Harmony Grove School Board for eight years. Smith, a graduate of Southern Arkansas University, taught at SAU in Magnolia and SAU Tech in Camden for several years and is a 4-H Foundation board member.
"We need to continue to fund properly pre-K through 16," he said. "As I drove a bus for CADC for five years, I saw a lot of people who came from disadvantaged backgrounds, but they learned how to communicate because of their pre-K education. Why do we treat other people less fortunate than we are differently just because of what their name is or where they live? That's wrong, we shouldn't do that."
Smith said he was able to get things done in the state house by reaching across the aisle and building friendships, something he intends to do if elected in order to get things done for District 27 residents.
"This is my home, I've lived in this area since 1960," he said. "We're living in a time where things are getting worse, but in the state senate we can do the right thing, set the standard and live a life consistent with the way the Bible tells us to."
Smith added he wants to do something for military veterans.
"One way would be to give them a break on their real estate taxes," he said. "That number can be negotiated, but something needs to go back to them."
State Senate District 27 includes large portions of Union County, as well as Camden, and Pine Bluff. The primary election is scheduled for March 3.