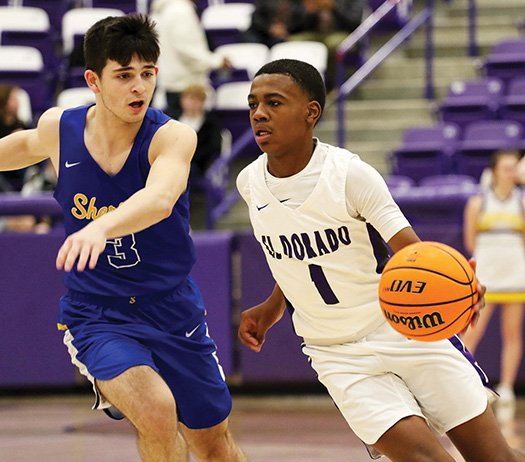 Siandhara Bonnet/News-Times El Dorado's Isaiah Ramey looks for an opening during the Wildcats' contest against Sheridan at Wildcat Arena earlier this season. The Wildcats take on J.A. Fair in a 5A South clash tonight on the road.
As the season gets deeper into February, the games get bigger for El Dorado.
Earlier this week, the Wildcats picked up a critical 68-65 victory over Hot Springs Lakeside.
Brendan Simmons had 23 points, drilling five of his nine attempts from beyond the arc.
Jordan Tubbs added 18 points and Isaiah Ramey was also in double figures with 10 points along with seven assists.
Simmons also had seven rebounds and six assists in the win.
Jarmel Love chipped in with seven points, three rebounds and three assists for El Dorado.
The Wildcats trailed the Rams 46-44 at the end of the third quarter before rallying in the final stanza.
Tonight, the Wildcats (7-13, 4-5) play at J.A. Fair in a 5A South clash.
According to MaxPreps.com, the Wildcats are on the outside looking in for a berth in the state tournament with J.A. Fair and Lake Hamilton tied for the final two spots with 5-3 records in league play.
The Lady Wildcats (7-15, 3-5) enter their contest at J.A. Fair off of Tuesday's 52-45 loss to Hot Springs Lakeside.
El Dorado cruised to a 61-30 win over J.A. Fair in their first meeting back on Jan. 14.
The current standings listed by MaxPreps.com has the Lady Wildcats in fifth place with Sheridan holding a two-game cushion for the final spot for the state tournament.
Sponsor Content
Comments