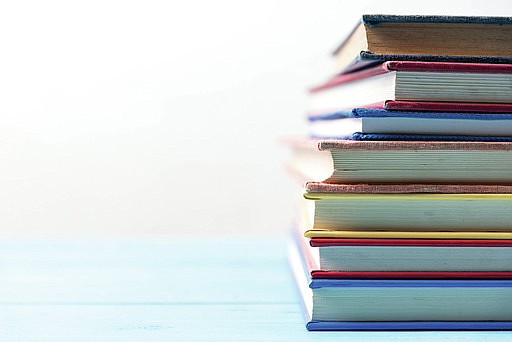 Now that it's December, it's not too early to wish for a happy new year. It also makes me want to look back at all the books I've read over the past year.
As I've grown older, I find my reading taste has changed greatly over the years. When I was in grade school, I was into horses and books about horses. Now I like to read about crimes, fantasy and time travel, but I'm a lot more discriminating about what I read. Sometimes I add in a young adult title if it's a good one like some of these we just received.
You can finally revisit the world of Panem in "The Ballad of Songbirds and Snakes" by Suzanne Collins. The prequel to "The Hunger Games" is here, and you'll find out the story of a young Coriolanus Snow. Before he became President Snow, he started from nothing, and participated in the challenges of the Hunger Games.
The Enola Holmes mysteries are another good choice for kids—they're the basis for a recent TV movie, and are a middle-grade series of books by Nancy Springer. Beginning with "The Case of the Missing Marquess," it's a fun tale of Enola, the teenage sister of Sherlock Holmes. After her mother disappears, Enola searches for her in London. While trying to avoid her interfering older brothers, she gets involved in another kidnapping case.
And while we're turning fictional characters upside down, why not try an action-packed retelling of Alice in Wonderland retold in contemporary Atlanta, in "A Blade So Black" by L.L. McKinney. This street-smart Alice has to fight for her life in the fantasy world of a terrifying dark dream, keep up her GPA in reality and keep her overprotective mom from worrying. How is a girl supposed to find time to slay monsters?
Waiting for the next installment of some of your favorite series? Here are a couple of great ones:
Louise Penny is a favorite of many readers, and her newest, "All the Devils Are Here," is now available. But don't expect to visit the charming village of Three Pines this time, because Chief Inspector Armand Gamache and his wife have traveled to Paris to celebrate the birth of a grandchild. After a shocking attack, Gamache is embroiled in a murder mystery involving a family friend. As well as a change in scenery, long-time fans of this series will also get a glimpse into some back story of their favorite chief inspector.
"Troubled Blood" by Robert Galbraith continues the story of one my favorite fictional characters, private detective Cormoran Strike. This crabby fellow continues to evolve in another convoluted mystery. His relationship with his fellow detective Robin is also interesting to watch as we've seen it develop from friendship to a fondness that they're afraid to name. In this outing, Strike is overwhelmed with family issues as his Aunt Joan, who is like a mother to him, is stricken with cancer and the family gathers to support her. While visiting, he has a request to open a 40-year-old cold case involving a missing doctor. Unable to resist, Strike and Robin begin to investigate the leads and circumstances around the 1974 disappearance.
On the lighter side of British mystery lies the peaceful retirement community of Cooper's Chase, where you'll find unspoiled woodland views, a man-made lake, Zumba classes, llamas and "The Thursday Murder Club" by Richard Osman. Each week this group of wildly-different retirees gathered to discuss unsolved murders and cold cases. They never imagined they would investigate a real murder—but when the wealthy developer of Cooper's Chase is found dead, they spring into action. Although they might move a little slower, their minds are working as hard as ever. And who cares if they don't always follow police procedure to get evidence? Computers, texting and Google are all parts of their investigative toolbox, but the realities of growing older are unavoidable. It's a touching story in many ways, but very funny, and the eccentric characters are entertaining.
No horse books or horses in any of these books, but my reading tastes have changed for the better. Whatever age you are, I hope you'll find some good books.
Lauri Wilson is the cataloging and digital content manager at South Arkansas Community College.
Sponsor Content
Comments