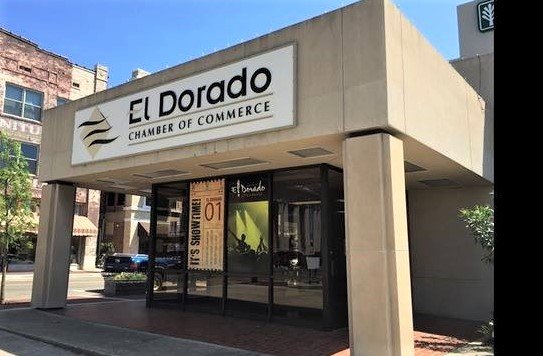 The El Dorado-Union County Chamber of Commerce
A local stop on a tour by the United States Small Business Administration has been postponed, but Greg Modica, chairman of the El Dorado-Union County Chamber of Commerce board of directors, said he still wanted to help spread the word about resources that are available to small business owners as they navigate the coronavirus (COVID-19) pandemic.
Justin Crossie, regional administrator of the U.S. Small Business Administration, is touring the SBA's South Central Region to advise communities about tools and resources that are offered by the SBA and to solicit feedback from small business owners about services that are provided by the SBA and how the SBA could better serve small businesses.
The South Central Region covers more than 3.8 million small businesses in Arkansas, Louisiana, Texas, Oklahoma and New Mexico.
Crossie was scheduled to stop in El Dorado at 3 p.m. Monday at the Chamber of Commerce office.
Modica, a small business owner himself, said the Arkansas District Office of the SBA reached out to him last week about stopping in El Dorado.
Initially, a private meeting was to be held in the office of his business, Government Supply Services.
With other local, small business owners in mind and first-hand awareness of the challenges that have been posed by the public health crisis, Modica said he wanted open up the meeting to a wider audience.
He worked with Bill Luther, Chamber president and chief executive officer, to move the meeting with Crossie to the Chamber and invite other civic and community leaders, including Luther, Mayor Veronica Smith-Creer, also a small business owner (BC Floor and Carpet Cleaning with husband Bobby Creer); Bentley Wallace, president of South Arkansas Community College; and state Rep. Matthew Shepherd (R), who also serves as Speaker of the House.
"When they reached out to me, they told me that his (Crossie's) route would come through El Dorado and they asked about a local small business owner that he could talk to about the SBA and about how we feel, as small business owners, about the current business environment with COVID going on, what we've experienced, how the SBA has done in terms of offering assistance and what they can do better right now," Modica explained.
Modica is intimately familiar with resources that are offered by the SBA.
On July 8, Modica celebrated more than a decade as founder, president and chief executive officer of Government Supply Services LLC, an Internet-based company that specializes in office, technology, janitorial, industrial supplies and equipment.
Since the company's founding in 2009, Modica has benefited from a number of SBA programs that are designed to help small businesses, including financial assistance and business loans that have recently been made available because of COVID-19.
Modica has a longstanding relationship with the SBA and is a member of the inaugural class of the SBA's Emerging Leadership Initiative in Arkansas.
ELI is a training program that helps business start-ups get up and running and helps small businesses sustain operations.
The annual program includes 14 three-hour training classes, which are held in Little Rock over a seven-month period. Modica graduated with the state's first ELI class in 2015.
Modica and David Moody, former deputy director of the SBA's Arkansas District Office, said only two people from South Arkansas — Modica and LaQuita Rainey, owner and director of Elder House Adult Day Care Center and Complete Home Care, an in-home care business — have participated in the ELI program.
"We cover everything from hiring to financial management to sales. Business owners develop a three-year strategy that they continue to update and revise after the seven-month program is over," Moody said.
"Many companies are better off when they come through the end of the program. They are exposed to a host of subject-matter experts and they develop relationships with each other," Moody continued. "It's not unusual for businesses in the group to be doing business with each other before the class is over."
Moody said COVID-19 could potentially change the way the class is conducted, noting that the EMI could reach more business owners with virtual meetings.
He said such efforts would require local champions to help arrange the classes.
That's where community leaders such as Modica come in.
"A lot of people had no idea, when we were doing this (ELI), they said, 'You guys go off and be leaders in the community and lead in different aspects of the community.' Now, I'm chairman of Chamber board of directors," Modica said.
"(Crossie) was coming to my office for a private meeting but I was thinking about the community, El Dorado, and I decided to move the meeting to the Chamber so other businesses can benefit from this," he said.
Several local businesses have applied for and received assistance from a federal COVID stimulus package that was approved in the spring. Assistance included the Payroll Protection Program, a loan that helped small businesses cover expenses, such as rent/mortgages, payroll, supplies and more, to help them remain in business.
Modica said research showed that many businesses around the country that applied for assistance were denied due to errors in filling out forms.
He said billions of dollars remain in SBA coffers for another round economic stimulus help and he wants to make sure local businesses tap into those funds receive their fair share.
Crossie had to postpone Monday's meeting because of a family emergency.
"We wish Justin Crossie well. I don't know when the meeting will be rescheduled but as soon as I do, the community will know, too," Modica said.
Sponsor Content
Comments