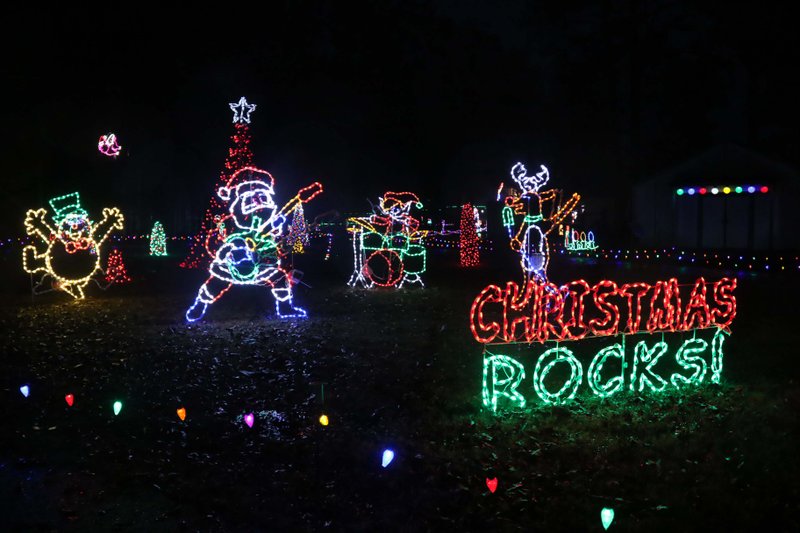 "Christmas Rocks" at Arkansas Museum of Natural Resources Foundation's Holiday Lights Extravaganza Nov. 22, 2019. Here's a list of 25 movies to watch from Dec. 1 to Christmas Day. - Photo by Siandhara Bonnet
There is almost nothing as relaxing as curling up with a fuzzy blanket and watching a movie knowing the holiday season is upon us.
Growing up, it was a great way to spend time with my parents. My step-dad, siblings and I made it a habit as we got older to go to the theater and see a new movie — later I found out it was to let my mum do some last minute wrapping.
These movies may not make sense together, but here are 25 holiday movies to watch from today until Christmas:
Home Alone 2: Lost in New York (1992) — Perhaps this is a controversial move to begin with, but this movie is incredibly underrated. Instead of flying to Florida with his family, Kevin McCallister (Macaulay Culkin) flies to New York and has the Christmas of a lifetime. Not only does he learn the importance of being kind, but he also stoops the same two villains who tried to invade his house the first time.
Harry Potter and the Sorcerer's Stone (2001) — Tell me Harry Potter (Daniel Radcliffe) learning about friendship and family doesn't count as a holiday feel-good movie. Plus, Christmas actually plays a pivotal role in the movie: that's when Harry receives his father's invisibility cloak and he, Ron (Rupert Grint) and Hermione (Emma Watson) are able to use it to sneak into the room with Fluffy, the three-headed dog guarding the path to what lay beneath Hogwarts.
The Nightmare Before Christmas (1993) — Truthfully, I'm on the side of this is a Halloween movie, but who can deny Jack Skellington's (Chris Sarandon/Danny Elfman) love of Christmas isn't infectious in this Tim Burton classic.
Rise of the Guardians (2012) — If you're not quite ready for the Christmas season, watching this animated film may help get you into the groove. Jack Frost (voiced by Chris Pine) has always wanted to be seen, or at least be recognized. One day, though, he's told he's supposed to be one of the next guardians — beings who protect children and their imagination. The team includes North (Alec Baldwin), Tooth (Isla Fisher), Bunny (Hugh Jackman) and a silent Sandy, all takes on classic childhood legends and stories. Working together, the guardians must protect the children and their belief in magic and wonder from Pitch (Jude Law), a being that causes nightmares.
Die Hard (1988) — Another movie to slowly get you into the holiday spirit. New York Police Department officer John McClane (Bruce Willis) must save his wife and other Christmas party goers from German terrorists at Nakatomi Plaza in Los Angeles.
Christmas with the Dead (2012) — Full disclosure, my parents are extras in this movie and we're family friends with the author of the book by the same name, BUT this is a great campy, spooky Christmas movie. Calvin (Damian Maffei) seems to be the only non-zombie alive, but carries on his promise to his wife Ella (Kasey Lansdale) to make Christmas the best yet — even if it is the middle of June.
Babes in Toyland (1986) — The ever responsible 11-year-old Lisa Piper (Drew Barrymore) gets transported to Toyland near Christmas and attempts to stop the wedding between sweet Mary Contrary (Jill Schoelen) and the evil Barnaby Barnicle (Richard Mulligan) who wants to take over the land. Lisa asks the toymaster (Pat Morita) for help, but he says he can't until she believes in toys.
The Christmas Shoes (2002) — This is by far the saddest Christmas movie out there, but I think one of the most important to watch. Nathan Andrews (Max Morrow) tries to buy special red dancing shoes for his mother (Kimberly Williams-Paisley) who's deathly ill. While attempting to do so, the boy meets lawyer Robert Layton (Rob Lowe) who's dealing with his marriage slowly falling apart. The two stories mesh together and eventually Nathan and Robert meet. In a Grinch-like manner, Robert's heart expands throughout the film.
How the Grinch Stole Christmas (1966)
The Santa Clause (1994) — After an unfortunate accident involving distracting Santa Claus so much it causes him to fall off the roof, Scott Calvin (Tim Allen) is tasked with becoming the next Santa, a job which his 6-year-old son Charlie is elated over. Calvin, however, is not thrilled with the weight gain, white hair and sudden love of all things sweet.
Santa Clause 2 (2002) — Eight years after Scott Calvin (Tim Allen) has taken over as Santa Claus, he now must find a Mrs. while trying to find out why his son Charlie (Eric Lloyd) is on the naughty list.
Santa Clause 3: The Escape Clause (2006) — While this is the worst Santa Clause movie, I'm a big believer in rounding out trilogies. Scott Calvin (Tim Allen) must stop Jack Frost (Martin Short) from ruling over Christmas forever. However, Frost tricks Calvin into wishing he never became Santa Claus but leaves him with his memories. Calvin then must convince the Council of Legendary Figures (Tooth Fairy, Mother Nature, Easter Bunny and Cupid) that he was Santa and that Frost needs to be stopped.
The Year Without a Santa Claus (1974) — This is by far my favorite Christmas movie, if not for the fantastic musical numbers. Mrs. Santa (voiced by Shirley Booth) works to show the sick Santa (Mickey Rooney) that people still care about Christmas and that he's earned a holiday.
Rudolph the Red-Nosed Reindeer (1964)
Santa Claus is Comin' to Town (1970) — My second favorite Christmas movie is of course the origin story of Kris Kringle and how he became Santa Claus (and it doesn't hurt that he stopped Mayor Burgermeister Meisterburger).
Grandma Got Run Over by a Reindeer (2000)
Mickey's Christmas Carol (1983) — Classic Disney characters tackle their own Scrooge in this Christmas Carol movie.
Mickey's Once Upon a Christmas (1999) -—This three-part anthology-style movie tells tales from Mickey Mouse, Goofy and Donald around Christmas and teaching important lessons about greed, family and selflessness.
Frosty the Snowman (1969)
The Muppet Christmas Carol (1992)
How the Grinch Stole Christmas (2000)
An American Tail (1986) — This animated classic follows Fievel Mousekewitz (voiced by Phillip Glasser) while he and his family face persecution from Russia from cats. On their way to America, a land they believe to be without cats, Fievel gets separated from his family. He then must locate them while navigating a new land on his own. This movies makes the list as a great start to the eight days of Hanukkah.
Elf (2003) — This is one of the only Will Ferrell movies I will voluntarily watch. Buddy the Elf (Ferrell) goes on a journey to find his birth father (James Caan) in New York. Throughout his time getting to know his dad, Buddy spreads Christmas cheer (the best way to do this is by singing loud for all to hear) to new friends and random New Yorkers, bring the joy of Christmas to all.
The Polar Express (2004) — On Christmas Eve, children across the world travel to the North Pole on the Polar Express. Three children, simply called hero boy (Tom Hanks), hero girl (Nona Gaye) and Billy, or lonely boy (Peter Scolari), learn about friendship, what it means to be brave and the spirit of Christmas.
A Christmas Story (1983) — The ONLY way to end the holiday movie list that ends Christmas day is with "A Christmas Story." My family, like many others, makes it a tradition to watch the classic film Christmas day (especially after we got our grandparents the iconic leg lamp one year).
Sponsor Content
Comments