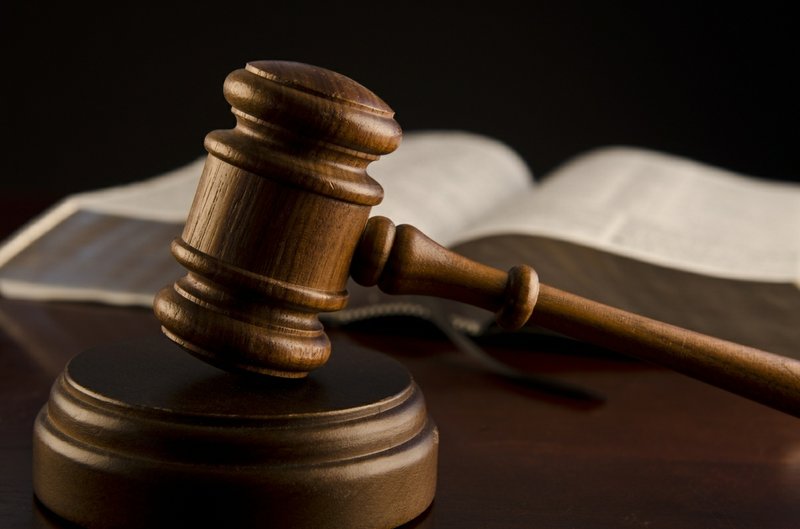 A years-long federal case dealing with one family's creation and execution of a fake will that diverted an over $1 million inheritance from the deceased's minor son is coming to a close this week as the case's defendants are sentenced.
Two defendants who pleaded guilty to wire fraud last January were sentenced yesterday in the United States District Court for the Western District of Arkansas – El Dorado Division.
Donna Christine Herring, of Camden, was sentenced yesterday to 41 months in the federal Bureau of Prisons, with her sentence scheduled to start on Jan. 22, 2020.
Her co-defendant, John Wayne Kinley, of Camden, was also sentenced yesterday. District Judge Susan O. Hickey granted Kinley a downward departure from sentencing guidelines, sentencing him to 12 months in the federal BOP, plus one day, so that he is eligible for 'good conduct time,' which could reduce the amount of time he spends in prison.
The case
It all started on April 20, 2010, when Matthew Seth Jacobs was injured in an explosion on the Deepwater Horizon oil rig in the Gulf of Mexico. Two years later, in April 2012, he received a multi-million dollar settlement related to the injuries he incurred in the disaster.
The following month, Matthew Jacobs sought assistance in purchasing a home and investment properties from Century 21 Campbell & Company in Camden, where he resided. There, he met Donna Herring, the real estate agent he worked with to eventually purchase several properties. One property he purchased was just blocks away from the Herring family's.
Herring further involved herself in Matthew Jacobs' life by bringing him into her husband's business, Meek's Pest Control. In 2014, Matthew Jacobs began dating Herring's then-high school aged daughter, Jordan Alexandra Peterson, at Herring's urging, according to court records. The couple allegedly became engaged in 2014, but were never married.
On Jan. 19, 2015, Matthew Jacobs was killed in an automobile accident at 34 years old. He is believed to have been on his way to visit a new girlfriend. Matthew Jacobs' then-minor son, Jordan, was his only descendant and the sole heir-at-law to his estate.
Matthew Jacobs' brother, Lance Reed, and son Jordan proceeded to search his home in Camden, including his gun safe, for a will. They were unable to find one.
On Jan. 25, Herring claimed to have discovered a sealed envelope containing a copy of the will with Matthew Jacobs' initials written on it. She directed Lance Reed to deliver it, unopened, to an attorney in Camden whom she later engaged to represent Jordan Alexandra Peterson in the probate case related to Matthew Jacobs' estate.
Her husband and neighbor then claimed to have found the original copy of the will in Matthew Jacobs' gun safe. The "original" was also delivered to the attorney in Camden.
The false will named Jordan Jacobs and Jordan Alexandra Peterson as beneficiaries, with Jordan Jacobs being willed $50,000 to go towards college or trade school, with any monies remaining after his completion of school to be paid out to him upon his graduation; and the remainder of the estate going to Jordan Alexandra Peterson. The estate has been valued at between $1.3 million and $1.7 million.
Marion Diane Kinley, Herring's sister, and John Wayne Kinley, Herring's brother-in-law, signed the false will.
In November 2015, beneficiaries of the false will entered a settlement agreement, where Jordan Jacobs was awarded additional monies from a life insurance payout on his father, about $250,000. Jordan Alexandra Peterson retained the remainder of the estate in the settlement.
It was later discovered that the "will" that had been through probate and the settlement was fake and had been created by Herring days after Matthew Jacobs' death through an online legal document drafting website, formswift.com. The email address on the Formswift account belonged to Herring, while the credit card charged for the costs of creating the document belonged to John Wayne Kinley. Kinley called Formswift in April 2016, to cancel the account that was charging his card.
Herring faced charges of wire fraud, conspiracy to commit wire fraud, aggravated identity theft and five counts of money laundering, while Kinley faced charges of conspiracy to commit wire fraud, wire fraud and aggravated identity theft.
In January, both Herring and Kinley pleaded guilty to one count of wire fraud each, with the understanding that the other charges against them would be dismissed after their sentencing.
Jordan Alexandra Peterson and Kinley's wife, Marion Diane Kinley, have also pleaded guilty to crimes related to the case. Jordan Alexandra Peterson pleaded guilty to lying to the Federal Bureau of Investigation in January 2018, with Marion Diane Kinley pleading guilty to conspiracy to commit wire fraud the same month.
Herring faced a maximum of 20 years in prison and a $250,000 fine. According to federal sentencing guidelines, based on the severity of her crime and her criminal history, which was minor, Judge Hickey had the discretion to sentence Herring to between 41 and 57 months in federal prison.
Before sentencing began, Herring and her defense attorney, Erin Cassinelli, had the opportunity to speak on Herring's behalf, with Cassinelli speaking first.
"Deep down, Donna (Herring) is not a bad person. … She's learned a valuable lesson in telling the truth," Cassinelli said. "I would ask the court to consider that this has changed her as a person. … Let this be a moment that she learns from and the community learns from."
Cassinelli asked that Judge Hickey consider a lesser sentence for Herring considering her remorse and minor criminal history. When Herring's turn to speak came up, she was unable to speak through an outburst of tears; Cassinelli read a prepared statement from Herring on her behalf.
"I'm not a horrible person, but I made a horrible mistake," the letter read. Herring also apologized to both Jordan Jacobs and her daughter in the letter, saying she "never thought about how [her] wrongdoing would affect" her daughter.
The federal prosecution, led by Assistant U.S. Attorney Ben Wulf, then had an opportunity to give statements about their position on Herring's sentencing.
"I'm struck by the sanitized version of what's been presented … This was a deeply personal crime on Jordan Jacobs and the estate of Matthew Jacobs," Wulf said. "The record shows Ms. Herring was not thinking of the 'right things' when Matthew Jacobs died. … This was all about the money. We wouldn't be here if all he had was a shoebox full of pictures. … They set out to steal from someone that's powerless to stop them."
Wulf proceeded to read text messages between Herring and Jordan Jacobs, where Jordan Jacobs said he hoped to be named in his father's will, "not for any of his belongings, but to know that he still cared about me."
Hickey sentenced Herring to 41 months in the federal Bureau of Prison system. Herring will also be subject to three years of supervised release after her prison term. Special conditions for her supervised release include a prohibition on committing any local, state or federal crimes; having or using controlled substances; having a firearm or other weapons; and accruing new debt or credit lines. She must also submit to DNA testing and searches as requested, and must comply with health referrals from her probation office.
"Your conduct was motivated by self-interest," Hickey said, explaining why she did not deviate from federal sentencing guidelines.
Herring requested she be incarcerated at Federal Prison Camp Bryan, in Bryan, Texas; Hickey agreed to recommend that, but said she cannot guarantee where Herring will be placed. Herring must report to her assigned prison on Jan. 22, 2020.
About an hour later, Kinley's sentencing hearing began. His was much shorter than Herring's, lasting approximately one hour compared to twice as long for Herring's.
Kinley's attorney, Jimmy Bennett, spoke briefly on his behalf, noting that Kinley had no criminal history and had been a teacher in Camden for 32 years before he lost his job due to these charges against him.
"He is profoundly sorry that any of this happened. He hopes for any leniency he can have from the court," Bennett said, adding that Kinley felt compelled to commit the crime to avoid a fight with his wife and sister-in-law. "He certainly is no threat to the community."
Kinley said he had cost himself about $900,000 in retirement after losing his job as a result of this case.
"That was a chaotic time," he said. "I apologize to everyone that has been harmed in this."
Wulf then spoke on the state's behalf, saying that with Kinley's education, high standing in the community and stable family, he does not have an excuse for involving himself in this crime.
"He is completely capable of understanding the logical effect of placing his signature on that will," Wulf said. "He did it because he didn't want to anger his wife, didn't want to anger Ms. Herring – that is insufficient."
Wulf did, however, sanction a sentence lower that federal sentencing guidelines. Hickey agreed, and reduced the sentencing range Kinley faced from between 21 and 27 months in the federal BOP to between 12 and 18 months.
Hickey sentenced Kinley to 12 months plus one day in the federal BOP, recommending he be housed at the Texarkana Federal Correctional Institution, as it is the closest prison in the BOP system to Camden. Kinley is also subject to three years of supervised release after his prison term is complete, with the same special conditions as Herring. He must report to his assigned prison on Jan. 22, 2020.
"I wish you good luck," Hickey said. "I hope you can put this episode behind you when you return to Camden and I hope you live a long and productive life."
The balance of charges against both Herring and Kinley were dismissed after they were sentenced in their respective hearings.
Today, sentencing hearings are scheduled for Jordan Alexandra Peterson at 9:30 a.m. and Marion Diana Kinley at 1:30 p.m. A restitution hearing is scheduled for tomorrow morning at 9:30 a.m.
Caitlan Butler can be reached at 870-862-6611 or [email protected]
Sponsor Content
Comments