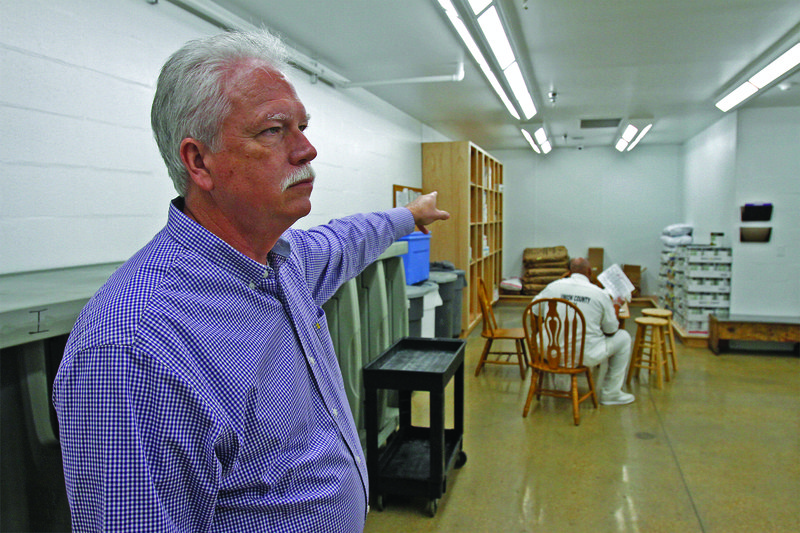 Jail: Union County Sheriff Ricky Roberts (foreground) points out the area of the Union County jail's kitchen that was damaged in a fire last August. The area has since been renovated; a wall was removed and storage added. An inmate can be seen labeling lunch trays for other inmates with dietary restrictions. Terrance Armstard/News-Times
A billing issue related to a fire that took place at the county jail nearly a year ago has led the Union County Sheriff's Office to make a change in their commissary provider.
• Cleaning up: Last August, an electrical fire at the Union County jail necessitated extensive repairs to the facility's kitchen. Due to the damage, the UCSO was unable to provide meals while the kitchen was cleaned and repaired.
At that time, an adjuster with the county's insurance provider, Gallagher Insurance, said food provided by Tiger Correctional Services, a jail and prison contracting business that also provided the UCSO commissary services, would be covered.
"We sat down with the adjuster when we first had the fire. The guy says 'we've got everything taken care of,'" Union County Sheriff Ricky Roberts recalled. "I said 'you're going to take care of the food?' And he said 'yes, we've got everything.'"
For nine weeks, Tiger Correctional sent their invoices directly to Gallagher Insurance, who experienced no problems in receiving payment, Roberts said. However, in November, Gallagher Insurance quit paying the invoices.
"For whatever reason, the insurance company decided they weren't paying anymore," Roberts said.
• Big bill: Last month, Tiger Correctional sent the UCSO a bill for $104,000, Roberts said, which included late fees that have stacked up since November. Gallagher Insurance sent the UCSO a check for $42,000 without explanation after refusing to pay the bill.
"We had a conference call this past Wednesday with the insurance company, the bosses, Tiger and their representative – everybody that was involved in this kitchen fire, we were on a conference call with them, and we went back and forth," Roberts said. "So they (Gallagher Insurance) kept saying 'well we're not paying anymore; here's $42,000, do what you wish.'"
Tiger Correctional then offered to waive the late fees for the jail, dropping their bill to $56,000. Roberts was not satisfied with that solution, and declined. The following day, Tiger called again and said they'd do away with the entire bill.
"Because they want our commissary business. They had sent me a contract for 48 percent, they were going to pay us 48 percent," Roberts said. "That's what we're in now with them. They have their commissary contract, it was due on the first day of this month. So we've been holding out."
Tiger Correctional originally offered a cut of 48 percent of commissary sales to the UCSO, before any changes to the large bill were proposed. Since the UCSO held out, Tiger changed their offer to eliminate the bill in its entirety while dropping the UCSO's cut of the commissary sales to 40 percent.
A second company had also made an offer to provide the jail's commissary services, though – CTC, another jail supply company, offered the UCSO a 50 percent cut of the commissary sales.
"Business, you do it this way," Roberts said. "Over three years, it was only going to cost me $19,000 instead of the $63,000, so I'm still thinking it's a pretty good deal."
Roberts declined CTC's offer, but they quickly countered. They offered to pay the remaining $63,000 balance on the bill from Tiger Correctional, while dropping the UCSO's cut of the commissary to 40 percent.
"So that's where we're at. They want to buy our business," Roberts said.
• Moving forward: CTC already cut and sent the $63,000 check to Roberts, he said, and he has since paid Tiger Correctional for the food they provided after the fire. He asked the Quorum Court last week whether they approved of the jail switching commissary providers.
"I've got monies in a communication equipment account that's just for the jail … from the commissary. I've got the money there, I could pay – but it's going to cost me $63,000," Roberts said. "Or I can get in a contact with these folks for three years at 40 percent."
Roberts went on to say that CTC also provides the phone service and iPads available to jail inmates, so giving them the contract will ensure quick technical support along with eliminating Tiger's bill.
"And what I like about CTC is if you look at the price an inmate's going to pay for a candy bar with Tiger, and you look at what that same candy bar is going to cost you from CTC, it's 20 to 30 cents less," Roberts said. "So you're going to pass those savings along to those inmates and that inmate's family."
Members of the Quorum Court were supportive of Roberts changing commissary providers for the jail. They moved to appropriate the $63,000 from CTC into the jail construction line of the county's budget.
"Let's cash it," said District 7 Justice of the Peace Johnny Burson.
Caitlan Butler can be reached at 870-862-6611 or [email protected]
Sponsor Content
Comments