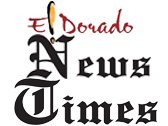 News-Times
Parkers Chapel staged a fourth quarter rally and upended Woodlawn 79-71 on Friday. The Trojans improved to 2-3 overall and 2-0 in league play.
The Bears led 25-18 after one quarter, 42-39 at the half and 58-55 going into the fourth. Parkers Chapel finally grabbed the lead midway in the final period on a 3-pointer by T.K. Killingsworth.
Terrell Malone paced the Trojans with 20 points with Evan Younger adding 19 off the bench. Caleb Jacobs and J.T. Phelps chipped in with nine and eight, respectively.
"Tonight was a hard fought win in a very hostile environment," said PC coach Josh Langley. "Woodlawn is a tough place to go get a road win in our conference, maybe even the toughest. We took their best shot early in the game and just continued to claw our way back in the game. Woodlawn shot the ball lights out tonight, but our guys never panicked. Each quarter we got a little better defensively and offensively we just kept chipping away."
Younger provided a lift off the bench for the Trojans.
"We brought him off the bench tonight and it seemed to wake him up and he played some big boy ball tonight," said Langley. "J.T. Phelps played, in my opinion, his best game as a Trojan. Clark, Thompson, Garcia and McGoogan played outstanding for us off the bench tonight again. And that's huge to have those guys be able to come in and rest some guys.
"Woodlawn was determined not to let (Preston) Stivender get going and I thought he did a good job of not forcing things and taking what the defense gave us. Terrell was solid all night for us and Jacobs is an endless ball of energy, which the team feeds off of."
Parkers Chapel hosts Hamburg on Monday and Hampton on Tuesday.
The Lady Trojans fell 51-43 in the varsity girls' game. Drue Thomas and Ali Looney led PC 2-5, 1-1) with 17 and 15, respectively.
Olivia Gavin scored 15 for Woodlawn (2-3, 1-0) with Makenzie Lasiter hitting three 3-pointers in the third quarter and adding 14 points.
Sponsor Content
Comments