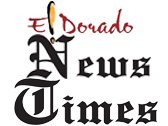 News-Times
By Tony Burns
Sports Editor
El Dorado had four boys place in the top 10 Saturday as the Wildcats won the Razorback Invitational at Texarkana. El Dorado tied Prairie Grove in the team score at 28-28 but won it because the Wildcats' sixth place finisher placed higher in the individual results.
El Dorado claimed the meet title for the second year in a row.
"The competition was much tougher this year than last year," said El Dorado coach John Koonce. "I told the boys that Prairie Grove was going to be a very stiff test. They ran last week in the Bob Gravette invitational in OBU and beat two of our conference members in Benton and Sheridan. When you have a score that close every runner matters."
El Dorado's Jadon Cunningham finished second overall with a time of 18:39.40. Hudson McDiarmid was third in 18:49.01. Brooks Coan finished sixth (19:11.00), J.D. Halstead eighth (19:43.71) with Jaland Upshaw ninth (19:54.58) and Hayden McDiarmid 10th (20:17.32).
"Hudson McDiarmid placed 3rd by beating their 2nd best runner at the finish line, Brooks Coan passed one of their runners in the back stretch. Jaland Upshaw and Hayden McDiarmid both trailed their fifth runner with about a half mile to go and came back and beat him," said Koonce."If you take away any one of those results then we finish second instead of first. So I was very proud of the team as a whole.
"Jadon Cunningham had a much better race this week and we were happy with his performance today. He stayed strong thoughout. J.D. Halstead was our first runner last week, so his performance wasn't as strong today. But, even on an off day he still gave us what we needed to get the win."
Eloy Rodriguez (20:54.14), Carson Ricker (22:02.34), Collin Taylor (22:02.75), Shane Ward (23:45.99), Braden Griffin (25:30.42) and Ian Hernandez (25:46.64) rounded out the Wildcats' runners.
El Dorado's varsity girls saw Melanie Miller finish 11th overall in 25:29.03 followed by Alivia Zartuche, who was 13th in 25:59.41. Laura Fairris (31:06.99) rounded out the Lady Wildcats.
"Melanie and Alivia went back and forth throughout the race. They actually gained about three places on that back half so I was pleased with their finish," said Koonce.
El Dorado's junior girls finished third, led by Addyson Taylor, who finished eighth with a time of 11:42.57. Alexa Dewey was 14th (12:16.89), Hope Walthall 15th (12:18.90), Presley Givens 16th (12:21.09) and Haven Margis 17th (12:34.03).
Aubree Ezell (13:50.64), Mary Claire Parker (15:03.82), Sara May (15:16.21), Addrianna Arnold (15:24.91), Katelyn Hayden (15:38.69) and Mason Halstead (18:09.93) rounded out the junior high girls.
"Addy Taylor continues to be our leader on the junior girls side," said Koonce. "This was a very strong team so I was pleased with a top 10 finish. She is the type of kid that is going to leave it on the course every time. This course was actually a little bit longer than last week's at the Junior High division and there were some time improvements, so we were obviously happy about that. Alexa, Hope, Presley, and Haven ran solid to improve our team score. I expect this junior girls group to continue to improve as the year goes on."
Eighth grader Austin Richard led the junior Wildcats, finishing ninth overall with a time of 10:19.12. Nic Harvey was 11th (10:37.34) followed by Matthieu Malin (13:23.42) and Lex Nash (14:12.48).
"Austin Richard continues to lead this group of junior boys. He is the only returning runner for this age division and it has been great to see his improvement," said Koonce. "We were looking at a lot of the kids that he ran against last year that were at this meet and he has passed a lot of them. He just has to keep working and the results will keep coming in. Seventh grader Nic Harvey just missed out on the top 10 finish, but he left it all out there. He always runs very hard."
Sponsor Content
Comments