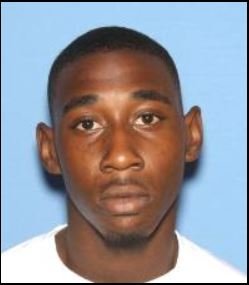 Javon Hunter
Local law enforcement is searching for a Magnolia man wanted in connection with a murder in Lisbon.
Javon Hunter, 21, of Magnolia, is wanted in connection with the murder of Michael A. Edwards, 20, of Smackover, who was found dead at his residence on Lisbon Road early Sunday morning. He suffered from at least two gunshot wounds.
Hunter is described as being 6 feet tall and weighing about 160 or 170 pounds.
Officers with the Union County Sheriff's Office arrived at the residence around 6 a.m. Sunday after receiving a call from Edwards' neighbor. They quickly noticed a blood trail leading from a hallway near the west end of the home to a bedroom on the north end.
There, they found Edwards, who had suffered from a gunshot wound to the chest and one to the head/neck area. Capt. Jeff Stinson of the UCSO said he appeared to have been shot with a small caliber weapon.
Edwards lived at the Lisbon Road residence with his older brother.
Edwards' body has been sent to the Arkansas Crime Lab to be examined by a state medical examiner. Stinson said that through the investigation, officers have learned that Edwards was well-loved.
"He appeared to [have] a lot of friends, because he had so many people, after the fact, that were talking about how they were friends with him. He seemed to be a good guy to them," Stinson said.
Anyone with information on Hunter's whereabouts is urged to contact the Union County Sheriff's Office at 870-864-1970.
Caitlan Butler can be reached at 870-862-6611 or [email protected]
Sponsor Content
Comments