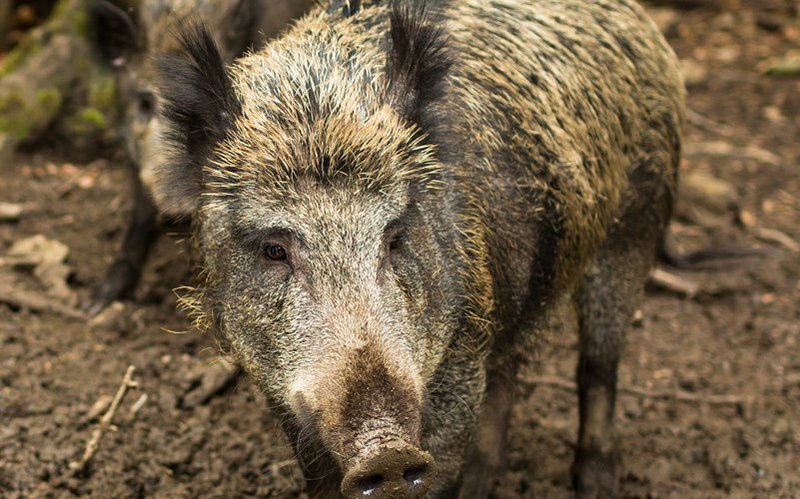 Feral hogs have increased in population throughout Arkansas in recent years, prompting state agencies to increase education and eradication efforts.
Wes Ward, secretary of agriculture for Arkansas and chair of the Feral Hog Eradication Task Force, said while the population of feral hogs has grown across the state, the Department of Agriculture receives the most reports of sightings and killings from south Arkansas.
"We are confident that [their population] is growing every year, it's getting worse every year," Ward said. "The amount of damage that they're causing continues to go up and it's a pretty difficult problem."
Feral hogs, an invasive species, are known to cause damage to natural resources and crops. They also sometimes eat ground-nesting birds, eggs, fawns and young livestock, according to the Department of Agriculture.
To identify whether feral hogs have been in an area recently, Ward said one should look for rooting, where they break up and loosen the surface layers of the soil. Rooting can result in the loss of ground vegetation as well as a decrease in nutrients in soil. It can also cause erosion.
Some feral hogs may carry diseases that can be passed along to other animals, including livestock. Some of the diseases they carry include trichinellosis, brucellosis and the swine herpes virus.
"They really have a negative impact on just about everything," Ward said, adding that they cause about $30 million in damage just to row crops every year.
Ward said if one were to encounter a feral hog in the wild, the hog would most likely stay out of human sight. However, he noted that it is legal to kill feral hogs on any private land at any time in the year in Arkansas. If one is hunting on public lands, they will need to verify with wildlife officials at the location whether they are allowed to kill feral hogs or not.
Feral hogs can be killed by those hunting bear, deer or elk during a firearm season with weapons legal for those seasons. They also can be taken incidentally with archery tackle from Nov. 1 through Dec. 31 during open bear, deer and elk season on certain wildlife management areas and national wildlife refuge areas. In southern Arkansas, that includes:
• Beryl Anthony Lower Ouchita Wildlife Management Area;
• Casey Jones Wildlife Management Area;
• Crossett Experimental Forest;
• Little Bayou Wildlife Management Area;
• Moro Big Pine Natural Area;
• Felsenthal National Wildlife Refuge; and
• Overflow National Wildlife Refuge.
According to the University of Arkansas Agricultural Division, other methods for controlling the feral hog population include corral trapping them, snaring them or hunting with dogs. However, they say that none of those control methods are 100 percent effective, and using the methods in conjunction with one another will have the best results for reducing the population.
"The science shows that you've got to kill about, between 60 and 70 percent just to maintain the current hog population," Ward said. "You've got to kill a lot of hogs just to stay at the same population level and I'm confident that we're not killing nearly what we need to be and as a result, the population continues to go up every year."
Last year, the Arkansas Legislature passed a bill which created the Feral Hog Eradication Task Force. The task force has worked since then to educate Arkansans on feral hog population control methods, as well as to eradicate the animals.
To report a sighting or killing of a feral hog, visit https://www.agriculture.arkansas.gov/feral-hog-eradication-task-force and choose the applicable reporting form from the green box on the right of the page.
Caitlan Butler can be reached at 870-862-6611 or [email protected]
Sponsor Content
Comments