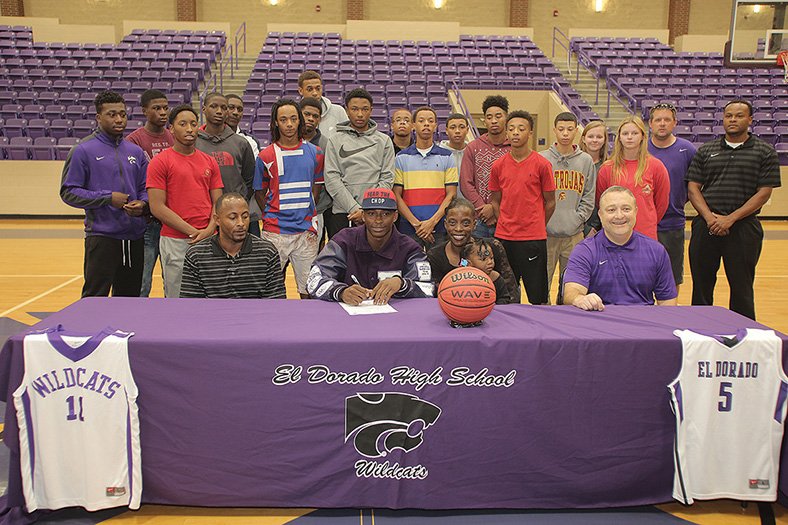 Michael Orrell/News-Times El Dorado basketball player Czar Perry signs his letter-of-intent to play for Itawamba Community College in front of family, friends and coaches in the Wildcat Arena on Tuesday.
By Tony Burns
Sports Editor
EL DORADO - El Dorado senior guard Czar Perry lifted a weight off his shoulders Tuesday when he signed a junior college letter of intent to play basketball at Itawamba Community College in Fulton, Miss. Perry had drawn offers and interest from at least nine four-year schools before choosing the JUCO route.
"Look at him, this time last year he wasn't wearing that smile on his face. He was all stressed out about where he was going to go, what was going to happen and this and that," said El Dorado coach Gary Simmons. "Now, it's behind him and we can move on and take care of business."
Perry averaged 20.2 points, 4.2 rebounds, 6-2 assists and 3 steals per game for the Wildcats, who went 23-7 a year ago and advanced to the 6A state semifinals. It was important for him to get the recruiting process finished, which is why he signed so early.
"I'm just getting it off my shoulders so I can just focus on school and get ready and try to win a championship this year," Perry said. "I've been dreaming about this for a long time, since I got into middle school.
"I can develop my game and get right academically. My dream is to go to Kentucky. I just want to make my dream come true, work hard to get there."
Other schools who competed hard for Perry's services included Northwestern (La.) and Abilene Christian.
"It's been a long road with Czar as far as him finding somewhere he really wanted to go. Czar is a special kid. It takes a special group of coaches. I mean, it's got to be like a family setting for Czar. It can't be all business. He's got to feel like he's appreciated," said Simmons. "The coaches at Itawamba, that's what they made him feel like. The first day they came and talked to him, they made him feel like he was part of their family and they had plans for him. That's a big thing with Czar. Czar always wants to know what the plan is.
"He had dreams of going D-I right out of high school but the thing about it now, those dreams aren't done. Itawamba has proven they develop kids. They play in a good conference. They go to the national tournament. And, they put kids in Division I schools. It's going to be a nice ride for him plus I'm looking forward to watching 'em play because Marcus Thomas from Pine Bluff is playing there. Can you imagine trying to stop that backcourt?"
Perry and senior center Daniel Gafford have both been the focus of college coaches for the past few years. Gafford has verbally committed to the University of Arkansas. Simmons said he wasn't heavily involved in their recruiting.
"Czar and Daniel both, in this whole process, I've just kind of let them do their own thing. When they had a question I've answered it but I've tried not to inject a whole lot into it unless they asked me," he said. "I think one day in the gym, Itawamba was here and Abilene Christian was here and Northwestern (La.) was here and they were all here on the same day. They were all great schools. He really loved visiting with Abilene Christian and Northwestern. But, he just feels like this is where God is leading him and where he wants to be. I'm so proud for him I can't stand it."
Listed at 6-foot-2, Perry is an athletic guard, capable of slashing to the basket or pulling up for the long-range 3-pointer. He shot 45.3 percent from beyond the arc last season, hitting 64-of-141 attempts. He shot 58.8 percent overall, hitting 179-of-304 field goal attempts.
He will have to make a slight adjustment to the point guard role at the collegiate level. Simmons said that might be his natural position.
"With Czar, I think that's his natural spot. I'm blessed. I have two real good point guards on my team in him and Ryu Unice. When we moved Czar to point guard after Tristian graduated, it was a learning process for him but it's stuff he's been doing since he was little," said Simmons. "He gets in, draws a bunch of attention and kicks out. He broke the school assist record last year. That record had been around for awhile."
Perry, who seemed relaxed and at ease with his decision, said he's ready for his senior season and beyond.
"I have to get my grades right and then just help my team so we can make it to the big dance," he said.
"I want to thank my dad because he's been with me my whole life. He helped me through this thing. He always stay on me about being focused and keeping my grades right."
Sponsor Content
Comments