Hugh Goodwin has been recognized by the United States Department of Education as a National Blue Ribbon School for "exemplary achievement gap closing."
"This year's cohort of honorees demonstrates what is possible when committed educators and school leaders create vibrant, welcoming, and affirming school cultures where rich teaching and learning can flourish," said U.S. Education Secretary Miguel Cardona when he announced the awardees on Tuesday.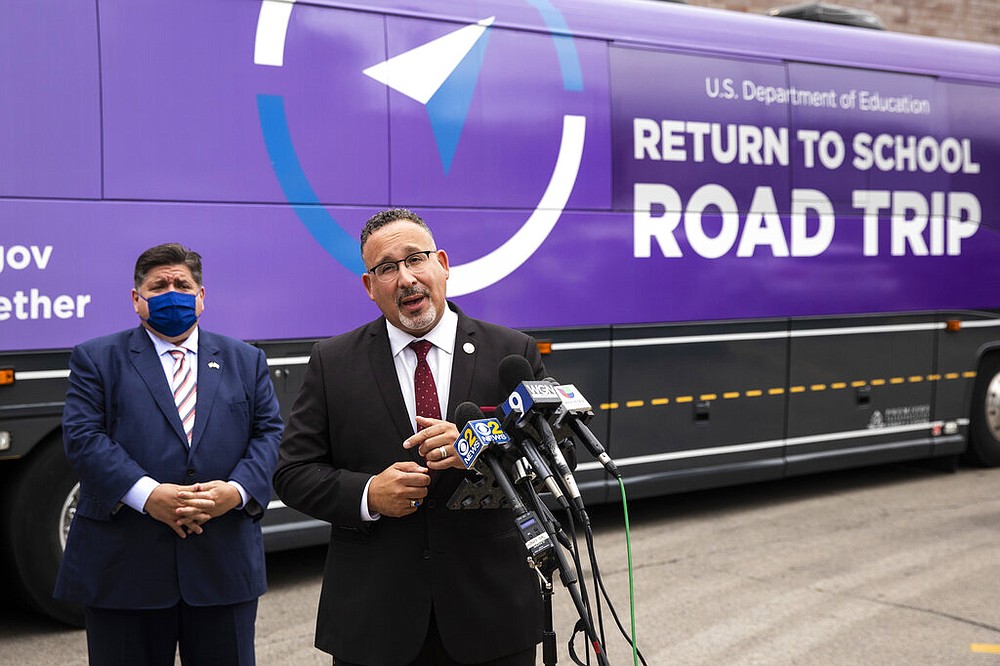 U.S. Secretary of Education Miguel Cardona speaks as Illinois Gov. J.B. Pritzker looks on Tuesday afternoon, Sept. 21, 2021, in Cicero, Ill. Cardona announced the National Blue Ribbon Schools of 2021 during an event in Illinois as part of his "Return to School Road Trip." (Ashlee Rezin/Chicago Sun-Times via AP)
Hugh Goodwin is one of only four schools in Arkansas to be named a National Blue Ribbon School this year, according to a press release; the other three were Carolyn Lewis Elementary in the Conway Public School District, Park Magnet School in the Hot Springs School District and Portland Elementary School in the Hamburg School District.
Schools recognized for exemplary achievement gap closing "are among their state's highest performing schools in closing achievement gaps between a school's student groups and all students."
"I think it's a great honor for Hugh Goodwin and the El Dorado School District as a whole. I think it's a very good reflection of the district as a whole," said ESD Superintendent Jim Tucker. "I appreciated their being recognized for their hard work, and I appreciate the hard work that every school in our district puts in."
Measuring achievement
Each year, the Arkansas Department of Education produces "Report cards" for every school in the state.
Each school is given an A-F grade based on metrics including weighted achievement, measuring students' math and literacy scores on state standardized tests; growth, measuring the number of students in a given school that exceeded their expected growth rates in literacy, math and English language proficiency (for English learners); and school quality/student success, measuring student attendance, reading, science achievement and growth in science.
The school report cards are based upon standards in the Every Student Succeeds Act, which aims to raise educational standards, involve parents and communities in elementary and secondary education, promote local innovations in education and ensure schools are held accountable for student performance, according to the U.S. Dept. of Education.
Hugh Goodwin earned an "A" for the 2018/2019 school year, surpassing the state average in every metric measured and improving on their previous grade of "B" in the 2016/2017 and 2017/2018 school years.
In the 2019/2020 school year, the school also exceeded the state's expectations in achieving readiness for English language arts and mathematics by a significant percentage.
Despite all their achievements, the school is still looking to continue improving.
"Three new principles that we kind of are trying to establish this year is that (one) 'hope is not a strategy:' So, we're not going to hope that a kid learns, we're going to get a kid to learn. ... (Two) 'Do not blame the kids,' and what that is, is that it is not the kid's fault because of their circumstances; they come to us, and we do not get to go home with them every night, so it is not the kid's fault, we've got to find a way to help them. ... And then the last one is (three) 'learning is required.' It's not an option; you don't get to decide if you're coming to learn today, it is required. Those are our three strategies for improvement," said Hugh Goodwin Principal Jesica Collins.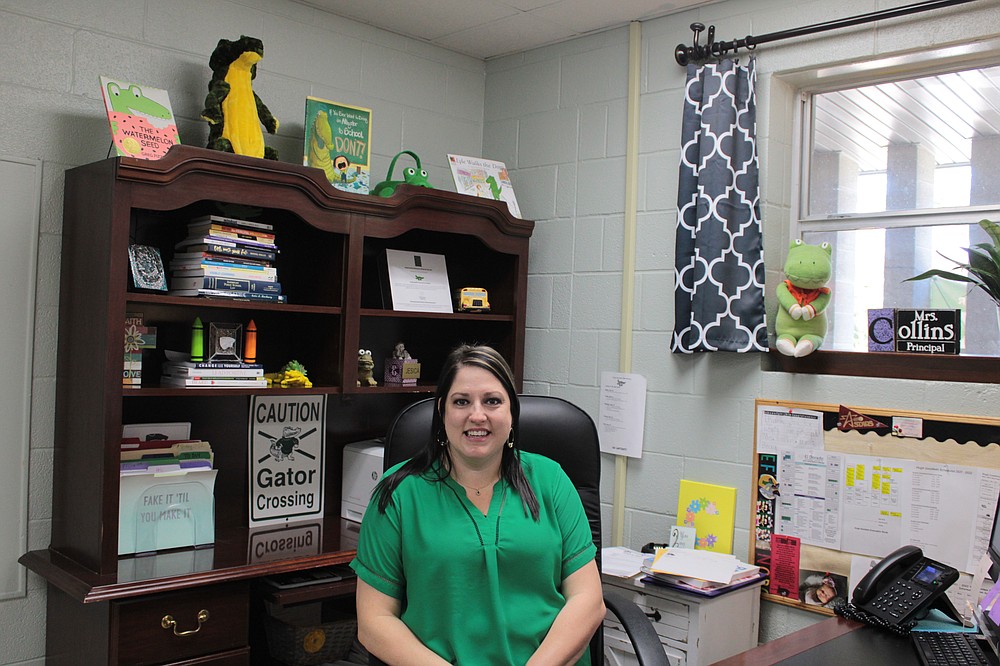 Hugh Goodwin Principal Jesica Collins is pictured in her office on Wednesday, Sept. 23. Collins planned to announce Hugh Goodwin's recognition as a National Blue Ribbon School to her staff that afternoon. (Caitlan Butler/News-Times)
Collins was the assistant principal at Hugh Goodwin for six years before she stepped into the top role about three and a half years ago, when it was still a "B" school, according to the state Department of Education. She said the educators at the elementary school maintain a philosophy of doing "whatever it takes" to continue improving outcomes for students.
"Basically, we adapted the phrase 'whatever it takes,'" she said. "It's just doing whatever it takes -- trying to meet the whole child, involving our community, our parents and everybody to have that. Not only are we teaching curriculum, but, you know, it's much more than that."
Each year, Hugh Goodwin chooses a theme to help guide student achievement. This year's theme is "Gators give back," and students have already completed several giving-back projects, including helping to provide aid for those affected by Hurricane Ida.
"I think that helps, kind of, motivate what we are doing," she said. "I think, every year, that just pushes us."
At full capacity, Hugh Goodwin can serve about 500 students, and according to the Arkansas Department of Education, in the 2018/2019 school year, there was a student to teacher ratio of about 18 to one there. Per state law, the maximum student to teacher ratio allowed in Arkansas is 23 to one.
The school doesn't limit itself to just teacher-student interactions, though, Collins said. She stressed the importance of parental and community involvement, as well as the support the school gets from the district. Before the COVID-19 pandemic, Hugh Goodwin also employed peer-to-peer mentoring, which Collins said the school still tries to utilize as much as they can; for example, she said older students will read to their younger peers on occasion.
"It's the culture of the school. It's the heart of the school. It's just what it is to be a Gator," Collins said. "It's these kids, it's the staff, it's the parents and it's this district. ... All of these people have made this happen."
Hugh Goodwin students practice their coloring during school on Wednesday, Sept. 23. (Contributed)
Recognition
Collins first applied for National Blue Ribbon School status in February, 2020, she said. The school had been nominated by the Arkansas Department of Education because of their letter-grade improvement.
Collins wrote a summary of Hugh Goodwin's strategies for success for the application and attached a photo that appeared in the Nov. 13, 2012 edition of the News-Times from the school's first Veterans Day parade. The event has since become an annual tradition.
"It's kind of full circle here ... The reason I chose to use that picture, I know it's an older picture -- actually, I know that it is almost eight years old, because the kid in it, one of the kids in it, is a senior at the high school now -- ... every year Hugh Goodwin does the Veterans Day parade," Collins said. "On the National Blue Ribbon School logo ... it's one of the United States logos, it's the eagle with the United States flag. So I thought it was just kind of full-circle -- Veterans Day and we have this award."
Hugh Goodwin students walk under an American flag during the school's first ever Veterans Day parade in 2012. The parade has since become an annual event the school holds. Principal Jesica Collins selected this photo to represent Hugh Goodwin in her application for the school to be recognized as a National Blue Ribbon School. (Michael Orrell/News-Times file)
Collins didn't find out until early Tuesday morning, when Cardona made the announcement, that Hugh Goodwin had been selected for recognition.
"(I felt) just ecstatic," she said.
On Wednesday, Collins announced to Hugh Goodwin staff that the school had been recognized as a National Blue Ribbon School. That morning, showing off a confetti popper she planned to carry to the staff meeting with her, she said that once Hugh Goodwin's educators knew about the award, she hoped to solicit ideas from them about how to celebrate.
"(I'll tell them) how proud I am of them, that I'm honored to work with them and to be with our students. I'll tell them our ideas, let them process it and think about how else they would like to celebrate, and then email me some ideas, and that will give us until Veterans Day, about a month away, so that we can gather our ideas and thoughts on additional ways to celebrate," Collins said.
Some of the ideas Collins and other El Dorado School District staff were already floating early Wednesday included tying the award into this year's Veterans Day parade; making a video highlighting the school; holding a "Blue Ribbon" cutting ceremony; and hosting a community reception for the Gator family and other community members. Tucker said he's hoping the reception can be scheduled in the next couple of weeks.
Collins said the school has made a commitment to continue to improve, and will always do "whatever it takes" to help students succeed.
"No matter all of the factors, the things that are out of our control that are pushing against us in the world today, we have made a commitment to do whatever it takes to help our students achieve academically, socially and emotionally," Collins said.
Cardona, in his remarks Tuesday morning, said schools like Hugh Goodwin can serve as a model to others throughout the nation.
"I commend all our Blue Ribbon honorees for working to keep students healthy and safe while meeting their academic, social, emotional, and mental health needs. In the face of unprecedented circumstances, you found creative ways to engage, care for, protect, and teach our children. Blue Ribbon Schools have so much to offer and can serve as a model for other schools and communities so that we can truly build back better," he said.
Tucker said that other schools in the district have previously been nominated for Blue Ribbon recognition, but as far as he's aware, Hugh Goodwin is the first to win it.
"Just being nominated is a pretty big deal," Tucker said. "They all work so hard. I'm extremely proud of Hugh Goodwin."
An awards ceremony for all National Blue Ribbon Schools is planned for Nov. 4 and 5 in Washington D.C.