The South Arkansas Arts Center is inviting the community to a "Family Game and Hot Dog Night," which is being held in conjunction with the upcoming production of "Clue: On Stage."
This family game night playing "Clue" will be held on Saturday, Sept. 18, from 4 to 7 p.m.
All "Clue" lovers will want to assemble for this night of twists and turns on the game board. Murder and blackmail -- as well as hot dogs -- are on the menu when the six mysterious guests assemble for a dinner party. Was it Mrs. Peacock in the study with the knife? Or, perhaps, Colonel Mustard in the library with the wrench?
The directors of SAAC's "Clue," Hannah Faith and Rhett Davis, will be in attendance to give newcomers some tips, and get in on a game or two. Game tables will be set up and safely spaced in the gallery. Kernel Mustard and his hot dog food cart will be taking orders for supper in the parking lot. Guests are welcome to stop by and purchase a custom dog, even if the board games aren't on their menus for the evening.
"Family Game Night is a chance for the community to come together and let their hair down," said Rhett. "We will be having a variety of games available, and our cast will largely be present to talk about their roles and the upcoming show. Kernel Mustard's Hotdog Cart, appropriately named, will be there providing a tasty dinner. And there will be a fun door prize for one lucky person who comes to play. Come join us for an outrageous fun time of board games, hot dogs and laughs!"
"Clue: On Stage" performances are scheduled for Oct. 22-24 and Oct. 28-31.
For more information about this family fun night, call the SAAC office at 870-862-5474 or visit saac-arts.org. SAAC is located at 110 E. 5th St. in El Dorado.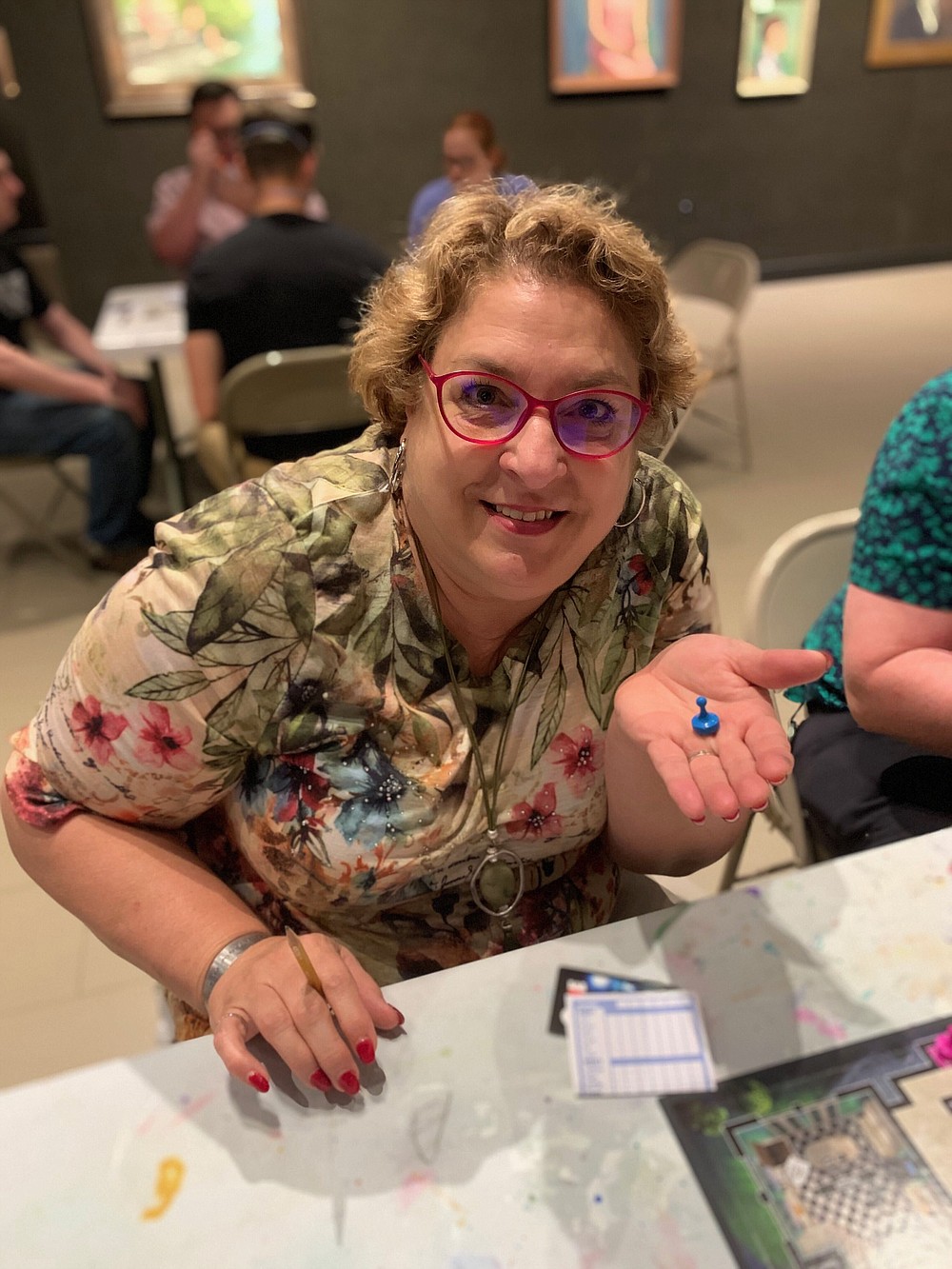 Traci Stevenson, who will play Mrs. Peacock in the South Arkansas Arts Center's upcoming production of "Clue: On Stage" enjoys a game of Clue in the SAAC art gallery. (Contributed)