Gov. Asa Hutchinson objected Tuesday to federal vaccine mandates for private businesses while noting that he does support a state's right to mandate vaccines in environments it deems necessary.
Last week, President Joe Biden announced that businesses with 100 or more employees must require their employees get vaccinated against COVID-19, or be subject to weekly COVID testing.
"There's been significant debate about this," Hutchinson said on Tuesday. "I do not support the strategy of a broad federal mandate for businesses with over 100 employees that requires the employer to have all employees vaccinated. ... It is counter-productive, and in my view, will increase vaccine hesitancy."
However, the governor said he did support private business owners' freedom to impose vaccine requirements on their employees, saying that right shouldn't be infringed.
"Businesses have that freedom," he said.
He also acknowledged the Commander in Chief's authority to mandate vaccines for members of the United States Armed Forces and other federal employees. He referenced George Washington, then Commander in Chief of the Continental Army, requiring troops get vaccinated against smallpox.
"This is a targeted use of federal authorities that can utilize that for the Armed Forces. That's the prerogative for the Commander in Chief," Hutchinson said.
Hutchinson also said he will continue for advocate for all who are eligible to get vaccinated against COVID-19.
"I continue to advocate for everyone who is eligible to be vaccinated. That is the message and this debate on mandates is a side-attraction that draws, really, from the greater voice we've had in encouraging vaccinations," he said.
According to the Arkansas Department of Health, since Feb. 1, 89.71% of Arkansans who have contracted COVID-19 were not fully immunized against the virus; 91.35% of Arkansans hospitalized for COVID were not fully immunized; and 89.82% of Arkansans who have died as a result of the virus were not fully immunized.
ADH data also shows that as the vaccination rate has increased across various age groups, the number of new COVID cases identified in those groups has declined. While cases identified in children under the age of 12, who are not eligible for vaccination, have increased by 92% since August 2020, and cases identified in children ages 12 to 18, who have only been eligible for vaccination since May 2021, have increased by 14% since August 2020, for all other age groups, for whom the vaccination rates range from 35% to 70%, the number of new cases identified have declined anywhere from 9% to 42% since last year.
"You can really see that there is a difference in those individuals that are receiving the vaccine, and particularly for children, so it is very important that these children continue to receive the vaccine and we try to immunize that entire population," said ADH Secretary Dr. Jose Romero.
As of Monday, three local school districts and South Arkansas Community College were reporting more than five active COVID cases among students, faculty and staff.
According to the ADH, the Parkers Chapel School District had reported 47 cases, including 35 in students and seven in staff and faculty, 18 of which were active Monday. The Junction City School District had reported 22 cases, including 17 in students and five in staff and faculty, six of which were active Monday. There were 14 active virus cases in the El Dorado School District, where 43 total cases have been identified as of Monday. At SouthArk, 20 cases had been identified by Monday, including six that were active.
Statewide, 13,070 COVID-19 cases have been identified in public K-12 students, staff and faculty since Aug. 1, and 3,284 of those were active on Monday. Arkansas Department of Education Secretary Johnny Key noted on Tuesday that three school districts this week had implemented learning modifications as a result of outbreaks, saying that in all three cases, the modifications were limited to one or two schools within their respective districts.
Mitigation strategies
Romero said for children in school that are not yet eligible to be vaccinated, masks remain among the top strategies a school district can take to mitigate virus outbreaks.
"For the younger individuals, those individuals under 12 years of age, we have no vaccine at this time, so it's very important that masks be used in schools in order to limit the spread. These have been shown to be effective in preventing infections and in limiting the spread of the virus in closed settings," he said. "And I can tell you from personal experience, they work. They clearly work."
Key said that the few modifications to in-person learning that have been implemented this year are proof that local decisions about limiting the spread of COVID-19 have been successful.
"All in all, we continue to have a relatively successful school year. Part of that is because of the local decisions that are being made. The local school leaders, superintendents, local boards are making good decisions regarding all of the multiple layers of mitigation strategies that we have recommended," he said. "My message to those superintendents and to those school boards: Let's keep doing what you're doing."
Hutchinson also highlighted monoclonal antibody treatments -- created by pharmaceutical company Regeneron -- that are available to Arkansans who are at high-risk for serious disease resulting from COVID-19.
Monoclonal antibody treatments are available to Union County residents at the Medical Center of South Arkansas. According to a press release from the hospital, 430 treatments have been administered in its infusion clinic since December of 2020.
"I believe these infusions have been helpful in treating COVID-19 patients," said registered nurse Morgan Nash, who has worked in the infusion clinic since December. "I call to check on our patients and see how they are feeling a couple days after the infusion. It makes me feel good to hear their recovery stories and know that I had a small part in their recovery."
Post-exposure preventive monoclonal antibodies are available to those who have been exposed to COVID-19 (consistent with the CDC's close contact criteria) and who are:
- High risk for developing severe COVID-19 and
- 12 years of age or older (and at least 88 pounds) and
- Not fully vaccinated or vaccinated but immunocompromised
For more information about monoclonal antibody treatments at MCSA, call 870-863-2072.
"We continue to have an adequate supply here in the state," Romero said. "This is a proven therapy for the prevention of hospitalization in individuals. These have shown a 75% to 80% reduction in hospitalizations for individuals that have received them. If you are in a high-risk situation and of the age, you should receive these if you are infected with COVID."
Also, Hutchinson noted that at-home COVID tests are now available at many pharmacies across Arkansas. Romero encouraged Arkansans to utilize at-home tests, which turn over results quickly, to help reduce community spread of the virus.
"I want to stress the importance of maintaining our vigilance for COVID, for getting tested when appropriate. The governor has pointed out that we now have homes tests available; these can be used and are available from a number of sources, at cost, and should be part of our evaluation for individuals that are exposed to COVID," Romero said.
Vaccines locally
Three COVID-19 vaccines developed by pharmaceutical companies Pfizer, Moderna and Johnson & Johnson have been approved for use in the United States. The Pfizer vaccine has received full approval from the FDA for use in people 16 and older, and has emergency use authorization for use in people as young as 12 years old, while the latter two vaccines are approved for use in anyone over the age of 18.
Vaccines are available locally by appointment at at Melvin's Discount Pharmacy, Walmart, Walgreens, both Brookshire's branches in El Dorado and the Union County Local Health Unit. To set a vaccination appointment at Melvin's, call 870-863-4155; for Walmart, visit walmart.com/COVID; for Walgreens, visit walgreens.com/findcare/vaccination/covid/19/landing; for Brookshire's, visit brookshires.com/covid-19-information; and for the Local Health Unit, call 1-800-985-6030.
Vaccines are free to all, and one does not need health insurance to get vaccinated.
COVID testing is also available in Union County at SAMA, at 600 S. Timberlane in El Dorado; Medical Center of South Arkansas, at 700 W. Grove in El Dorado; Walgreens at 701 W. Grove and 2135 N. West Ave in El Dorado; the Union County Local Health Unit, at 301 American Rd. in El Dorado; and the Strong Clinic, at 253 S. Concord in Strong.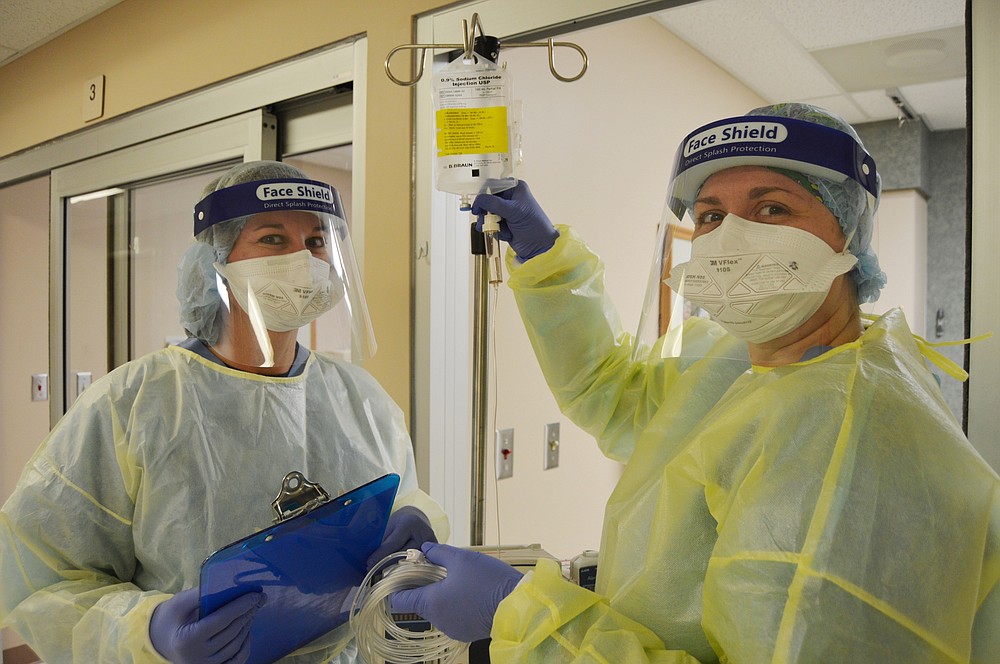 Registered nurses Morgan Nash and Stacy Wagnon have worked in Medical Center of South Arkansas's monoclonal antibody infusion clinic since December. (Contributed)