Representatives from ProMed Ambulance visited El Dorado's American Legion Post 10 on Tuesday night to donate an automated external defibrillator (AED) for use at the Legion hall.
El Dorado Legion Commander Brian Burdine accepted the device from ProMed's John Burdue in front of attendees who came to enjoy the Post's chili cook off that was held the same night.
Burdue said the American Legion is "one of the best locations [the AED] could be."
"ProMed is always looking to fill needs in the community. This AED is something we had and wanted to donate somewhere where it was needed," Burdue said.
Burdue said he was speaking with Burdine - who is a firefighter trained in CPR and AED-use with the Parkers Chapel Fire Department - who mentioned that he wished the Legion had a defibrillator on location.
Burdue said he spoke with ProMed CEO Ken Kelley, who agreed to donate the AED.
"These veterans provided the freedom we have to do all that we do. Another thing is that ProMed wants to be proactive and in front of emergencies, so it's a good place for [the AED] to be," Burdue said.
Burdine expressed thanks to ProMed for the donation and said the AED will be valuable to have on hand at Post 10.
"The most important thing is, we have older folks here and anything can happen, so it's good to have it just in case... I'd rather be prepared and [an AED] is always a good thing to have for anyone," Burdine said.
Tuesday night was a busy meeting at the American Legion with the chili competition as well as recognition of the young students who placed in the Legion's recent anti-drug poster contest.
Rebekah Ibert won first-place in the local competition while Loren Freeman won third-place in the local contest and first-place in the statewide contest. Burdine said Freeman is the first statewide first-place winner from El Dorado in the contest. The secondplace winner was not on hand to accept their award.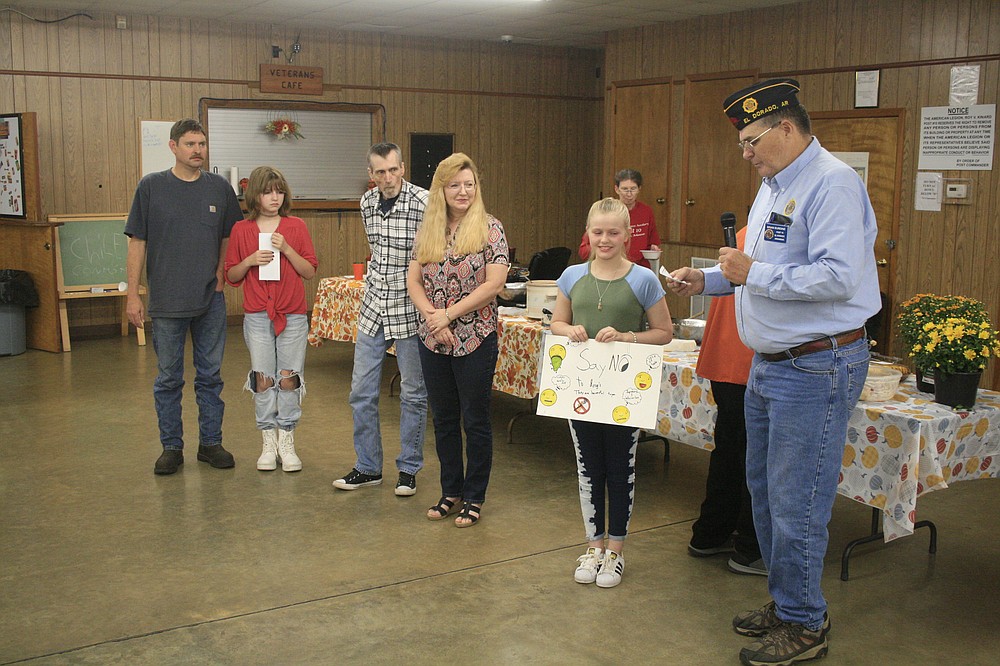 Rebekah Ibert, second to left, and Loren Freeman, second to right, both accepted awards on Tuesday evening from American Legion Post 10 Commander Brian Burdine, right, for the winning posters they made for the state's "War on Drugs" poster contest. (Matt Hutcheson/News-Times)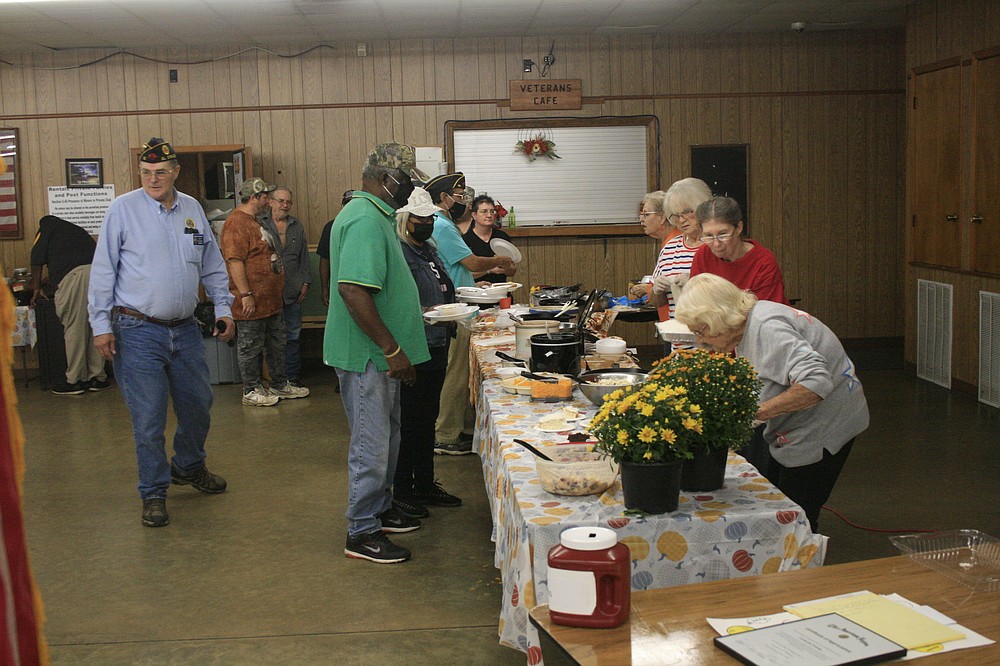 The American Legion Post 10 hosted a chili cookoff Tuesday night; they also awarded two local girls for their entries into a statewide anti-drug poster contest and accepted a donation of an automated external defibrillator from ProMed Ambulance. (Matt Hutcheson/News-Times)