The Last Dance, a two-day blues, southern soul and R&B concert, kicks off today at the Union County Fairgrounds, 1490 E. 19th.
Presented by Mr. Mike's Productions, The Last Dance was initially planned for one day, Oct. 9, but with additions to the musical lineup and scheduling changes for some of the headliners, the show, which was originally set for Saturday, was expanded to cover a weekend at the fairgrounds, 1430 E. 19th.
Kicking off tonight's leg of the show will be Kiko, Veronica Ra'Elle and the Jay Morris Group, best known for the song "Knee Deep," a track on the group's 2019 album, "Like Food to My Soul."
Gates open at 7 p.m. and the show starts at 8 p.m.
On Saturday, T.K. Soul, also known as "The Bad Boy of Southern Soul," will lead a larger one-day lineup that includes J-Wonn, Lacee, Mr. Sam, Roi "Chip" Anthony, Mr. Lyve and C. Lamont.
Gates will open at 3 p.m. and the show will start at 5 p.m. on Saturday.
Tickets are $35 in advance and $45 at the gate and are good for both days.
Entertainer 2-Legit will host The Last Dance and DJs Big Daddy and Banks will be on hand to entertain the crowd.
Promoter Michael Jackson, of Mr. Mike's Productions and owner of Mr. Mike's CDs and Tapes, announced the lineup for The Last Dance in September.
The Last Dance was launched by Mr. Mike's Productions in 2020 to cap off a season of live, outdoor music events that include Soul Fest and the Southern Soul Showdown -- both annual events that are also held at the fairgrounds and feature blues, southern soul and R&B.
Soul Fest was held in May and Showdown followed in August.
Jackson hinted that changes in the talent roster and dates for The Last Dance could be forthcoming due to potential scheduling conflicts.
He confirmed the changes in late September, saying then that a second leg of the show had been added for today.
Jackson said ticket-buyers, particularly those who had purchased early-bird tickets, were excited to hear that The Last Dance had been expanded to two nights.
He said out-of-town visitors who come to El Dorado each year for Soul Fest and the Southern Soul Showdown, both of which are held on Saturdays, often arrive on Friday.
"I thought (The Last Dance) was going to do well anyway. A lot of people who come from out of town come in on Friday and they look for something to do," Jackson said. "They definitely appreciate that it's two nights. A lot of of them want to see the Jay Morris Group."
He said advance tickets have been sold in Baton Rouge; Jackson, Mississippi; Las Vegas; and to a cadre of fans from Texas, with many in the Dallas-Fort Worth metropolitan area.
The Last Dance comes a week after MusicFest -- which is presented by Main Street El Dorado and the Murphy Arts District --, bringing large, live-music events to El Dorado for two successive weekends.
MusicFest headliners Frank Foster and Ice Cube performed Oct. 1 and 2, respectively, in the First Financial Music Hall in the MAD entertainment complex.
On Oct. 2, MSE filled the downtown square with attractions, vendors and more live music featuring local and regional talent on outdoor stages.
Attendees for The Last Dance are encouraged to bring their lawn chairs and coolers at $5 per cooler. Food and other vendors will be onsite.
COVID-19 precautions, including face masks and social distancing, are encouraged. Hand-sanitizing stations will be available at the fairgrounds.
Tickets are available in advance until 4 p.m. today and Saturday at Mr. Mike's CDs and Tapes in El Dorado; Special Touch in Camden; Golden Girls in Warren; Record Rack in Pine Bluff; Golden Lady in Texarkana; Ugly Mike's in Little Rock; and LBK's in Farmerville, Louisiana.
For more information, call Jackson at 870-866-7441.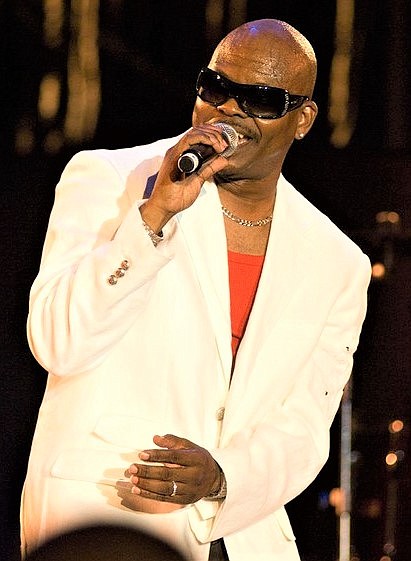 The Jay Morris Group and TK Soul are two of the featured acts that are scheduled to take the stage at The Last Dance, a two-day southern, blues and R&B concert that is set for tonight and Saturday at the Union County Fairgrounds. The show is presented by Mr. Mike's Productions. The Jay Morris Group will help kick off the show tonight and popular southern soul/blues singer TK Soul will lead a larger musical lineup on Saturday. (Contributed)