Local residents have kept downtown shop owners and employees busy this holiday weekend, and several boutiques reported a hefty increase in sales since Thursday.
The holiday shopping season kicked off Thursday evening with a pajama party and early Black Friday sales on the Square.
"We've had a lot of folks," said Haley Houldridge, manager of Martha's on the Square. "It was slammed for the pajama party. We did great on the pajama party and on Black Friday."
The second-annual Black Friday pajama party kicked off last year, but Becky Powell, owner of The Perfects boutique, said this was her third year to start sales early on Thanksgiving night in El Dorado. The Perfects has three locations -- in El Dorado, Camden and Magnolia --, and she said she carried the idea over to the Downtown Business Association after originally starting it in Camden.
"It's a great deal," she said on Saturday. "I think everybody was ready to get out of the house and have something normal, that they're accustomed to at the holiday."
Sales continued in the days following Thanksgiving, and on Saturday, downtown El Dorado bustled with activity as local resident showed up to shop local on Small Business Saturday.
In the late afternoon, Karen Hicks stood near Santa's sleigh as her daughter assisted as one of Saint Nick's elves. Hicks said she had done some of her holiday shopping earlier in the day, purchasing a Downtown Business Association ornament and some barbeque sauce.
"I get disappointed when I can't find something locally," she said, noting that she tries to do all her holiday shopping at mom-and-pop stores in the city.
Main Street El Dorado also did its part to help drive local shopping this weekend, offering meet-and-greets with Santa Claus and free holiday train rides throughout the Square.
Hicks said the line to take a photo with Santa stretched down the sidewalk on the northeast side of the Union County Courthouse several times during the day, and "easily 300" people had stopped by, if not more.
"We've been packed," Hicks said.
SRG Realty Group and the Barton Library also pitched in with cookie kits for children to take home and a live Story Time outside the Courthouse, respectively. Children's Librarian Karla Nelson could be seen dressed as an elf later in the afternoon, handing out candy canes to those who took photos with Santa.
Matthew and Amanda Morgan brought their son Parker to meet Santa on Saturday. They said they'd had a meal and were thinking about taking a train ride as they got some holiday shopping done.
"So far so good," Matthew Morgan said of their experience.
Houldridge said business has been good at Martha's at least since school started earlier this year, and online sales have also increased since the COVID pandemic began. She regularly makes shipments across the region, including to northwest Arkansas, Texas and Louisiana, she said.
However, it's been nice to see her customers in-person again this year, she added.
"Business has definitely picked up. More people are out shopping this year. This week has been very successful," she said. "Compared to last year, the sales are better."
The Perfects had three sales clerks working the register and assisting customers on Saturday. Haley Reed said she's had a good time working the holiday sales.
"Black Friday, it was shoulder to shoulder in here," she said. "And the pajama party -- it was a lot of fun. That was when we were busiest."
Powell said sales were at least double this holiday weekend compared to last year, and she estimated that there was a 47% increase in foot traffic in the boutique. She's been in business for 13 years, she said, and this year has been the busiest she's ever seen.
"That says a whole lot, because we have a lot of events that people really turn out for," she said. "It's been unbelievable."
Shoppers have come from as far as Houston, Texas and Shreveport, Louisiana this weekend, Powell said, though she's seen lots of familiar local faces as well.
"In El Dorado, the whole town supports downtown," she said. "I think everybody, genuinely -- even the people that aren't from El Dorado -- love the downtown."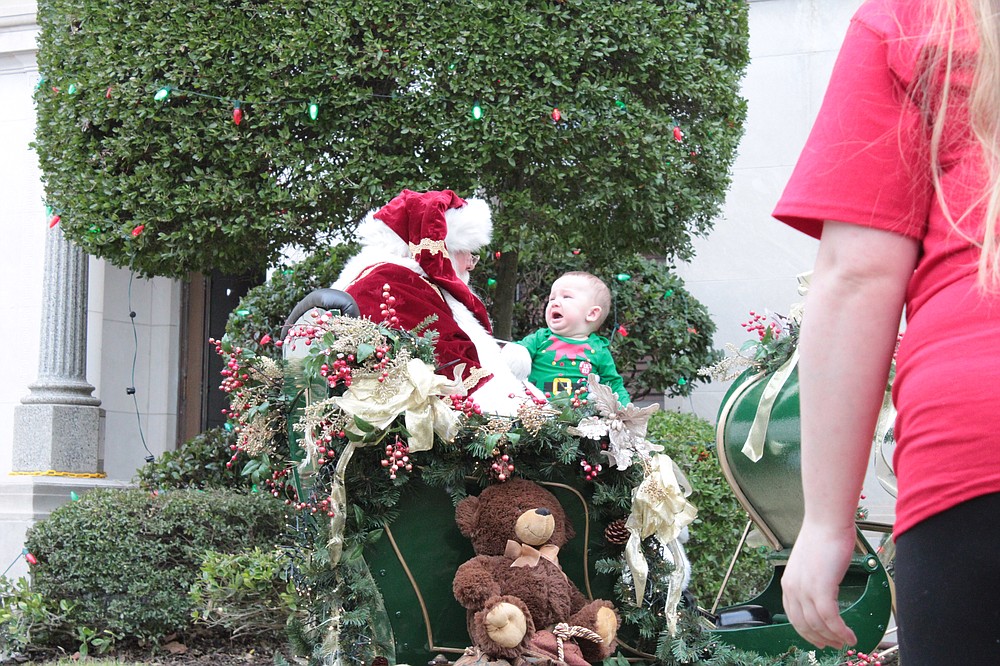 Luciano Ramirez sits on Santa's lap for a photo during Shop Small Saturday in downtown El Dorado on Nov. 27. (Caitlan Butler/News-Times)