Preparations were already in motion for the annual Thanksgiving meal at El Dorado's Salvation Army on Tuesday morning.
Salvation Army Major David Robinson said the process begins with a day full of smoking and frying turkeys on Tuesday, followed by de-boning of the turkeys and the remainder of the meal prep taking place throughout the day today.
In charge of smoking and frying the turkeys is Bruce Green, a local man marking his 28th year performing the service for the Salvation Army.
Green brings his own smoker on a trailer each year and makes relatively quick work of the more than 40 turkeys that are to be served this year.
"It's just a blessing to do this and give back. I love doing it," Green said.
Robinson said volunteers are still welcome and needed both for the turkey de-boning this evening and to help with serving and cleaning up tomorrow.
The Thanksgiving meal will be served starting at 11 a.m. Thursday and will last until "12:30 or 1 (p.m.)," Robinson said. This year, there will be a sit-down meal along with to-go and even "about 25" delivery orders to seniors unable to get out.
Robinson said the Salvation Army partnered with local groups who work with seniors to find those who need Thanksgiving meals home delivered.
Additional to-go meals may also be available for those in attendance after the meal, though Robinson said that will depend on how much food remains at the end of the day.
Although David Robinson and wife Joanna are in their first year as corps officers at El Dorado's Salvation Army, the couple have spent years in various other appointments around the country.
The Salvation Army's Thanksgiving meal, David Robinson said, provides a sense of community for those who may lack the means to otherwise enjoy the day or gather with friends and family.
"We have people from all walks of life come... [People] can come and have a meal here and have a time of fellowship. It gives them hope and something to be a part of. Something that always amazes me is the people we get to meet and the stories we get to hear. We get seniors, widows, widowers, struggling families; great people with great hearts. Our doors are always open to anyone and everyone," he said.
The Salvation Army's kitchen will be closed Friday, Robinson said, since staff will be working on Thursday, and will reopen Saturday.
He expects that 300 to 400 meals in total will be served on Thursday. From March 2020 to September 2021, according to Robinson, the Salvation Army has served 62,000 meals from the El Dorado location.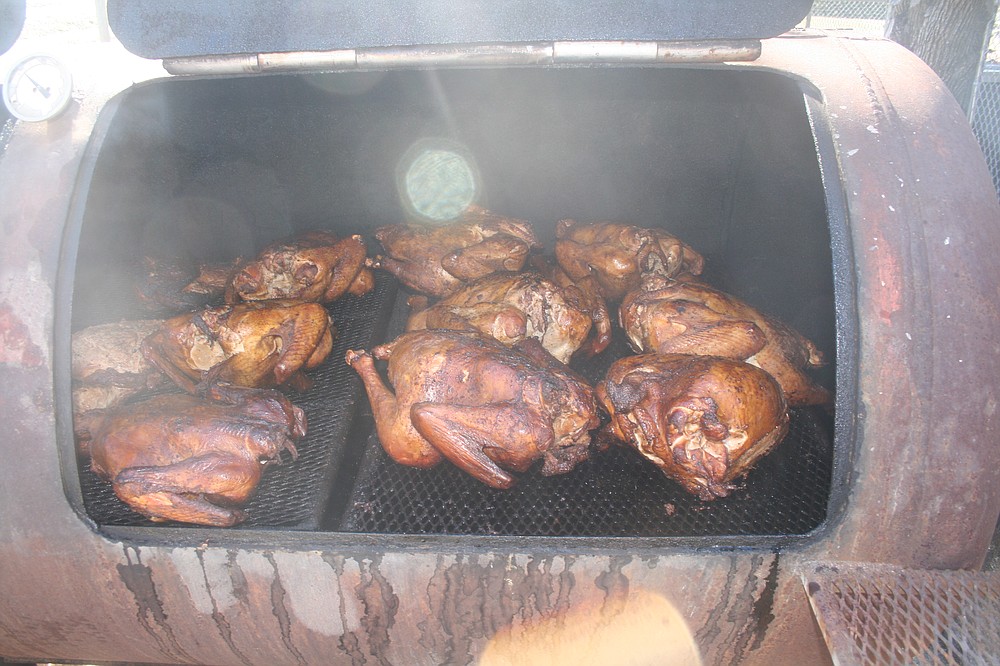 A handful of the 40 total turkeys that will be served at the Salvation Army's Thanksgiving meal on Thursday are seen smoking on Tuesday morning. (Matt Hutcheson/News-Times)