Three Birds Brewing Company is slated to have their grand opening on May 14, premiering some of their in house craft beers and relaxed atmosphere.
Brad and Rachel Lange, married couple and brewery owners, have been hard at work putting the finishing touches on the new digs. Industrial pendant lights overhang an extended handcrafted, dark wood bar. The smell of hops fills the air as Brad Lange is hard at work crafting his Mexican ale, featuring Montueka hops that he says will give it a zest lime kick, perfect for summer drinking.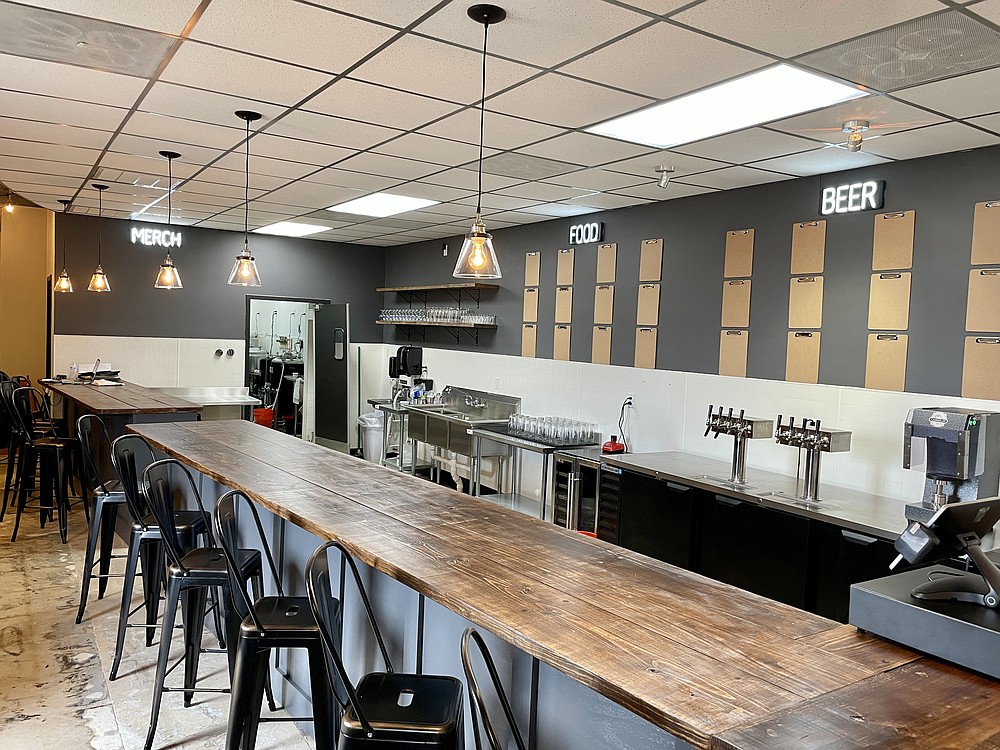 (Marvin Richards/News-Times)
The Louisiana natives have been in El Dorado since 2011 and have developed a deep love for El Dorado, which has in part, inspired them to go on this new business venture.
"I started home brewing a few years ago," Brad Lange said. "It turned into a passion of mine and it lined up with our business ideals of wanting to do something in the community that would be different for the town of El Dorado."
"We just love this community and just wanted to bring a little something of ours here," Rachel Lange added.
Though the business is centered around craft beers, Rachel Lange said that their brewery will offer a family and inviting atmosphere.
"I'm not as much of a beer drinker but I love breweries and the space they create," she said. "People coming to have conversation. We have three kids and we bring our kids with us because there are often times games and activities that we would like to incorporate here as well. We also hope to team up with other businesses for local charities and things like that to give back to the community."
To help foster that family atmosphere, the brewery will not be a late night bar, Brad Lange said. It will only be open till 9 p.m. and Rachel Lange said laughingly, "we're going for more of a coffee shop with beer vibes."
Brad Lange, currently a fan of New England IPAs, says his taste changes often, which helps inspire new craft beer recipes. He said he hopes people will come and try the beers and thinks he will have a little bit of something for everyone.
"I have a few varieties I plan on having at the brewery," he said. "Hopefully most people will find something they like."
The Brewery also has a nice outdoor patio area that carries the company's color scheme of gold, gray and black throughout the decor. It is a space the pair wants to use for community events, like a yoga class they already have planned for June; music; and just an extension of the chill atmosphere they will have inside.
"Part of the allure to a lot of breweries is being outside," Brad Lange said.
"And we host a lot of our own friends outside, in the backyard, grilling, chatting and just having a good time. So we wanted to bring that here as well," Rachel Lange said.
The brewery will not only feature in house craft beers, but other local beers as well, including one from Native Dog Brewery, of Camden. The two breweries have already collaborated on a beer, an IPA called LA Haze. The beer has El Dorado and Amarillo hops with notes of apricot and pineapple, according to Three Birds Brewing's Instagram page.
Three Birds Brewing Company will have lots to offer and Brad and Rachel Lange said they have something for everyone.
"For people that are beer drinkers and want to taste different beers, of course we will have something for them," Rachel Lange said. "But even if they're not a beer lover or the spouse of a beer lover, we will also have food, seltzers, ciders and wine. We will also have soft drinks for the children that come and non-alcoholic activities as well."
Three Birds Brewing Company is located at 1805 N. West Ave. and is expected to open on May 14.