Governor Asa Hutchinson on Tuesday announced that the statewide mask mandate, which required Arkansans to wear face masks in most public settings, would be lifted effective immediately.
Alongside the announcement came Hutchinson's declaration that any Arkansans age 16 or older may now get a COVID vaccine.
"This will obviously increase the demand for the vaccines. It may take some time to get the appointment that you want. But we're opening it up because we want to make sure we maximize every opportunity to get this life-saving vaccine into the arms of Arkansans," Hutchinson said.
The governor cited a decline in case numbers and hospitalizations as reason for lifting the mask mandate.
On February 26, he outlined criteria the state would have to meet in order for the mandate to be lifted: either a seven-day positivity rate lower than 10% with an average of 7,500 tests conducted daily, or, if fewer test results returned than that, under 750 hospitalizations due to COVID statewide.
"We're far, far below (750 hospitalizations). So by the criteria that we set, it's appropriate to lift the statewide mask mandate," Hutchinson said Tuesday.
He noted, however, that it is likely many businesses will continue to require masks to enter the establishment, and many individuals are likely to continue to choose to wear a mask in their everyday life. He urged Arkansans to be respectful of others' choices and requests from businesses that patrons mask up before entrance.
"Please be respectful and mindful that while the mask mandate is lifted, there will be many that will continue to wear it. Many businesses will continue to require it - be respectful of that," he said. "If you don't want to comply with that, you have options to go somewhere else. That's what it means when you lift a mandate: that individuals can make responsible decisions, as well as businesses. We just need to honor those decisions."
As for Hutchinson, the mask will continue to be a part of his daily attire, he said.
"This mask that I wore in here today, I will continue to have that available. That will continue to be part of my wardrobe as I leave the house and go to work every day because there will be many times during that day that I will wear the mask," Hutchinson said. "While I've been vaccinated, it's important to be courteous to others and to be mindful that we need to protect ourselves and others. So common sense should govern."
Dr. Jose Romero, Arkansas Department of Health Secretary, echoed the sentiment, noting that Arkansas isn't out of the woods of the pandemic quite yet, and with case numbers rising nationally, including in neighboring states, it's important that Arkansans not become lax in following health guidelines related to COVID.
"I will continue to wear my mask whenever I leave the house and whenever I'm with someone else. It is important that we do so in order to keep these numbers low," Romero said. "We are not isolated. What happens around us eventually reaches us. Just like we didn't see our first case for many weeks into the pandemic - these growing numbers of cases outside of the state will eventually get here if we are not careful."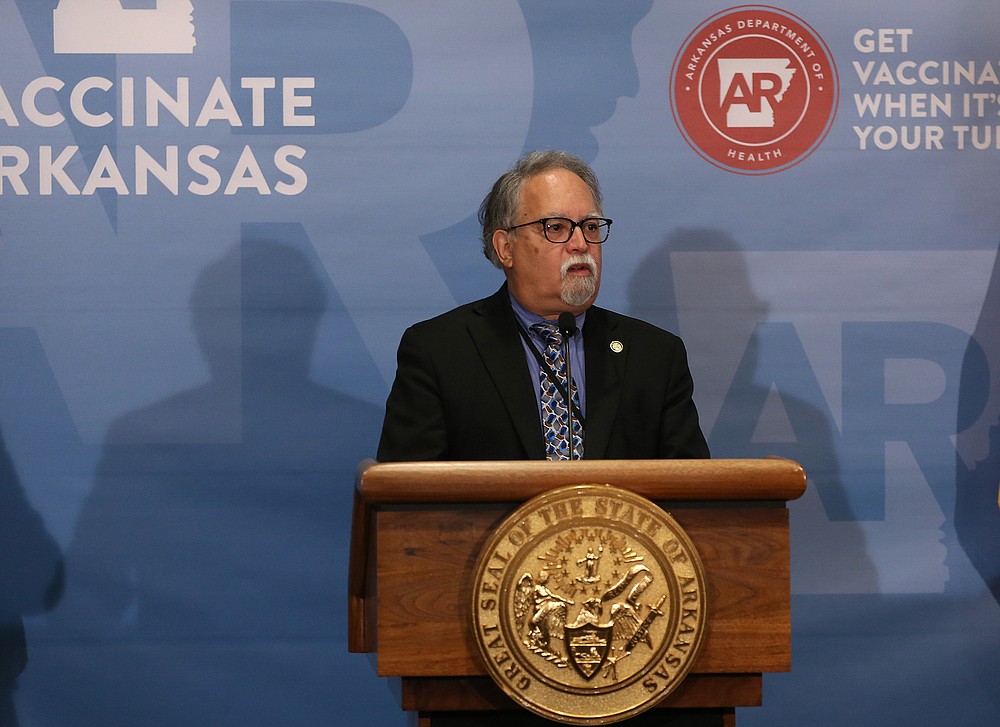 Secretary of Health Dr. Jose Romero answers a question during the weekly COVID-19 briefing on Tuesday, March 30, at the state Capitol in Little Rock. (Arkansas Democrat-Gazette/Thomas Metthe)
Hutchinson also noted that local school boards will be able to decide whether masks continue to be required for students. Department of Education Secretary Johnny Key said that districts are required to post on their website any modifications to their Ready for Learning plans, which were mandated in the fall for a return to on-site and virtual instruction after long school cancellations in the 2019/2020 school year, by April 15.
"One of the reasons for our success has been the layered approach we've taken to following the guidelines and implementing the protections against the spread of COVID-19. Masking has been a critical component of that," Key said. "We are allowing local districts to make the decisions on whether they want to continue having a mask mandate at the local level."
El Dorado School District Superintendent Jim Tucker previously told the News-Times the district would keep its mask policy, which requires students to wear masks during on-site instruction in several school areas, at least through the end of the year.
Hutchinson said he's personally spoken to several restaurant owners who plan to continue requiring customers to wear masks inside to protect their employees' health. He said other kinds of businesses that may continue to require masks could include hotels, event venues, salons, barbershops, retail stores, hospitals and other health care providers, among others.
Romero also touched on vaccinations during the weekly COVID update, asking that all Arkansans who receive a Pfizer or Moderna vaccine be sure to get their second dose for full effectiveness.
"I want to make it very clear for those individuals who are not receiving the Janssen (Johnson & Johnson) vaccine to receive the second dose. A recent publication by the CDC showed that about 5% of our patients are at risk for not receiving the second dose," Romero said. "You need that second dose to become fully immunized if you are receiving the Pfizer or Moderna vaccine."
Local residents have several opportunities to be vaccinated this week. The ADH is holding mass vaccination clinics at the Union County Local Health Unit at 301 American Road through Friday. The clinic will be open from 8 a.m. to 4 p.m. each day this week until April 2.
Those wishing to be vaccinated must make an appointment in advance by calling 1-800-985-6030. According to a flyer for the event, there will be no out-of-pocket expenses for those being vaccinated, though those with insurance are asked to bring their cards.
COVID vaccines are also available by appointment at Medical Center of South Arkansas and Melvin's Discount Pharmacy. To set an appointment at MCSA, call 870-863-2620; to do so at Melvin's, call 870-863-4155. One can also set an appointment to be vaccinated at Walmart by visiting walmart.com/COVID.
Hutchinson also commented on Arkansas' case growth, noting that the 178 new cases reported Tuesday were fewer than the 239 reported last Tuesday, March 23. Additionally, Romero noted that seven of the 15 deaths reported Tuesday were delayed reports.
"This is common for us to get these," he said.
Romero said he, the state epidemiologist and Hutchinson would be developing plans for responding to an increase in cases should one occur in the future. However, both he and Hutchinson emphasized the importance of being vaccinated against the virus.
"With these good numbers, people have a tendency to say 'we're out of the woods, there's not a problem any more, COVID-19 is not in my community.' Well, Dr. Romero reminded me today that we have increased the number of cases in terms of the variants that have been found in Arkansas, we see many surrounding states that have gone up in cases and we see a national trend that concerns the CDC," Hutchinson cautioned. "So we want to make sure that we stay in the right direction by taking these steps by continuing to be careful in how we conduct ourselves, (being) respectful of others, wearing a mask when needed, and then secondly, making sure you get the vaccine. Get the vaccine. Don't delay. Get the vaccine."
See local case numbers here.