The El Dorado Historic District Commission has given its stamp of approval for two downtown projects that include window replacements and new signage.
Last week, commissioners received an update on a Certificate of Appropriateness that was granted in August of 2020 for two adjoining properties at 114 and 116 E. Elm.
COAs are required for exterior projects that are likely to affect to the architectural and historical integrity of the city's commercial historic district, which encompasses most of Downtown El Dorado.
Local architect Michael Rogers, of MR Designs and former chairman of the EHDC, told commissioners he was following up on a COA that was approved last August for a renovation/restoration project at the Elm Street properties.
The buildings are historically known as the Garrett Building/Hall's Drugstore and are owned by Kelli and Greg Harrison, both of whom own and operate downtown businesses.
Greg Harrison runs Ameriprise Financial Services, LLC, at 116 E. Elm. The building formerly housed Elm Street Bakery and Rascal's, which are now located to 320 W. Main.
Early voting was held on the 114 E. Elm side of the properties during the 2020 presidential election.
The COA that was presented last August by Rogers on behalf of the Harrisons called for the restoration of existing building masonry, replacement of broken window lintels and second-story windows, installation of new second-story window awnings, replacement/ repair of trim around windows and doors and repainting existing trim.
Rogers explained then that the renovations also include interior work and the overall project is being done in phases.
The EHDC approved a conditional COA, which was contingent upon their approval of the new window profile.
On June 10, Rogers — who was joined by Rajveer Kang, project designer at MR Designs — said he has since submitted the specifications for the actual windows that will be installed.
"As soon as I walk out of this building, I'm ready to order windows," Rogers said, adding that the window replacement could take 12 to 16 weeks to complete because the windows are being manufactured to spec.
He said the old windows, some of which were broken, have been removed and the existing masonry opening measured.
"We will be restoring the original masonry opening from decades ago so we will be opening that entire cavity up to the existing lentils," Rogers explained.
"We will be doing that on all four sides of the building," he added, telling commissioners that the masonry opening was bricked-in years ago.
Interior work has already begun on the upper floor of the building, which will be used for office space and prepared for future renters.
Rogers said the space along the east side of the second floor can accommodate four individual offices or two office suites and the entire upper floor, including the west side, is large enough for six individual offices.
"Upstairs looks like one large space but downstairs looks like two different buildings. It's very odd," Rogers said.
He also said the team is considering applying for a mini-grant from Main Street El Dorado to assist with the purchase and installation of a new awning.
MSE's mini-grant program provides matching funds of up to $1,500 for interior and exterior improvement projects, including maintaining or purchasing new awnings, for eligible businesses within the MSE footprint.
Funding for the program comes from Downtown Revitalization Grants that are awarded each year by the Arkansas Historic Preservation Program.
For the current grant cycle, MSE has been awarded the maximum amount of $25,000 and a portion of the money will be used for mini-grants.
Beth Brumley, MSE executive director, recently said the group is working out the details for the application process and will make an announcement soon.
The mini-grant program is open only to businesses within the Main Street District, which covers much of downtown El Dorado, overlapping with the commercial historic district, and extends south along Washington Avenue to the viaduct on East Hillsboro/U.S. 82B.
"The goal is to finish the upstairs first and get some people in there. That will help fund a lot of what we want to do outside," Rogers said.
Commissioners Beth Callaway and Linda Rathbun inquired about accessibility for people with disabilities for the upper-floor space.
"There's a lot of grandfathering in on that," Rogers said.
Rathbun asked if elevators will be installed, as was mentioned with previous renovation plans for the building.
Rogers said that when he worked with the previous owners of the building, elevators were under consideration because plans at the time were to renovate and remodel the upper-floor space into living quarters.
He explained that building code classifications differ according to how the space will be used, and the second-floor space will now be used for commercial purposes.
"We were looking at an elevator because we were looking at apartments, possibly a freight elevator with limited use for tenants," Rogers said.
"We're not changing the code. It's a different classification for how we're going to use the space," he added.
Rogers said the original project was estimated at more than $1.5 million five years ago but because of the change in occupancy, "now we can do it at a fraction of the cost."
New signage
Commissioners also approved a COA request for signage at a new Shelter Insurance location downtown.
Agent and business owner Amber Manning Myers relocated from her longtime spot on College Avenue and opened up shop June 1 at 112 E. Elm, the former location of Mr. Tuxedo.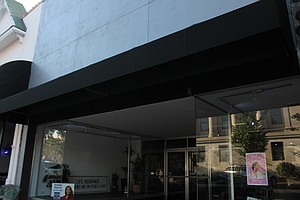 The storefront at a new Shelter Insurance location at 112 E. Elm can be seen. Owner Amber Manning Myers will add new signage fitting with downtown design standards now that the El Dorado Historic District Commission has approved a Certificate of Appropriateness to do so. (Caitlan Butler/News-Times)
The building is owned by Jesse Prado and Holly Vance.
Meyers said her office initially opened on Griffith Street and she moved to 501 N. College 15 years ago.
"I had been wanting to move downtown for years but I just had to find the right spot," she said. "I knew Jesse and Holly and when I saw what they were doing there, I thought it fit me."
Pedestrian traffic in the area was also a plus, she said.
Meyers told commissioners she did not want the traditional red, white and blue Shelter Insurance sign and logo for her downtown space, whose historical name is Duggar's Shoe Store.
"I knew it would stick out like a sore thumb. I'm aware of the downtown 'fashion sense.' The sign is very nice but I thought it would be gaudy for downtown," she said, referring to the EHDC's design standards for the commercial historic district.
Meyers said she worked with Shelter and a sign company to come up with a design upon which she and Shelter agreed.
The sign will be a metal cutout that will come with gooseneck lights.
Meyers said it is being custom-built and should be ready within a month.
"Thank you for following the rules and talking to us about it. It makes our job so much easier and fun," Commissioner Sara Coffman said.
Commissioner Steve Biernacki agreed, adding, "It's clear you did your homework."