The El Dorado-Union County Chamber of Commerce held its annual New Teachers' Breakfast at the El Dorado Golf & Country Club on Thursday morning.
The breakfast is held to recognize, welcome and celebrate educators across Union County.
"The most important resource for economic development to occur is having a well educated and skilled workforce available," Bill Luther, chamber president said. "The Chamber hosts the New Teachers Breakfast to show how important we view their profession in the process of economic development."
Luther also recognized the dedication of retired teacher Debbie Smith in the opening of the event. Smith is known for helping out and bringing food to the teachers of the El Dorado School District.
Over 100 people were in attendance and a breakfast that included eggs, sausage, biscuits and more was catered by the country club.
Speaker of the House Matthew Shepherd, R-El Dorado, was in attendance for the breakfast and introduced Smackover educator and House Representative Sonia Barker, R-Smackover, who talked about recent legislation that has been passed to help educators.
She explained six different legislative acts that are being considered or have been put into law, including Act 680 of 2021, where lawmakers created the Teacher Salary Equalization Fund earlier this year.
The funding seeks to raise the average salary of Arkansas teachers to $51,822 for the 2021/2022 and 2022/2023 school years.
"It was great hearing Sonia Barker present at the breakfast," Jaren Books, membership and events coordinator of the chamber said. "She's a fellow educator and can speak to what a lot of teachers face and have to deal with."
Principals and superintendents across the county introduced and delivered messages of encouragement to their new teachers going into the upcoming school year.
Following the speeches and words of encouragement to the new teachers, awards were presented to existing teachers in Union County. Alice Mahony, vice president of the El Dorado Education Foundation, recognized and presented the 2020/2021 "Teachers of the Year" awards to the following educators:
- Gary Hall, South Arkansas Community College
- Becky Hay, West Side Christian School
- Kathy Sixbey, El Dorado School District
- Elementary School Teacher of the Year: Leah Barbarotto, Hugh Goodwin Elementary School
- Middle/Jr School Teacher of the Year: Calandra Brown, Barton Junior High School
- High School Teacher of the Year: Clair Antoon, El Dorado High School
"It is a really big honor," Hall, SouthArk's director of the entertainment and media arts program, said. "Especially after last year and everything we went through. It is really wonderful how El Dorado honors its teachers. They may not be able to pay them the best, but they sure make us feel special."
Educators were given breakfast, encouragement, goodie bags and a city's hope and support for the new school year.
"It is great to have the city of El Dorado get behind its teachers and events like this," Gary Hall said.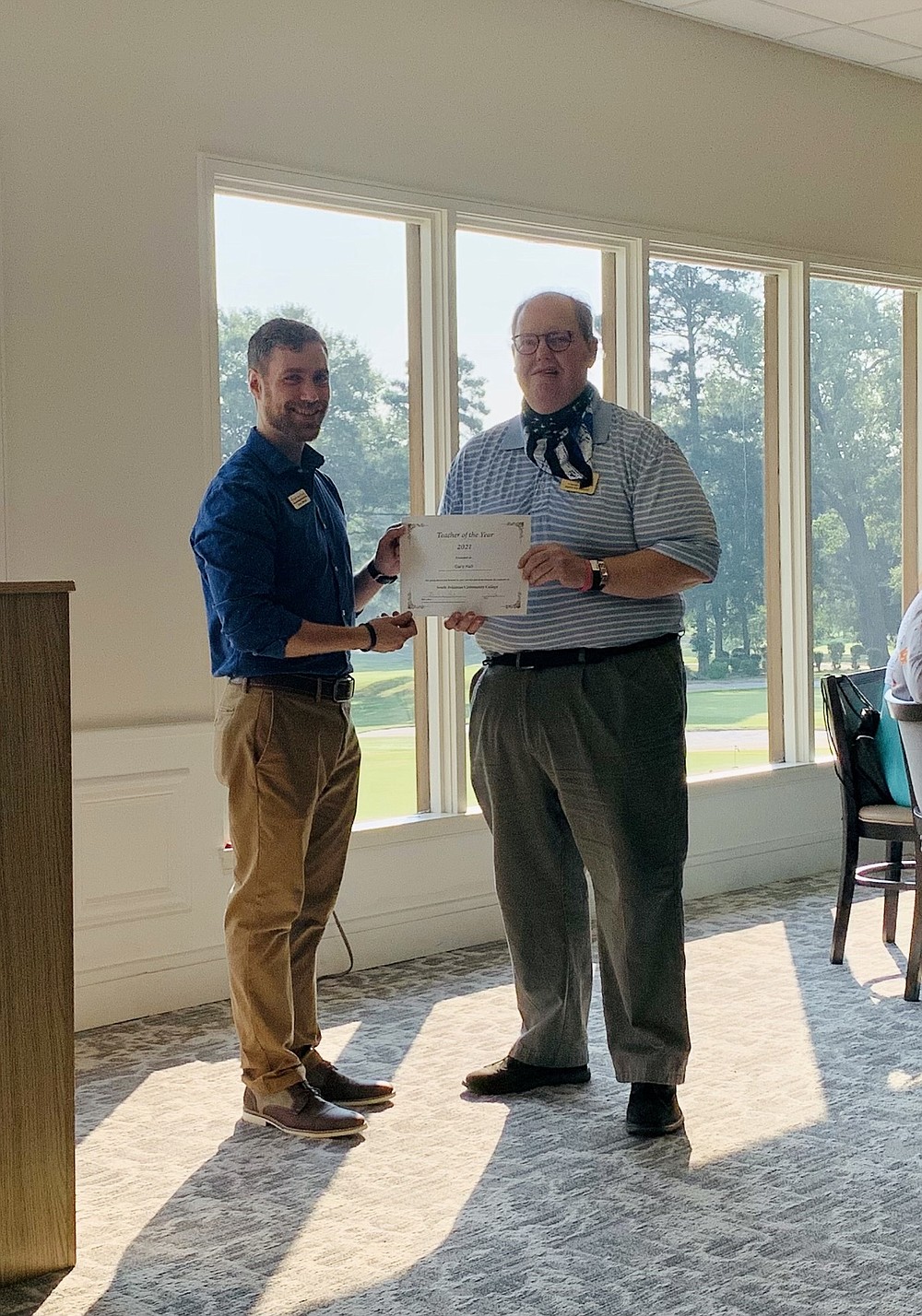 Jaren Books, membership and events coordinator for the Chamber of Commerce, presents Gary Hall, director of South Arkansas Community College's media and arts program, with a teacher of the year certificate during a New Teachers Breakfast at the El Dorado Golf & Country Club. (Contributed)