The Boys and Girls Club of El Dorado hosted a mobile University of Arkansas for Medical Sciences COVID-19 vaccine clinic in their gymnasium from noon until 2 p.m. on Saturday.
This vaccine clinic was special, according to BGCE Director of Marketing and Development Victoria Hollis, because of its benefits both to the community and the club itself.
"The [national] Boys and Girls Club challenged local clubs to do vaccine clinics and partnered with Microsoft to give away Xboxes. Some of the Xboxes we will be able to use here at the club for the kids and some we use here to give away. So, it both benefits the Club's kids and encourages people to come get the vaccine," Hollis said.
Each person who registered and came to be vaccinated on Saturday was entered into a drawing to win an Xbox.
UAMS staff LPN Sabrina Mallet, who ran Saturday's clinic, said the mobile clinic comes to locations based on requests from organizations. The Pfizer vaccine, which has been approved for use in people over the age of 12, was utilized during this clinic.
The best responses UAMS has received recently have particularly been in rural areas, in Mallet's experience.
"I think a lot of people have made up their mind to come get the vaccine," Mallet said.
El Dorado resident Tyler Morrow, while sitting on the bleachers at the Boys and Girls Club after receiving the vaccine, said he overcame his apprehension about receiving the the vaccine recently.
"I was scared, but I had to do it, it's getting bad. I wanted to do it for my parents. I've worked myself up for weeks, but I'd much rather get this shot than lie in the hospital on a ventilator. It's what everyone should do regardless of political affiliation," Morrow said.
Morrow said he received particular encouragement from his family in his decision to get the vaccine.
"If my 81 year old grandmother can get [the vaccine], I can get it. Not enough people are taking this seriously and it is serious," Morrow said.
Richard J. Lemley, already vaccinated himself, brought his son to Saturday's clinic for vaccination. Lemley has seen COVID-19 kill friends and family members and was gently emphatic about spreading the word on the importance of being vaccinated.
"We had a get-together on the 4th in Missouri; two men were there and four women, there taking selfies and everything. One of the ladies there had a false negative [COVID test] and my wife was the only one who was vaccinated," Lemley said.
Illness spread following the gathering, and one of the women has now died due to complications from COVID-19, another is on oxygen and one "is OK," Lemley said.
"I want to get the word out and encourage everyone to get vaccinated... For us, it's been a life or death thing and it matters more when it touches you," Lemley.
Lemley said his aunt also died after contracting COVID-19 and, following her funeral, more family members tested positive for the virus.
"We keep preaching it to people and keep working at it. [COVID] is an awful thing," Lemley said.
According to Arkansas Department of Health statistics, state COVID-19 cases increased by 1,022 Sunday, after more than 2,000 cases were added to Arkansas' total Saturday. The vaccine is currently available in Arkansas for free to everyone over the age of 12.
In Union County, COVID vaccines are available at Melvin's Discount Pharmacy, Walmart and the Union County Local Health Unit. To set a vaccination appointment at Melvin's, call 870-863-4155; for Walmart, visit walmart.com/COVID; and for the Local Health Unit, call 1-800-985-6030.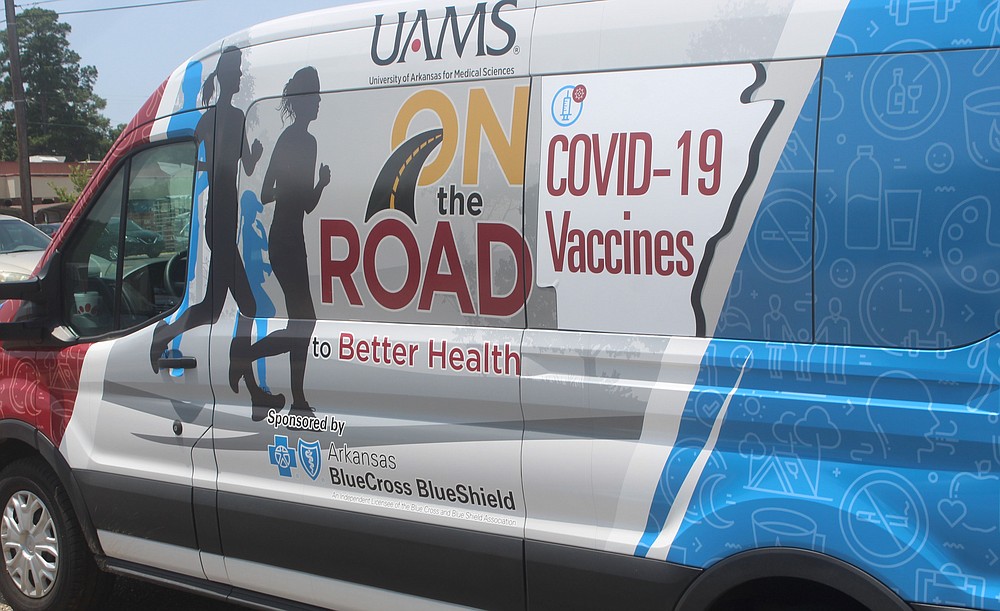 The UAMS mobile vaccination clinic set up shop at the Boys and Girls Club of El Dorado on Saturday. (Matt Hutcheson/News-Times)