An El Dorado man is scheduled for a first appearance today in 35th Judicial District Court on a felony battery charge for allegedly striking his wife in the face with a crutch during an argument.
El Dorado police said Donald R. Brock, 46, used so much force when he struck the victim, the crutch broke in half.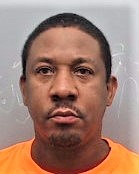 Brock was arrested Monday after officers were called just before 8 p.m. to his residence in the 500 block of East Block in reference to a domestic disturbance.
Upon arrival, officers spoke with Brock, who said his wife attempted to shove him during an argument and he "pushed her off him and went to leave."
The victim told officers that the couple was discussing "issues with their marriage" and when she told Brock that she would leave him, he struck her in the face with a crutch, breaking the crutch in half.
Police said the right side of the woman's face was swollen and bruised. They also said there were red marks on the woman's face.
Officers noted that Brock was using a set of crutches because he had previously sustained a leg injury, adding that he was wearing a cast on his leg.
Police said they recovered the broken crutch from Brock's vehicle and took him into custody.
Police said Brock also appeared to be intoxicated.
He complained of pain and was taken to Medical Center of South Arkansas for treatment before being transported to the Union County Jail.
Brock faces a charge of second-degree domestic battery.
Steven A. Qualls, 20, also of El Dorado, appeared in district court Monday for allegedly attempting to run over several people at Bodenhamer Skate Park, 1205 N. West Ave.
Officers responded at 10:50 p.m. July 18 to a report of an assault at the skate park.
A woman, who said that Qualls is her ex-boyfriend, told police that she was "hanging out" at the skate park with friends when Qualls arrived in his pickup truck.
She said Qualls drove recklessly through the parking lot and aimed the pickup at her and two friends with whom she was standing.
The victims and witnesses told police that Qualls ran over a guard rail and drove into the park toward the victims.
Police said there were "deep" tire marks in the gravel in the parking lot and on the guard rail and tire tracks in the skate park.
At approximately 2 a.m. Monday, witnesses told police that Qualls had arrived at his residence in the 900 block of West Oak, where he was taken into custody on felony charges of aggravated assault on a family or household member and two counts of aggravated assault.
He was also arrested on a warrant for a misdemeanor charges of failure to appear.
During a first appearance hearing Monday in district court, Qualls received a $10,000 cash or corporate surety bond.
He was also mandated to wear a GPS monitor and issued a daily curfew of 7 p.m. until 6 a.m.
Qualls was determined indigent and will be assigned a public defender.