Being remembered as a generous, giving person is something most hope for. Few, however, receive a physical tribute to their generous nature.
Amy Thomason, an El Dorado resident who passed away earlier this year, is being honored as just such a person via a new pet food pantry service offered by the Union County Animal Protection Society called Amy's Angels.
The Amy's Angels pet food pantry is currently set up at the UCAPS Adoption Center at 727 E. Main St.
The pantry was constructed and donated by local artist Erin Awtrey and will contain pet food for anyone who is in need of it, with no requirement of paying or even exchanging, according to UCAPS board president Terra Walker.
Thomason was a nurse who was a volunteer with UCAPS and ran the South Arkansas Pantry Filler, a food pantry for people in need, alongside Linda Hodges.
Thomason began work with UCAPS in 2012, starting out helping at the shelter and becoming more involved through the years.
By the time she died in early 2021, Thomason had been declared an honorary lifetime board member by the animal shelter.
Husband Chris Thomason and mother Linda Pridgen said giving was a part of Amy's nature and permeated every part of her life. This extended as far as, in one example, storing food for the Pantry Filler organization in a deep freezer at her own home.
"She'd just see a need and want to fill it," her husband said.
"She was always like that, even when she was little. If I gave her money, she'd come back with a present for someone, nothing for herself. She used to carry sacks of dog food and cat food in her car and if she saw a stray on the side of the road, she'd get out and feed the stray," Pridgen added.
All of her own pets were rescues apart from the newest one, which came from UCAPS.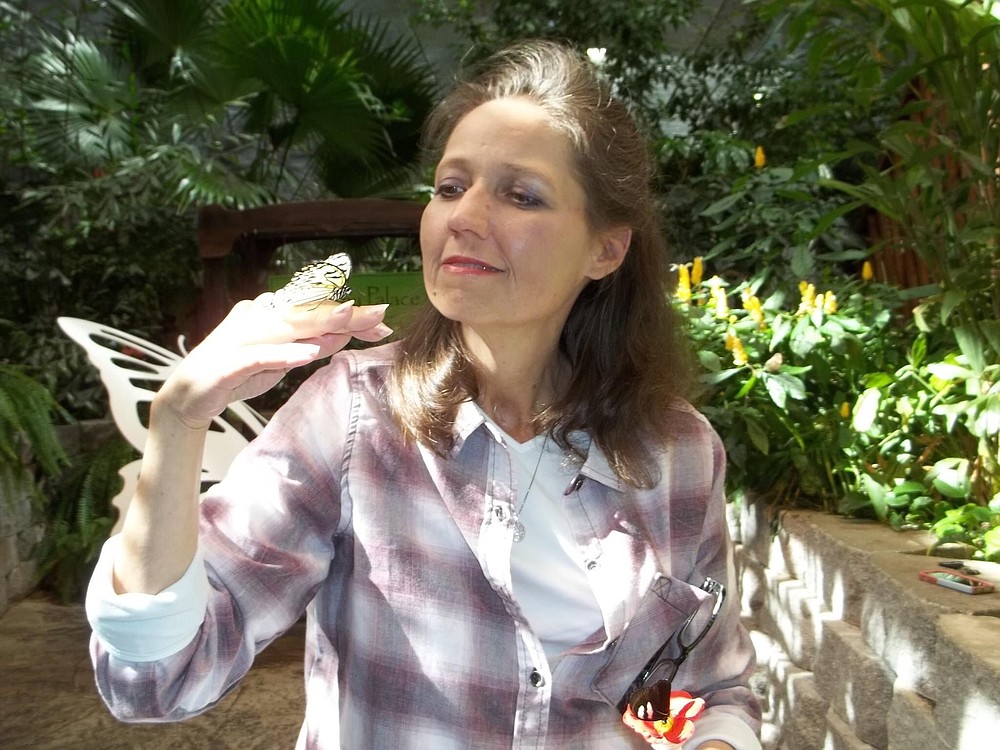 Amy Thomason was a longtime volunteer at UCAPS who was recently honored with the Amy's Angels food pantry, which will provide pet food to help feed the pets of those in need. (Contributed)
At UCAPS, Thomason and Pridgen said, Amy was a steadfast recruiter, bringing in co-workers as volunteers, and both agreed she "had a love" for the organization that kept her volunteering and helping out through the years.
One of her big projects was spearheading the Fur Ball, an annual fundraiser and auction that raises money for the shelter.
"She would not take no for an answer. She'd have us all asking for money, presents, anything to auction off [for the Fur Ball]," Pridgen said.
Amy spent many of her final years battling an auto-immune disease effecting her liver but, despite often being sick, rarely slowed down in her volunteer work.
Her brother donated 65% of his own liver in 2016 for a transplant but further complications arose and Thomason passed away earlier this year while awaiting another transplant.
"One thing she really enjoyed doing before she really got sick and we weren't able to anymore is Christmas Day, we would cook breakfast for the staff and bring treats to feed the dogs and cats. We did that for around three years before she got too sick," Chris Thomason said.
Chris Thomason said that even at her sickest, Amy would attend UCAPS board meetings via telephone and generally do her best to continue giving back to the community. He said he even had to "put his foot down" at a certain point with the Pantry Filler work, simply because Amy would not allow her illness to slow her down.
The Amy's Angels food pantry, which Walker said was initially an idea of UCAPS shelter manager Tanja Jackson, serves as a way for Thomason's giving spirit to continue.
"She would be very proud of this," Pridgen said.
The Amy's Angels pet food pantry is currently stocked and ready to serve at the UCAPS adoption center. Walker said that any donations to UCAPS can be made anytime at the adoption center simply by leaving donations on the porch.