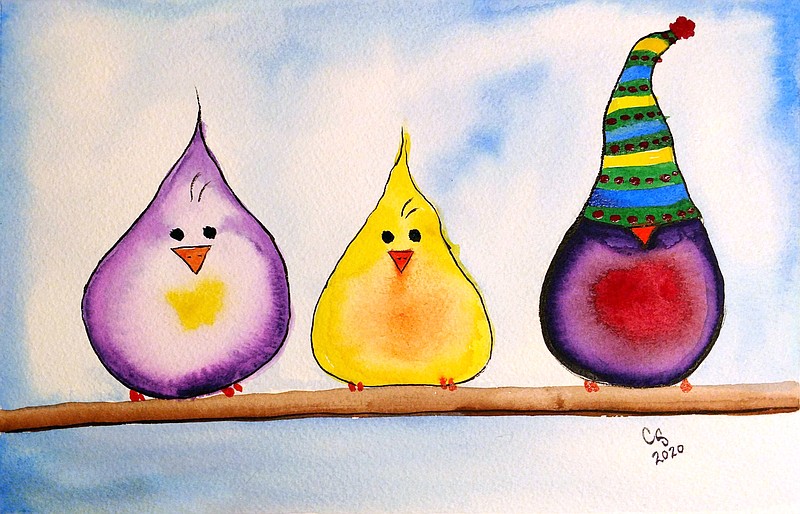 The "Early Birds" Corks and Canvas watercolor workshop will be hosted by artist Chris Stone on Zoom on Jan. 28. (Contributed)
Registration is open for the first virtual Corks & Canvas workshop of the year: "Early Birds Watercolor Workshop."
The class will be hosted Jan. 28 at 6 p.m. by artist Chris Stone. Those looking forward to spring coming early - this colorful, lighthearted "Early Birds" workshop is for you.
Designed to be completed by each artist at home, the only requirements for Corks and Canvas are for artists to clear a spot on their kitchen tables, open their computers to Zoom and get ready to have some fun. All of the art supplies needed to create your "Early Birds" watercolor will be available for pickup from the South Arkansas Arts Center. SAAC staff will even provide curbside pickup upon request.
The fee for this special Corks & Canvas is $30, and participants get to keep the watercolor set provided in the supply kit.
"I enjoy encouraging others to try new things. Creating a piece of art can be intimidating, but it doesn't have to be. Although I am not professionally trained, I can show you how to have fun and relax without having to 'try too hard'," said Stone.
A popular and engaging Corks and Canvas instructor, Stone has been leading workshops in a variety of media for the last six years.
"My most favorite of all the medium is acrylic and charcoal, but I also enjoy working in oil and watercolor," she said.
For more information on this Corks and Canvas class or to sign up, call the SAAC office at 870-862-5474 or visit saac-arts.org to register online. SAAC is located at 110 E. 5th St. in El Dorado.
Sponsor Content
Comments