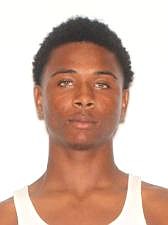 Mark Oliver Wade, Jr.
An arrest warrant has been issued for an El Dorado man for his alleged role in a series of shootings and fights that injured two people, one a teenage boy, in late December.
El Dorado police are looking for 19-year-old Mark Oliver Wade Jr., who is wanted on felony charges of first-degree battery, three counts of aggravated assault and committing a terroristic act.
Additional charges of felony with a firearm and engaging in violent criminal group activity carry penalty enhancements.
Two other men, Benjamin D. Carter, III, 24, and Bobby R. Ford, 39, have also been arrested in connection to the incidents and they are each being held in the Union County Jail in lieu of $1 million bonds.
Brandon M. Gray, 30, and a 16-year-old boy were shot Dec. 27 during several fights that occurred at several locations and in which shots were fired.
Both gunshot victims were transported to Medical Center of South Arkansas and later transferred to Little Rock hospitals to be treated for critical injuries.
Capt. Scott Harwell, of the El Dorado Police Department's Criminal Investigative Division, said the boy has since been released from the hospital and is recuperating at home.
"Brandon Gray was released from the hospital but he experienced some complications and was sent back. I'm not sure if he has been released," Harwell said.
Just after 2 a.m. on Dec. 27, police responded to reports of several shots fired during a large party that was being held inside the Activities Building at the Union County Fairgrounds, 430 E. 19th.
Officers said approximately 400 - 500 people were on the scene, noting that multiple arguments were taking place and dozens of people were running to their vehicles in an attempt to leave.
No injuries were reported at the fairgrounds.
While officers were investigating the scene, calls began pouring in minutes later about a large fights at the Express Way convenience store, 2424 N. West Ave., and Southern Classic Chicken, 1112 E. Hillsboro.
The convenience store was open and Southern Classic was closed at the time.
While en route to Southern Classic, officers learned that Gray had been shot during the fight there and had been transported to MCSA by private vehicle.
A short time later, 911 dispatchers told police that a woman reported that her brother, the 16-year-old boy, had been shot as they traveled along East Center and he was unresponsive.
The woman said she was also en route to MCSA but had stopped in the area of West Hillsboro and South Washington Avenue because of a flat tire.
Emergency vehicles responded to the scene and the boy was subsequently transported by ambulance to MCSA.
Police said Carter, Ford and Wade were identified as suspects in the incidents.
Carter and Ford were arrested Dec. 27 and attended first appearance hearings Dec. 28 in 35th Judicial District Court.
Carter faces charges of first-degree battery, possession of a firearm by certain persons, committing a terroristic act, possession of marijuana and three counts of aggravated assault, along with two penalty enhancements for committing a felony with a firearm and engaging in violent criminal group activity.
Ford was arrested for aggravated assault and possession of a firearm by certain persons, with a penalty enhancement for committing a felony with a firearm.
Wade is a black male with black hair, brown eyes and a medium complexion. He is 5 feet 6 inches tall and weighs approximately 140 pounds.
EPD investigators are urging anyone with information on Wade's whereabouts to call the CID at 870-881-4810 or Crime Stoppers at 870-863-INFO (4636).
Information leading to an arrest could be eligible for a cash reward of up to $1,000. All calls will be confidential.
Sponsor Content
Comments