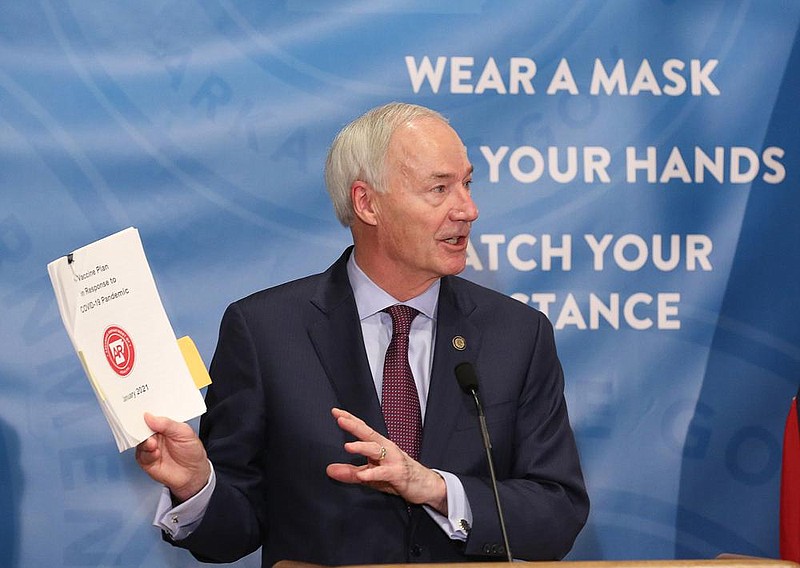 Gov. Asa Hutchinson shows off the vaccine response plan during the weekly COVID-19 press conference on Tuesday, Jan. 12, at the state Capitol in Little Rock. (Arkansas Democrat-Gazette/Thomas Metthe)
The Arkansas Department of Health reported 19 new COVID-19 cases in Union County Tuesday, bringing the cumulative total of cases identified locally to 2,812. The cases in the county Tuesday included 2,192 confirmed cases, up 10 from Monday, and 620 probable cases, up nine from Monday.
The United States Centers for Disease Control considers positive results from PCR (polymerase chain reaction) tests to be confirmed cases and positive results from antigen (rapid) tests to be probable cases.
Active cases of the virus in the county dropped to 273, a decrease of 21 from Monday; they represented 9.7% of all the cases identified in the county and included 235 confirmed cases and 38 probable cases. There were 2,462 Union County residents considered recovered from the virus Tuesday, up 40 from Monday.
No new local deaths attributable to COVID-19 were reported Tuesday. Seventy-seven Union County residents have died as a result of the virus, including one whose death was reported Monday. There were 248 people hospitalized due to the virus in the Southwest hospital region of the state, where Union County is located, Tuesday, including 92 in intensive care units and 47 on ventilator support.
The ADH reported 285 new negative test results returned from Union County Tuesday. In all, 23,351 COVID-19 test results have returned from Union County, including 20,539 negatives, indicating an overall local positivity rate of 12%.
After delivering his annual "State of the State" address Tuesday morning, Gov. Asa Hutchinson provided an update on COVID-19 in Arkansas, where he reported that an increase of 3,209 COVID-19 cases had raised the cumulative total of cases identified in the state to 259,553, including 210,873 confirmed cases, up 2,095 from Monday, and 48,680 probable cases, up 1,114 from Monday.
Hutchinson spent the bulk of the update talking about the state's vaccination efforts, which began on Dec. 14, 2020; so far, 252,200 doses of the Pfizer and Moderna vaccines have been shipped to Arkansas, approximately 93,333 of which have been administered.
The governor announced Tuesday that starting on Jan. 18, some of the people who fall into vaccination eligibility category 1-B will be able to get their first dose of the vaccine.
"Where we are right now, in talking with our hospitals, our COVID Winter Task Force and with (ADH Secretary) Dr. Romero and his team, we have reached the point, in terms of our 1-A phase, that we're on target to reach that by the end of the month and we are ready to move into two categories of 1-B," he said.
The state's vaccine distribution plan will be finalized by Jan. 15, he said. It is divided into several phases of eligibility, with Phase 1-A, which includes health care workers, first responders and long-term care residents, being first and currently ongoing.
Starting next Monday, some who fall into Phase 1-B will be eligible for COVID vaccination: people over the age of 70 and school employees, including staff and faculty at K-12 schools, higher education institutions and daycares.
"The reason for this is we want to increase, as fast as we can, getting these doses into the arms of Arkansans and at the same time being able to manage the limited supply that we're given," Hutchinson said.
About 50,000 doses of the COVID vaccines are being delivered to Arkansas weekly, Hutchinson said. Dr. Jose Romero, ADH Secretary, also said Tuesday that a third vaccine is "on the horizon." Adding the two categories from 1-B to the vaccination eligibility list will make about 440,000 Arkansans eligible for vaccination, Hutchinson said.
"The point at this moment is that we begin to immunize those individuals with the highest risk for morbidity and mortality and that will have the most impact," Romero said. "The goal is to minimize adverse events and maximize benefit of each vaccine."
Hutchinson has enlisted the assistance of Col. Rob Ator, director of military affairs for the Arkansas Economic Development Commission, as program manager for vaccine distribution. He announced last week that Arkansas National Guard Gen. Kendall Penn would be assisting the Arkansas Department of Emergency Management Director A.J. Garry in formalizing the state's vaccine distribution plan for publication.
"Let me emphasize: the Department of Health has the lead in our emergency response and they will continue to do, but this is a whole-of-state-government effort and whenever we need the logistics support, the technical support, the planning capabilities of the military, we're utilizing them," Hutchinson said.
Ator thanked the governor for enlisting his help.
"We're using everything to be able to get to this so that we're servicing the needs of our fellow Arkansans," he said. "This is a big job but it's one that is very, very meaningful."
Penn said some important aspects of the vaccine distribution plan include enlisting more health care facilities into the effort to increase the capacity of the state to administer the vaccine, creating a data management system that can be shared across state agencies to track the number of vaccine doses available and those who have been vaccinated, creating protocols for vaccine clinics and figuring a way to communicate the plan to Arkansans.
"There is a debate in Washington … 'Well, maybe we should go ahead and do (people ages) 65-69 and bring in other categories early on,'" Hutchinson said. "We have to manage the process in a way that gets vaccines out as fast as possible but that also gives priority to the people who need it most."
Active cases in Arkansas grew to 25,702 Tuesday with the addition of 168 cases; they represented 9.9% of all the cases in the state and included 18,177 confirmed cases and 7,525 probable cases. There were 229,700 Arkansans considered recovered from the virus Tuesday, up 3,000 since Monday.
Forty Arkansans' deaths that resulted from COVID-19 were reported Tuesday, bringing the state's death toll to 4,121, indicating a state COVID mortality rate of 1.6%. There were 1,354 Arkansans hospitalized due to the virus Tuesday, including 452 in ICUs and 251 on ventilator support.
"We've still got a ways to go to get any real relief for our hospitals," Hutchinson said. "The deaths … we're anxious to reduce that number."
The ADH reported 10,692 new COVID-19 test results returned Tuesday and 143,004 tests performed so far in January. Since the state began testing for the virus, 2,503,526 results have returned to the ADH, including 2,235,116 negatives, indicating an overall positivity rate for the state of 10.4%.
At 2:30 p.m. Tuesday, Johns Hopkins University reported 22,740,360 COVID-19 cases in the United States. Data wasn't available then on the number of U.S. residents considered recovered from the virus or the number of active cases in the States. By Tuesday afternoon, 378,849 deaths attributable to the virus had been reported in the U.S., indicating a national COVID mortality rate of 1.7%.
Johns Hopkins reported 91,298,760 COVID-19 cases worldwide Tuesday afternoon. There were 50,473,596 people considered recovered from the virus then, leaving 38,870,781 cases — 42.6% — active around the world. There had been 1,954,383 deaths attributable to the virus reported by Tuesday afternoon, indicating a global COVID mortality rate of 2.1%.
Sponsor Content
Comments