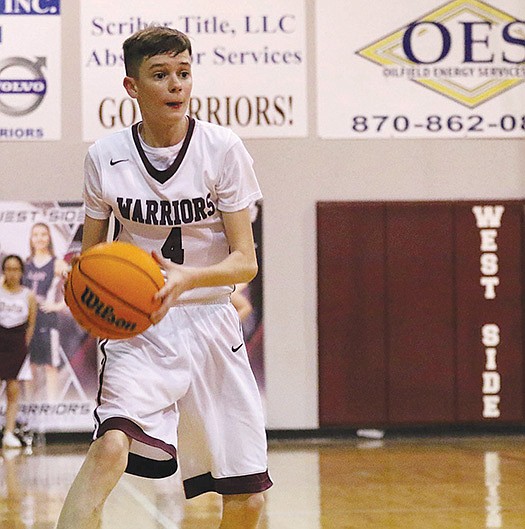 Siandhara Bonnet/News-Times In this file photo, West Side Christian's Spencer McNabb looks to make a play during a game in the 2019-20 season. Despite graduating 42 points per game of offense last year, the Warriors are off to a 10-1 start this season.
West Side Christian enjoyed its best boys' basketball season in school history a year ago. But the Warriors graduated 42 points per game from that team.
As the late Billy Tubbs once said, the program didn't rebuild. It just reloaded.
West Side has gotten off to a 10-1 start this season and travels to Bryant today to take on Arkansas Christian Academy.
Coach Randall Miller admitted his team's start has been eye-opening.
"There was no part of me that thought we'd be, necessarily, 10-1. I really didn't know how it would go," said Miller.
"I wasn't sure what to expect record-wise. Our plan going in was to run at the beginning and get a lead. And because we're not that deep at all, to start pulling it out a little bit and making people chase us - trying to really press early but knowing we probably couldn't maintain that pace the whole game. So, we kind of had a blueprint for how we wanted to play."
West Side returned four experienced players. Zackley Pearson leads the team in scoring at approximately 18 points per game. He joins Spencer McNabb, Anderson Colley and point guard Sam Wylie as key returning players.
"We had four guys who had played a ton of minutes and have a lot of experience in big games and pressure situations," Miller said. "And then after that, we didn't have any experience, really, in pressure situations."
As good as the 10-1 record is, the coach said it could've been better.
"We played really poorly defensively down at Glenbrook, which was our one loss," said Miller. "I did some wholesale substitutions, trying to build up some depth. I did it at the wrong times and I kind of messed our rhythm up in that one or they would have a shot to not have any losses at this point."
Despite the loss, the Warriors did find some depth, led by seniors Garrett Williamson and Chase King and youngster Elijah Narciso.
"What they do so well is share the ball. They make sure, most of the time, that we're getting really good shots. Every once in awhile we'll rush a couple. But for the most part, we've been holding our turnovers way down and we've been getting a good shot every trip," said Miller.
"And then we've rebounded, for most of the year, much better than I anticipated. Some of the inexperienced guys have gone in and really made it their mission to grab rebounds for us."
West Side, which won the Dual State Tournament last season, has beaten Taylor twice this season and owns a 55-51 win over Lafayette County, which played without two of its top players. The Warriors' scheduled was hurt when Dual State was canceled this season. West Side also lost a game with Hermitage due to COVID.
Still, the schedule has been anything but soft.
And the team's expectations have risen along with its win total.
Miller said the team has shown an ability to win in multiple ways.
"I think the thing that's changed for me has been, I really felt like we had to play a certain way in order to win," he said. "But we've actually been able to win games that have a fast pace where we're not trying to hold it for 30 to 45 seconds. And then there have been some teams that have done that to us. They've slowed the game down and really tried to hold the ball. And we've been able to win at both tempos."
Today's four games in Bryant in scheduled to tip at 4:30 p.m.
The Warriors are scheduled to host Legacy Christian (DeQueen) Friday for Homecoming.
Sponsor Content
Comments