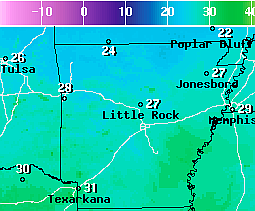 Temperatures are expected to be near freezing Monday morning. (National Weather Service)
The National Weather Service is predicting snow in Union County starting late Sunday night and continuing into Monday morning.
Davyon Hill, a meteorologist at the NWS Shreveport office, said Friday the question then wasn't whether the area would see snow, but how much.
"I think it seems pretty likely that you're going to see snow, it's just a matter of how much," Hill said. "For most of the county, we expect about an inch or less. … You guys are kind of on the border of the one to two inch range. For El Dorado, you guys are probably right around the half(-inch) to one inch range."
Hill said a low surface pressure center would be meeting an upper level disturbance, the latter of which is associated with clouds and precipitation, according to the NWS, over Texas and Louisiana, causing the potential snow.
"It may start off as rain, but it should transition into snow some time overnight (Sunday)," he said.
It was unclear Friday whether the snow would stick to roads, Hill said, but local residents should expect to see some snow in high-elevation and grassy areas. The direction of the two weather systems meeting and the temperature will determine whether snow sticks to the road and accumulates, he said.
"There may be some slush on the roads. It just depends on how heavy the snowfall rates are and there's still a little uncertainty to that," Hill said. "Of course you know, winter weather in the south is pretty difficult to predict; a degree or two can change an entire forecast. But right now, our models are strongly suggesting we're going to see snow some time very late Sunday."
Representatives of local school districts, including the El Dorado, Parkers Chapel, Strong-Huttig and Smackover-Norphlet districts, said they will be watching the weather in case delays are necessitated.
The Junction City School District published a notice online saying that students would be checking out materials necessary for virtual school Friday in case inclement weather prevented students from attending school in person Monday; if there is no need to go virtual Monday, students will be able to return their devices and attend a regular school day, the post says.
Hill said that should slush, snow or ice accumulate on roadways, local residents should stay home if possible.
"We would recommend that if there is any accumulation of slush or ice on the roads to stay off the roads, to stay home and reduce your travel unless you absolutely have to go out," he said. "Try to stay at home if possible so the authorities can get the roads cleaned off. If you have to drive, drive slowly and carefully."
He advised local residents to keep an eye on the forecast, since even small changes can have big impacts for the weather.
"Stay tuned to the forecast and monitor the situation, because there may be more updates," Hill said.
Sponsor Content
Comments