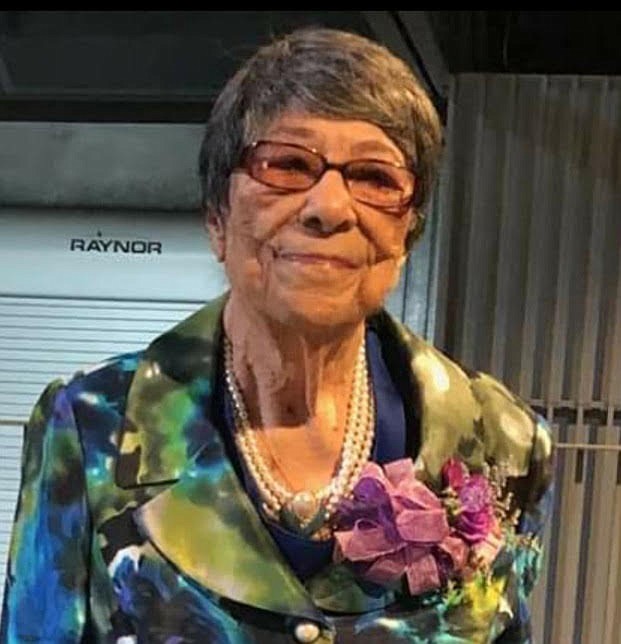 Lillian Smith Thompson
Lillian Smith Thompson, born to Almon and Alice Smith on March 22, 1918 in Magnolia, Arkansas, transitioned from this earthly life into the presence of the Lord on Wednesday, December 9, 2020 in San Antonio, Texas. She was the youngest of seven siblings; three from her father's first marriage. Never having biological children, she selflessly raised nephew James H. Smith as her own from age 12 to adulthood.
Mrs. Thompson joined the El Dorado community after she was united in marriage to the late L.G. Thompson on June 15, 1940. Mr. Thompson was an employee of Andrews Funeral Home for over 60 years until he retired. The Thompsons were married 56 years until Mr. Thompson's death in 1996. A staple of the El Dorado community for over 80 years, the Thompsons were owners and operators of the Log Cabin Walk-In, located on Hawthorne Street, for almost 40 years. The Log Cabin Walk-In was built with timber logs transported to El Dorado from her family's farm in Magnolia, Arkansas.
"Miss Lillian" made powerful investments into countless families as well as to the community of El Dorado because of her commitment to serve others. As a charter member of St. John Missionary Baptist Church, she was instrumental in numerous fundraising and development campaigns. She faithfully served others true to her philosophy that good works must take place outside of the church walls.
Mrs. Thompson positively influenced young people in the El Dorado community through donations of school supplies, prom dresses, and school uniforms. She was an avid steward of the civic and political process. She delivered care packages to local nursing home residents and prepared plates of food and homemade soup for the sick and shut in. Among her greatest delights was to deliver poinsettias at Christmas to her neighbors and members of her Sunday School class.
She was recognized for her many years of dedicated volunteerism and community service by local, state and Presidential officials. Notably, she was the recipient of multiple proclamations from the City of El Dorado, the Arkansas Governor's Volunteer Excellence Award, and honored by Presidents Bill Clinton, George W. Bush, and Barack Obama with the President's Volunteer Service Award.
Mrs. Thompson was preceded in death by her parents Almon and Alice Smith, her husband, L.G. Thompson, brothers: Finas, Kelly, and Uriah, sisters: Lila, Lula, Blanche, Qutee, and her devoted nephew that she considered her son, James Huey Smith (Elnora), Daley City, California.
She leaves to cherish her legacy: nieces, Annie Lee Smith (last living child of brother Uriah Smith); Vernell Crockett (last living child of sister Qutee Anderson); Mary (Leonard) Horton, last living child of sister Blanche Williams; the children and grandchildren of nephew James H. Smith; great nieces and nephews, god daughter Carla R. Gibson, Esq., her "boys" James Andrews, Robert Boone, and the Honorable Judge (Retired) George Van Hook.
It is impossible to list the multitude of special friends and loved ones that she helped guide alon
Sponsor Content
Comments