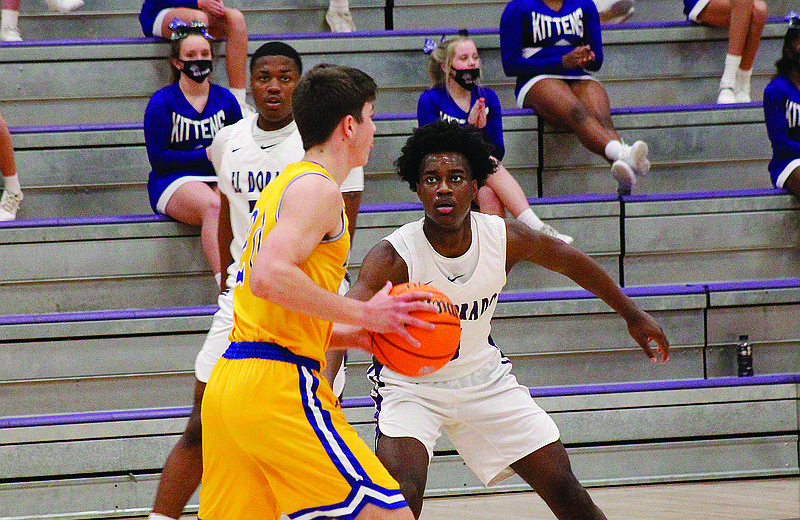 El Dorado's David Ayree plays defense against Hot Springs Lakeside. The Wildcats beat the Rams 73-58 Friday night at Wildcat Arena. - Photo by Lauren Cross
El Dorado closed out its non-conference schedule with a 3-8 record. But the only record that matters is 1-0 after Friday's 73-58 conference-opening victory over Hot Springs Lakeside at Wildcat Arena.
El Dorado, which had five players in double figures scoring, put the game away in the fourth quarter, including a 9-0 run in the final three minutes.
"I thought that was our most complete game of the season, from start to finish," said El Dorado coach Jimmy Porter. "They hit some big shots and some big threes and we came down and we executed on our end. We didn't let them go on a deep run."
The Wildcats led 15-13 after one quarter and 36-28 at the half. El Dorado controlled most of the second half. Laronte McHenry's 3-pointer extended the lead to 57-42 with 5:56 left in the fourth quarter.
The Rams pulled to within 11 but El Dorado went on an 8-0 spurt. McHenry fed James Hartsfield for a bucket. Hartsfield scored again on a breakaway before Isaiah Ramey hit McHenry for a layup. Ramey's floater pushed the advantage to 73-54 with 1:41 remaining.
"We knew we were going to be challenged in the non-conference play. But it exposed some weaknesses we had that we have fixed. We worked on those things," said Porter.
"I thought we did a pretty good job tonight handling the ball. Against Parkview we had 30 turnovers. Tonight, I believe we had seven. We handled the ball a lot better. Against Parkview, they won the rebounding battle. Tonight, we won the rebounding battle. I thought we executed offensively, within our motion, very well."
David Ayree and Jarmel Love keyed El Dorado's rebounding. But it was a team effort on the boards.
"They were leading the rebounding battle going into half. We told the guys, if we don't use our hips and clear them out of the paint, we can't rely on our athleticism because they're big and they're strong. We have to push them out and really create a little pocket for the ball and then go get it," said Porter.
"The key to outrebounding is just hard work. There's no easy answer to it. You just have to battle, push, grind, sweat, claw - whatever you have to do to get the ball."
In addition to rebounding and limiting turnovers, Porter said the third key to the win was, "I thought we won the 50-50 battle. The loose ball battle, I felt we won that."
Ramey and McHenry scored 13 points apiece for the Wildcats with Ayree and T.J. Dunn adding 12 each and Love 11. Hartsfield chipped in with seven.
"I thought David Ayree had his best game of the year, by far. He was aggressive offensively. Defensively, I don't know how many blocks he had but he had some good contests. From a rebounding standpoint, he was an absolute animal on the boards in the second half," said Porter. "There's no doubt in my mind without David's effort, we would've struggled to win that game.
"I thought Isaiah Ramey handled the ball great. He did some really good stuff as far as hunting in the paint. His court vision was phenomenal tonight. He had some really good passes, got the ball where it needed to go. I mean, shoot, we have five guys in double digits. That doesn't happen without good ball movement."
Taevon Johnson scored 17 for the Rams, who fell to 9-3 overall.
Porter said the key to league play is focusing on one game at a time. In that regard, the Wildcats got off to a good start.
"We focused on Lakeside, focused on what we had to fix and focused on what Lakeside was going to try to do. I thought the guys came out and executed," he said.
El Dorado travels to Pine Bluff on Tuesday.
Sponsor Content
Comments