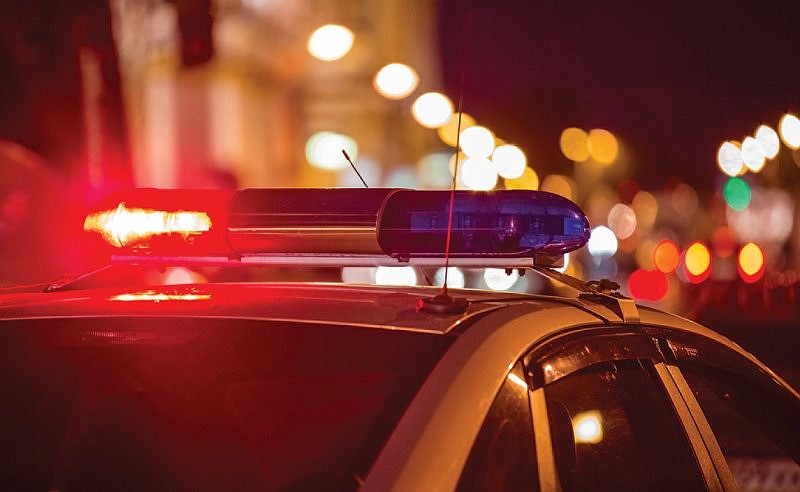 Two El Dorado men remain jailed on numerous charges that stem from separate incidents that occurred earlier this week — including one in which the defendant is accused of battery against a police officer following a high-speed chase.
Fredrico R. Billings, 47, of 1129 E. Beech, and Justin A. Tanton, 26, of 926 Buchanan, are being held in the Union County jail in lieu of bonds of $50,000 and $25,000, respectively, following arrests on a mix of felony and misdemeanor charges.
Both were arrested Jan. 2 and made their first appearances in 35th Judicial District Court on Jan. 4.
While on routine patrol at approximately 9:47 p.m. on Jan. 2, police said they spotted a car traveling west on West Hillsboro, noting that front end of the vehicle was severely damaged and the front, driver's side headlight was being dragged underneath the car.
Officers said they initiated a traffic stop as the vehicle approached the intersection of West Hillsboro and South Bradley and the driver, later identified as Billings, turned south onto Bradley without using a turn signal and drove across the corner of a nearby parking lot.
Billings then turned east onto West First and accelerated, police said.
They said he attempted to turn north on South College but he was not able to complete the turn safely and struck a tree.
Due to traveling at high speeds, Billings failed to stop at a stop sign at the intersection of College and First, according to a police report.
Upon striking the tree, Billings exited the vehicle and fled on foot, ignoring officers' commands to stop, according to a police report. An officer said that as he attempted to apprehend Billings, Billings resisted and a scuffle ensued.
The officer said Billings elbowed him in the mouth and forced him to the ground. He said he was able to subdue Billings and take him into custody "after an extended physical confrontation."
The officer said he sustained a minor injury as a result of the blow from Billings, noting that he was bleeding from the mouth.
Police said Billings refused to identify himself after he was taken into custody.
Police said they believed Billings' car was damaged during a hit-and-run accident that was reported at 9:20 p.m. in the 900 block of South Smith Avenue.
Officers said they were en route to the scene when they learned that a white, four-door sedan — which matched the description of the car Billings was driving — had struck a utility pole at the intersection of South Smith and E&B Street and left the area.
Police said the utility pole was split in half and it was leaning, noting that the pole was being held up by power lines.
A vehicle headlight and a portion of a front bumper were recovered from the scene.
Police said the damage was consistent with the damage to Billings' vehicle.
Billings faces charges of second-degree battery on a law enforcement officer, fleeing in a motor vehicle, fleeing on foot, resisting arrest, obstruction of governmental operations, driving on a suspended driver's license, careless and prohibited driving, disobeying a stop sign, failure to use a turn signal, leaving the scene of an accident with property damage and failure to yield.
He was also arrested on felony warrants for second-degree domestic battery and parole violation.
Tanton was arrested Jan. 2 for first-degree terroristic threatening, possession of a firearm by certain persons, parole violation, assault on a family or household member and obstruction of governmental operations.
Police said they responded at approximately 7 p.m. to a report of an unwanted person at a residence in the 1100 block of South Washington Avenue and upon arrival, they encountered Tanton outside the residence and he threatened to "beat their asses," according to a police report.
Tanton's girlfriend, who lives at the South Washington Avenue residence, told officers that Tanton had attempted to kick open the door several times and refused to leave.
Police then told Tanton that he was banned from the residence and advised him not to return or have any further contact with the complainant.
Noting that Tanton "appeared very agitated and was aggressive" with officers and the complainant, police said they remained on the scene after Tanton left due to concerns that he may return.
A short time later, police said Tanton began calling the complainant and when she refused to answer her phone, Tanton called a male acquaintance who was also at the residence.
Police said the male answered the phone and they heard Tanton issue a terroristic threat against the male.
Officers said they began searching for Tanton and they took him into custody after locating him in the area of West Cook Street and Russell Avenue.
The complainant told officers that Tanton is known to carry a rifle, noting that he had brought the firearm to her residence several times, despite her asking him not to do so.
She later retrieved a rifle from his residence and turned it over to officers. Police noted that Tanton is a convicted felon and is not to be in possession of firearms.
Sponsor Content
Comments