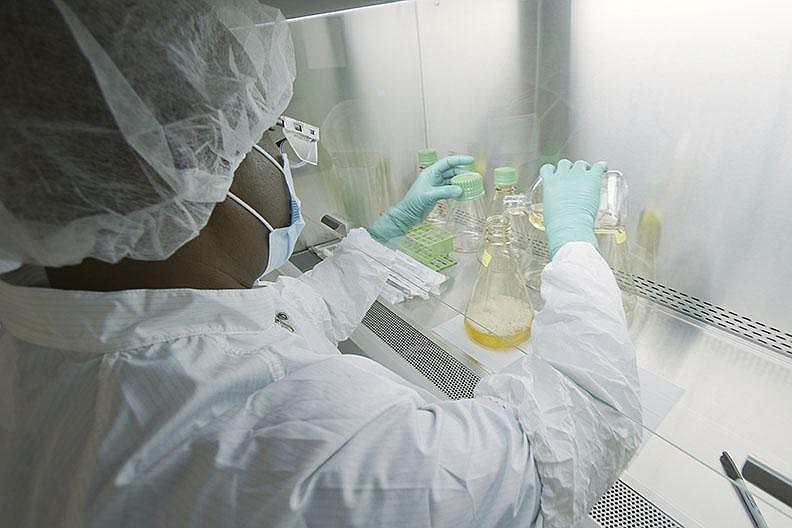 A researcher tests possible covid-19 antibodies in a laboratory in Indianapolis in May. On Wednesday, pharmaceutical firm Eli Lilly said that partial results from testing an antibody drug in mild to moderately ill patients give hints that the drug may help avoid hospitalization. But the results have not been published or reviewed by independent scientists. (AP/Eli Lilly/David Morrison)
The Medical Center of South Arkansas has begun offering monoclonal antibody therapy for those who have tested positive for COVID-19 and are considered high-risk for complications from the virus.
Semekia Amerison, director of one-day surgery at MCSA, said the antibody infusion is a good option for those with mild-to-moderate symptoms of the virus.
"They're considered high-risk patients," Amerison said, noting that in addition to those with complicating health conditions, those over the age of 65 are also potentially eligible for the treatment.
An Arkansas Department of Health spokesperson said the drug allocated to MCSA is Bamlanivimab, which was granted emergency use authorization (EUA) by the United States Food and Drug Administration (FDA) on Nov. 9. The drug was developed by Eli Lilly and Company; according to the company, it was tested in a randomized, placebo-controlled double-blind study, and patients who recieved Banlanivimab "showed reduced viral load and rates of symptoms and hospitalization."
"The FDA's emergency authorization of bamlanivimab provides health care professionals on the frontline of this pandemic with another potential tool in treating COVID-19 patients," said Patrizia Cavazzoni, M.D., acting director of the FDA's Center for Drug Evaluation and Research.
The COVID-19 vaccines developed by Pfizer and Moderna are also under EUAs from the FDA.
Health conditions that may qualify someone for monoclonal antibody treatments include sickle cell anemia, asthma, chronic kidney disease, diabetes and any kind of immuno-suppressive disease, Amerison said. Those with a BMI (body mass index) of 35 or greater as determined by their doctor may also qualify, as well as those who take medicine that is immuno-suppressive.
The drug is not authorized for use in people under the age of 12, those who weigh less than 88 pounds, those who are on oxygen or those who are hospitalized due to the virus. According to the FDA, the drug has actually shown negative effects in those who are hospitalized because of COVID.
Amerison said the drug is administered through an infusion, similar to how one would receive a chemotherapy treatment. She said the therapy is believed to be more effective the earlier one receives it after a positive COVID diagnosis.
"Once they have the positive test, their doctor or NP (nurse practitioner) will call the hospital and say 'so-and-so has COVID, they would like to receive the infusion,'" Amerison said. "We'll get it scheduled. … We do as much as possible over the phone to limit (MCSA) employee exposure. They'll come to the infusion clinic in one-day surgery and get the infusion."
Alex Bennett, MCSA executive director of business development, noted that the location in the one-day surgery clinic where the antibody infusions are administered is separate from where other procedures are held in order to eliminate the risk of COVID spreading.
The infusion process takes about an hour, Amerison said, and patients are asked to stay for an additional hour for observation; in total, receiving a dosage of the therapeutic takes about two and a half hours.
Some people who receive the antibody treatment may have some reactions, like nausea, headaches, dizziness, fever or chills or a rash at the injection site; however, Amerison and Bennett said none of the 16 patients who had received it at MCSA by Wednesday have had any kind of negative reactions.
"We haven't seen any, and there is always a possibility, just like there's a possibility if you drink orange juice you might have a reaction to that," Bennett said.
Amerison said she's followed up with the patients who had received the treatment and all have reported feeling fine afterwards.
"They have not been hospitalized," she said. They have done well."
The treatment has also been endorsed by ADH Secretary Dr. Jose Romero, who has urged Arkansans who fall into the eligibility categories to ask their doctors about it should they test positive for COVID-19.
"For those patients that are of the right age, 65 or older, and have medical conditions and are diagnosed with COVID, they should reach out to their providers early in their disease and contact them to see if they're eligible for these therapies," he said in December.
One seeking the treatment will need to have contracted COVID-19 with a positive test result, to fall into one of the eligibility categories and have a doctor's referral. More information about Banlanivimab is available at fda.gov.
Sponsor Content
Comments