The Medical Center of South Arkansas (MCSA) revealed the first half of its ongoing Intensive Care Unit (ICU) renovation project on Wednesday to faculty and staff.
The medical center partnered with McInnis Brothers Construction of Minden, Louisiana to tackle the renovation. The construction company manages numerous construction projects, but also specializes in health care facilities like MCSA.
"We specialize in health care work," Andrew Thibodeaux of McInnis Brothers Construction said. "We have been fortunate enough to be involved with the Medical Center of South Arkansas for nearly two years now."
Thibodeaux also talked about what he hopes the new ICU will bring to future patients.
"You hope you never have to be in ICU but when you do, it is nice to come into a new, beautifully face lifted, wonderful, and clean space," Thibodeaux said. "We are proud to be involved with something so crucial to the health and well being of patients that come in."
The first half of the renovation brought eight new ICU beds, all equipped with brand new medical equipment and materials. There's also new dark hardwood vinyl flooring throughout the space, blending with the cabinetry in the new nurses quarters stationed in the unit.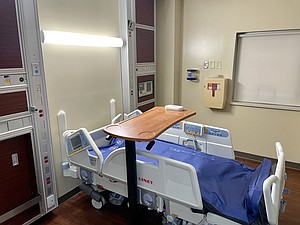 MCSA's first half of their ICU renovation project has state of the art units and medical equipment. (Marvin Richards/News-Times)
The first eight of 16 total new planned ICU rooms took about five months to complete, Thibodeaux said.
The total cost of the first half of the renovation is estimated around $1.4 million. The second half of the renovation project is expected to cost the same, making the total cost of the renovation project about $2.8 million. Eric Waller, executive director of engineering and supply chain of MCSA, said the second half of the project will begin in the next month or so.
"When this wraps up in a couple of weeks, we will transition some patients over here and we will do the same renovation on the other side," Waller explained.
The second half of the renovation will still be ICU, but more centered on the Cardiovascular Intensive Care Unit (CVICU) that provides care to critically ill patients with cardiac, thoracic and vascular surgical issues.
Waller also explained the significance of choosing McInnis Brothers Construction.
"One of the reasons we chose McInnis Brothers is because of their commitment to use local subcontractors," Waller said. "That was a big deal for us, to use local people and reinvest in the El Dorado community. They've held to that for the last couple of years on these projects, previous projects and future projects."
This renovation comes in the midst of the ongoing COVID-19 pandemic, a time where medical facilities like MCSA are continuing to treat critical patients while also tending to those affected by the pandemic. But this renovation has not forced the hospital to compromise care or turn patients away, Alexandria Bennett, MCSA executive director of business development, said.
"We still have 16 ICU beds. We never lost any beds. We didn't want to do that during COVID times," Bennett said. "So we created an ICU on our second floor to accommodate patients."
The new ICU unit has a lot of new bells and whistles, but also has a capability that is crucial to treating patients with infectious diseases and illnesses: negative pressure, or isolation, rooms that keep patients with infectious illnesses, or patients who are susceptible to infections from others, away from other patients, visitors and health care staff.
It is functions and technology like this that makes current and future renovation projects for MCSA important, according to Scott Street, CEO of MCSA.
"This year we are going to be investing a little over $10 million into this building for renovations and technology," Street said.
"In today's environment where some hospitals are in a serious financial situation because of the pandemic, we are investing and investing locally. It is important to do what we're doing so we can have the best quality care we can offer. These new renovations will make our ICU no different from what you would find in other major places like Little Rock or Shreveport, which puts us at that level," Street continued.
The hospital is also hoping to announce more exciting future plans for the medical center.
"We will be announcing some upcoming plans that will be happening in the next six months," Waller said. "We're not going to stop here; our goal is to move through the rest of the hospital over the next four to five years."