CADC food distribution postponed
Distribution of USDA (United States Department of Agriculture) commodities in Union County by the Central Arkansas Development Council (CADC) has been postponed, with make-up dates to be determined. Distribution was originally scheduled for Feb. 25 and 26.
Quorum Court meeting today
The Union County Quorum Court will meet today at 10 a.m. in the third-floor Quorum Court room at the county Courthouse.
Boil order still in effect for Strong
The Arkansas Department of Health issued a boil water order for Strong shortly before 11:30 a.m. Friday morning that was still in effect at press-time Saturday afternoon.
According to the ADH, a water main burst at Strong Waterworks, affecting the entire water system.
The United States Centers for Disease Control recommends using only bottled or boiled water for cooking, teeth brushing and watering pets. Tap water, even if it is filtered, should be boiled before use. Water from appliances, like ice or water from the refrigerator, should also be boiled before use.
According to the CDC, if bottled water isn't available, one should bring water to a full rolling boil for at least one minute, then allow it to cool before use.
One should also be careful not to swallow water if bathing under a boil advisory. The CDC recommends giving children sponge baths to reduce the chances of their swallowing water.
If a dishwasher reaches a final rinse temperature of at least 150 degrees Fahrenheit, or if it has a sanitizing cycle, it should be safe to use, according to the CDC.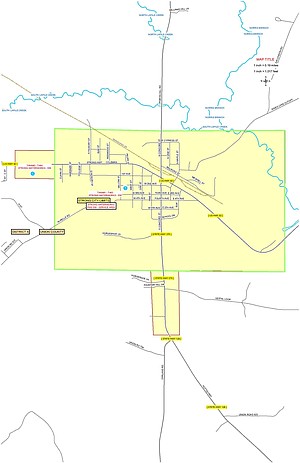 The area encompassed by Strong Water Works, according to a map provided by the Arkansas Department of Health. According to the boil order issued on February 19, a main break has caused the order to be issued for the entire system. (Courtesy ADH)