Dubach, Louisiana was named the "Dogtrot Capital of the World" by the Louisiana State Legislature in 1990.
"Dogtrot" refers to the most common traditional house type of the early north Louisiana hill country.
Dubach has a population just under 1,000, and with the lack of a true downtown, if you drive through too fast you may miss the small town altogether.
Though small, Dubach was the early stomping ground for one of El Dorado's mighty and consequential leaders, John R. Dykes.
In 1897, Dykes established the first African-American school on North Columbia Street. But before laying the groundwork for local Black people to have access to an education, Dykes had his own unique story of attaining the most basic education, one most would take for granted today.
On an old family portrait of John R. Dykes, inscribed at the top is his birth date, May of 1875. A lot of what we know of his earliest years come from an oral history that was told by Mabel Moore Dykes, his second wife. The Dykes' family doesn't know the name of John's first wife, but according to a 1920 U.S. Census, a John R. Dykes of El Dorado was married to Mollie Thomas Dykes.
Mabel's oral history has been passed down through the years to Dykes' children and grandchildren, a tradition common in the African-American community. Carolyn Dykes, granddaughter of John and Mabel said growing up, she and her siblings would always hear people refer to their grandfather as 'Professor' and would inquire from their grandmother why.
Mabel Moore Dykes would herself call him "Fess," and, according to Carolyn, would never hesitate to share the life story of John to her and her siblings.
According to the late Mabel Moore Dykes, John R. Dykes was born in Dubach, or what it was known as at the time of his birth: Lincoln Parish, Louisiana. He was born 12 years after the Emancipation Proclamation, on what Mrs. Dykes referred to as a plantation. But according to Dr. Susan Roach, Director School of Literature and Language at Louisiana Tech University, who has done extensive research into 19th-century north Louisiana, it is more than likely that Mr. Dykes was born on a Yeoman small farm, as small farms with the dogtrot style house were more common in North Louisiana at that time than plantation style homes.
John R. Dykes expressed to Mabel his love for learning and knowledge in a lot of their early conversation, hence his nickname, "Professor." It was this thirst for knowledge that got him off to a precarious start.
According to Mabel's oral history, Dykes' father hired him out to one of the local white farmers for $10 per growing season. The money was supposed to go to John's father, but he had other plans.
John would give the money to the farmer's son so in exchange for teaching him how to read. The farmer's son and John agreed to the plan, and this arrangement went on for two years. Besides reading and learning together, the pair would also play games together, like marbles, according to the late Mabel Moore Dykes.
One day, the two young men fought over a game and disagreed about who won. John was asked to leave by the farmer, so he packed all of his belongings and started walking.
By combing through the 1930 U.S. Census, it is confirmed that Mr. Dykes was born in Louisiana, but records of his parents' names or the particular farm he worked on are not readily available, or may not exist. The 1880 U.S. Census was also inquired for details on John R. Dykes but to no avail.
One of the more historical farms and well known dogtrot homes in Lincoln Parish at the time belonged to Absalom Autrey; it was better known as the Autrey House and is now a historical museum currently going through restoration.
According to professor Roach, it is possible that John R. Dykes was born and worked at the Autrey House. It is known and well documented that the Autrey family had African-Americans serve them before and after the Civil War. In the family cemetery that is behind the Autrey House are unmarked graves of some of those African-Americans.
"The woman (Black) who worked on the Autrey farm was named Matilda (no known last name) and her three children were Jack age 7, Bright 7, and Mary, 4 in 1851. I suppose one of those children could be a parent of John Dykes," Dr. Roach said.
Without the record of John R. Dykes parents' names, that hunch cannot be confirmed. Current Dykes' family members also say they don't know the names of John's parents.
After being asked to leave the farm he worked on, John Dykes walked and walked until he ended up in El Dorado.
By this time, one can estimate John is around the age of 17 and the year is either 1891 or 1892. Dubach is 43 miles away from El Dorado. By car, it would take approximately 47 minutes to get from Dubach to El Dorado. According to Google maps, to walk from Dubach to El Dorado would take 15 and half hours, with modern day sidewalks, roads, pathways, etc.
One can imagine that depending on the time of year that Dykes took this journey and lack of modern day roads and clearances, the conditions were probably harsh and taxing.
Once in El Dorado, John's next task was to continue pursuing his education. He was able to enroll into Branch Normal College, later known as Arkansas Agricultural, Mechanical and Normal College (AM&N) and now known as the University of Arkansas at Pine Bluff (UAPB).
At that time, the school's mission was to educate Black students to become teachers for Arkansas' Black schools, according to UAPB's website. The institution would also be headed by Isaac Fisher, who is described by UAPB as a "disciple of" historical Black author and educator Booker T. Washington.
John Martin, UAPB Museum archivist, was able to find an old document that lists a lot of the institution's early graduates.
According to that alumnus document, John R. Dykes was an alum of Branch Normal College with a degree in "Licentiate of Instruction" by 1894 and a working teacher in El Dorado, living up to the school's original mission.
After some years of being a teacher, Dykes took his own money and bought a lot of the materials needed to build El Dorado's first Black school in 1897.
By 1908, the school was officially recognized as the Washington Institute. The Washington Institute or high school was originally a one room building that later expanded to three rooms. Dykes named his school after Booker T. Washington because of his prolific authority in education and advocating for the advancement of Blacks.
Washington and Dykes, as previously mentioned, have mutual ties to Branch Normal College.
In 1923, John R. Dykes married Mabel Moore. Together they would birth two sons, Joe Harrison Dykes and John R. Dykes, Jr. Those two sons would go on to provide a host of grandchildren for the Dykes family.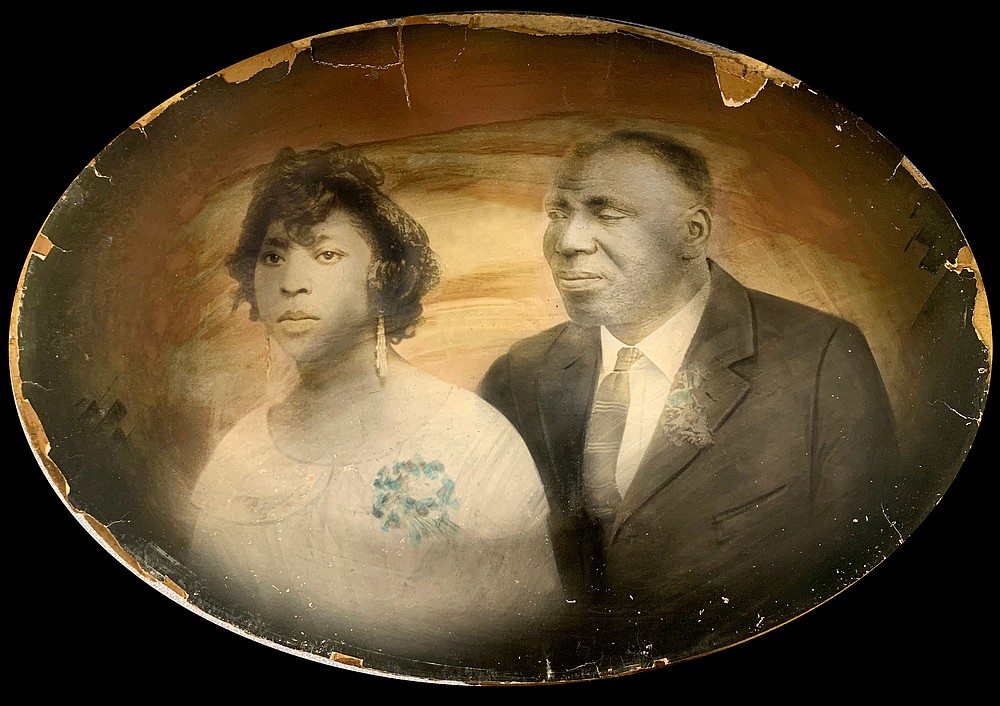 An old family portrait of Mable Moore Dykes and John R. Dykes. The couple was married in 1923. (Contributed)
The first class of students at Washington High enrolled in 1922-23 and John Dykes was the first principal.
In 1927, the school graduated its first two students, Jethro Lyons and Sue Emma Allen, who would eventually return to her alma mater and teach, according to a Washington High School historical document that can be found in the Nile & Marzell Smith Museum of African American History.
By 1929, Washington High School became the central high school for African-Americans in El Dorado. After years of service and educating local African-American students, John R. Dykes died in 1939.
In 1949, the El Dorado School District built a new Washington High School at 601 Martin Luther King Boulevard; the site is now home of the ESD's Washington Middle School.
The school was a segregated Black high school until 1969, despite the 1954 Supreme Court ruling in the Brown v. Board of Education, desegregating schools. El Dorado instituted a "freedom of choice" desegregation plan, allowing students and families to choose what schools they wanted to attend until 1969, according to El Dorado's 2020 Historic Preservation Plan.
In the almost 200 page preservation plan document, the city details a lot of history specific to El Dorado and how it will preserve a lot of local history, buildings and sites. The document details the impact of John R. Dykes in the community and encourages preservation officials to move forward with commemorations like an African-American interpretive signage program that will be placed at significant and historical sites that pertain to El Dorado Black history. The signs would have historical facts and information pertinent to the location.
One of those locations listed for future signage is the Nile & Marzell Smith Museum of African American History, housed in the former Carver Building and original site of Dykes' 1897 school.
In the museum, there is myriad Washington High memorabilia: uniforms, letterman jackets, pennant flags.
There is also a portrait of the late John R. Dykes, and in a Washington High School historical pamphlet that sits on a table not too far from his portrait, a dedication to Dykes from a 1952 edition of the school's yearbook, The Hornet, written by Leamon Cheatham.
It reads as follows:
"Although little has even been written about this illustrious scholar and his achievements, his equal as a historian and educator has seldom been found. Not only did he sacrifice his ability and time, but also his money to establish a sound educational program."
With this article and the future plans the City of El Dorado has to commemorate figures like John R. Dykes, his story and others' can be more fleshed out and shared with future generations.
Editor's note: Special thanks to Diane Alderson, Carolyn Dykes, the Dykes family, Robert Reynolds and the SouthArk Library for their assistance.
Editor's note: This story has been updated to reflect John R. Dykes' course of study at Branch Normal College. The News-Times originally reported that Dykes studied Language in Italian based on information provided by a UAPB representative."