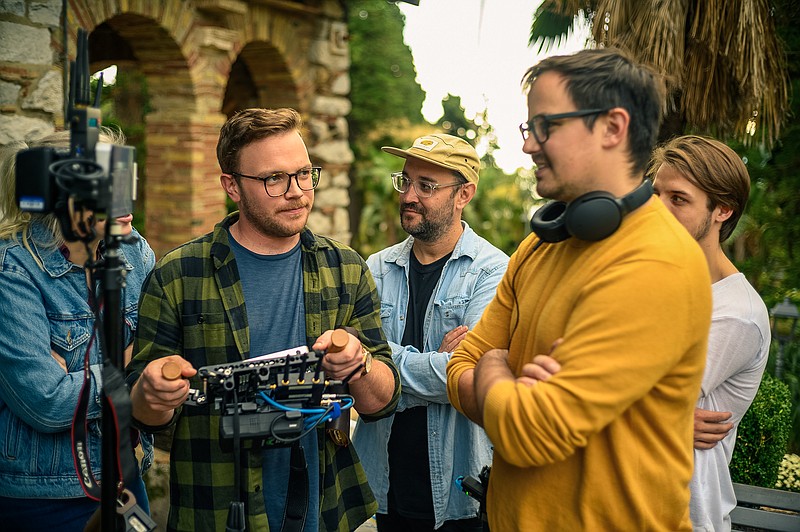 Molto Bella was filmed in Taormina, Sicily in late 2019. Pictured left to right are Andrea von Kampen (behind monitor), Paul Petersen, Joel Froome, Alexander Jeffery and Kenny Burns. (Contributed)
Whatever the conditions in the world at large, whether hurricanes, rapidly changing tastes or pandemic, a filmmaker will always seek an audience, and vice versa.
The COVID-19 pandemic has managed to change everything surrounding film more than the works themselves, altering production and methods of release and viewing. Streaming, already a dominant force, has suddenly become the defacto avenue even for new films.
Local filmmaker Alexander Jeffery, an El Dorado native by way of Canada, narrowly avoided the most disruptive effects of COVID-19 during the production of his new film, Molto Bella.
Jeffery first became interested in film making during his time at El Dorado High School.
"I got into drama with Ms. Gates in high school here, that and Star Wars helped develop my interest in film making," Jeffery said.
He went on to attend the University of Nebraska and studied film. Since then, Jeffery has been active as a filmmaker, producing a bevy of shorts and one other feature preceding Molto Bella.
He is also an executive director for the El Dorado Film Festival.
"My friend Laura Barrow took [the film festival project] on, and brought me in to help. I think I came in during the 3rd or 4th year. We've brought filmmakers in from all over the world, but it's a homegrown event. We focus on hospitality and the relationship between filmmakers and the audience, and I know of films that have been made because of contacts that have been made there," Jeffery said.
Molto Bella, a "non-love love story," according to Jeffery, was filmed in Sicily late last year.
"We finished filming in November right before COVID-19 hit in Italy. We had no idea what was coming," Jeffery said.
Pandemic-related issues arose in post-production and, with film festivals canceling or moving to digital-only production, Jeffery began to wonder how the film would end up in front of an audience.
The crew and cast completed a series of needed pickup shots in Shreveport and Jeffery soon turned his focus to finding a festival or other venue to screen the film.
"We were trying to find a home for the film, and most of the delays came in the back half of making the movie. When I heard that [South by Southwest in Austin, Texas] was canceled, that's when I was like, 'oh my gosh, this is crazy,'" Jeffery said.
That home was eventually found, as Molto Bella was recently announced as a narrative feature at the Indianapolis, Indiana-based Heartland International Film Festival.
Jeffery said that having a film accepted at that festival was a longtime goal.
"It's a really cool festival that I've been trying to get into for a long time… They tend to show films filled with heart and feel-good movies, so it is a great fit and felt like a no-brainer to submit there," Jeffery said.
Molto Bella was filmed in Sicily, and Italy in general was a location that was present in even the early versions of a script Jeffery worked on for years.
In 2013, Jeffery took a trip to Sweden to assist a friend in the production of a film. This trip gave him an inspirational taste of international film making, and he began work on scripting a romance set in Italy.
"I worked on the script for years and could never get it where I wanted it. After several years I figured out what I wanted the film to be and what I wanted it to say," Jeffery said.
The specific location of Taormina, Sicily, was suggested by El Dorado-based architect Richard Wharton, who served as production designer for the film.
"I did research and scouted the area. It fit the film and made sense to do it there," Jeffery said.
Jeffery and the crew managed to bring a taste of El Dorado to Sicily during production, as locals Lance Garrett and Kenny Burns were involved in the production. Many of the investors who helped finance the film were locals as well, according to Jeffery.
Molto Bella is now set to debut at a digital-based Heartland Film Festival, a prospect the filmmaker said has its advantages.
"It's a virtual festival, so it's opened up to everybody. People can log on from their computer; if they buy a ticket, they can watch from anywhere. I'm super excited that it will have a broader audience," Jeffery said.
The Heartland International Film Festival is set for October 8-18 and tickets can be found here: https://heartlandfilm.org/festival/tickets/
As for Molto Bella, Jeffery said he believes it is "the perfect film for right now."
"One of the artistic directors of Heartland said it's the perfect cinematic response to this pandemic. You get to watch two people fall in love and look at the beautiful scenery, which is the best we can do since we can't travel right now. There's original music by Andrea Van Kampen, and it's a heartwarming, feel-good film," Jeffery concluded.
Sponsor Content
Comments