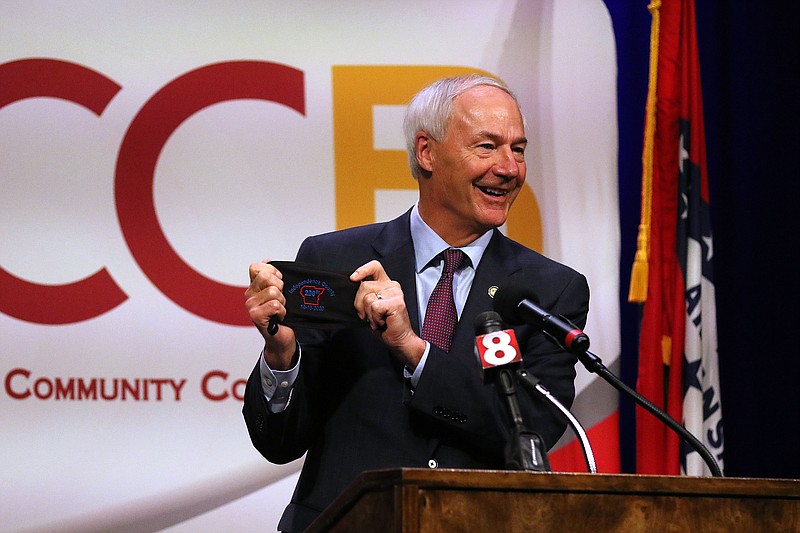 Gov. Asa Hutchinson shows off his mask of the day, which celebrates Independence County's bicentennial during the COVID-19 briefing on Wednesday, Sept. 16, at the University of Arkansas Community College Batesville. (Arkansas Democrat-Gazette/Thomas Metthe)
The ADH reported 16 new COVID-19 cases in Union County Wednesday, bringing the cumulative number of cases identified locally to 827. Of those, 814 were confirmed cases, determined by positive PCR COVID tests, up 10 from Tuesday; and 13 were probable cases, determined by positive antigen COVID tests, up six from Tuesday.
According to the United States Centers for Disease Control, PCR (polymerase chain reaction) tests are known to be more accurate, which is why positive results are considered "confirmed." Antigen tests currently available on the market have accuracy rates between 84% and 97% when given within five days of the onset of COVID symptoms; the lower accuracy is why positive results from antigen tests are considered "probable."
The CDC website says that negative antigen test results have a higher probability of being incorrect, and those who receive negative antigen test results should still follow quarantine or isolation protocols set in place by local health departments.
Five new COVID-related deaths were reported for Union County on Wednesday, a new one-day record in local deaths attributable to the virus. In all, 31 local residents have died as a result of the virus, indicating a local COVID mortality rate — the percentage of those who have contracted the virus and died as a result of it — of 3.7%.
There were 749 recoveries reported for Union County Wednesday, up 13 from Tuesday. All the new recoveries were in individuals with confirmed cases of the virus, of which 745 are considered recovered, while four people with probable cases of the virus are considered recovered.
The number of active cases in the county dropped Wednesday to 42, down nine from Tuesday; they represented 5.1% of the cumulative case total in the county. Most active cases — 42, down six from Tuesday — were in local residents with confirmed cases of the virus. There were four active probable cases locally on Wednesday, up one from Tuesday.
The number of test results that have returned from Union County to the ADH decreased Wednesday from their Tuesday levels; an ADH spokesperson said that a number of test results were removed from the state's COVID-19 dashboard Wednesday because they did not yet have county data.
In all, 8,523 COVID-19 test results have returned from Union County, including 7,696 negative results, indicating an overall local positivity rate of 9.7%.
The number of cases in Arkansas rose to a cumulative total of 72,219 Wednesday. There were 606 new confirmed cases, making 70,731 total confirmed cases in the state; and 256 probable cases were added to the state's total, making 1,488 total probable cases in Arkansas.
There were 65,147 Arkansans considered recovered from the virus Wednesday. The number of active cases in the state Wednesday was 5,911, representing 8.2% of the cumulative cases in the state. The total number of active cases Wednesday was made up of 5,572 confirmed cases and 339 probable cases.
The number of deaths attributable to COVID-19 in Arkansas rose considerably from their Tuesday levels due to deaths considered "probable" being added to the count. "Probable" deaths are in individuals who did not have "confirmed cases" of the virus, but for whom COVID is considered to be a contributing or the primary reason for their death.
In all, 1,157 Arkansans have died as a result of the virus, including 1,010 people with confirmed cases and 147 with probable cases. The state's COVID mortality rate was 1.6% Wednesday.
Governor Asa Hutchinson provided a COVID-19 update in Batesville Wednesday. While the updates will generally be held only weekly, Hutchinson said he had a prior commitment in Batesville on Wednesday; he said he spoke to local officials in Independence County, as well as local businesses, about how they're handling the pandemic while he was there.
Hutchinson addressed new COVID-19 projections made by the University of Arkansas for Medical Sciences (UAMS) that were published last week. UAMS' latest model includes short-, mid- and long-term projections, which predict the number of cases in two-weeks through the beginning of 2021.
"Much of the modeling is short-term projections as to where we're going to be a week from now, two weeks from now, but it's also some long-term projections," Hutchinson said.
The model UAMS released on Sept. 11 predicts that the state will be at about 80,000 cumulative cases by Sept. 21; about 121,000 cases by Oct. 31; and a peak on Dec. 23, when the state could have more than 80,000 active cases.
Hutchinson noted that the state has beaten previous predictions from UAMS in terms of case count, but encouraged Arkansans to remain vigilant in making efforts to stop the spread of the virus.
"Their June 19 model said that we would be having 18,000 new cases per day in the future, and we're not having that. So really, if you put it back in perspective, it shows some of the success we've had; but on the other side, they really give us a wake-up call as to the seriousness of COVID-19," Hutchinson said. "Their latest projection is that we could have an increase of 980 new deaths attributed to COVID-19 here in Arkansas, and whenever they make a projection like that, I think of lives lost, the seriousness of this disease and how we need to avoid the spread of the infections."
ADH Secretary Dr. Jose Romero said it is important for Arkansans to beat the projections now, before fall starts. COVID-19 cases are expected to increase with the colder weather, and the seasonal flu will also be spreading during the fall, which could impact hospital space.
"The model is predictive, and because it's predictive, it's not absolute," Romero said. "We have a chance, an opportunity, to change that number. We can drive it downward, and we can begin driving it downward today — through the masks, through the washing of our hands and through social distancing. If we don't drive it down starting now, we'll have to play catch up."
A flu vaccine clinic will be held in El Dorado, at the Union County Health Unit, on Sept. 22 from 8 a.m. to 4:30 p.m. ADH officials, including Romero and Dr. Jennifer Dillaha, the ADH's medical director for immunizations, have encouraged all Arkansans who don't have a medical reason not to to get this year's flu vaccination.
Hutchinson said 6,889 total test results, including both PCR and antigen, returned to the ADH between Tuesday and Wednesday, with 701 positive results in all, indicating a one-day positivity rate for the state of 10.2%. Since the state began testing for the virus, 853,549 results have returned to the ADH, including 781,096 negatives, indicating an overall positivity rate for the state of 8.5%.
At 4:45 Wednesday afternoon, Johns Hopkins University reported 6,621,523 COVID-19 cases in the U.S. Of those, 2,495,127 were considered recovered, leaving 3,989,911 cases — 60.3% — active nationwide. There had been 196,485 deaths attributable to the virus by Wednesday afternoon, indicating a national COVID mortality rate of 3%.
Johns Hopkins reported 29,684,258 COVID-19 cases worldwide Wednesday afternoon. Of those, 20,150,608 were considered recovered, leaving 8,596,315 cases — 29% — active around the world. There had been 937,335 deaths attributable to the virus by Wednesday afternoon, indicating a global COVID mortality rate of 3.2%.
Sponsor Content
Comments