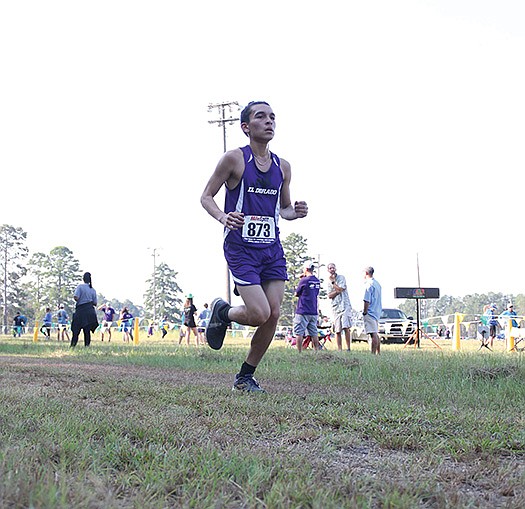 Siandhara Bonnet/News-Times El Dorado's Eloy Rodriguez runs during the 2019 Wildcat Invitational. El Dorado's cross country teams have a busy start to the 2020 season, which includes competing at the Tom Stuthard Stampede Tuesday at Acorn. The event is set to begin at 3:45 p.m.
El Dorado kicked off a very fluid cross country season on Saturday, sending teams to meets in Little Rock and Texarkana. The varsity and junior high teams will return to action today, traveling to Acorn for the Tom Stuthard Stampede.
The challenges of running a socially-distant cross country event have proven difficult so Coach John Koonce won't miss many opportunities to allow his athletes to compete.
"These athletes have worked hard this summer," he said. "I am thankful that the 2020 cross country season is here, and the kids are getting a chance to compete."
El Dorado could field its best varsity boys' team ever this season, led by senior Jadon Cunningham. The Wildcats return seven runners and move up another from junior high.
Cunningham, Eloy Rodriguez, Alvin Gonzalez, Christian Rivas, Christian Torres, Edwin Gonzalez, and Calvin Huang return. Hunter Nutt moves up from junior high.
"Jadon Cunningham has had a monster summer. He has been focused on getting to a new level this summer and the results are already showing," said Koonce. "He placed 10th in a field full of high-level athletes to start the season. Now the key will be continuing to improve through the grind of the season.
"Edwin Gonzalez has been our most improved athlete this summer. Last year he played a support role in our team score. This season he will be an integral part. Alvin Gonzalez has also started out the season strong. He was a late add last season and I expect for him to take a major jump this year."
The Lady Wildcats will return three girls from last year in Melanie Miller, Priya Dod and Eliza Brewster.
Athletes that are new to the program are Tori McDiarmid, Emily Huddleston, and Kaylyn Farris.
"Melanie has shown excellent team leadership qualities all summer long. This summer she has trained hard, recruited new girls into the program, and pushed her teammates to new levels," said Koonce. "Priya Dod will be our most improved returning athlete. She finished the summer off strong. Eliza Brewster continues to be a dedicated part of the team and works hard to improve.
"We lost Addy Taylor to injury. She finished last season but found out soon after that she had a stress fracture in her shin. She tried to work back into running this summer, but the injury returned. She is now a team manager. I hate that things didn't work out for her in regard to running, but I am very happy that she is staying on as a manager."
The junior girls' team will be led by Clarabeth Black, Carly Meadows, and newcomer Emma McGee.
"The returning athletes have improved, and the new 7th and 8th graders drastically improve our team," said Koonce. "We always finish the summer with a time trial. The junior girls team had eight athletes beat the best time that we had to finish the summer off last year. Black had the top time both years, but her time improved by four minutes from the beginning of last season."
The junior boys' team will be led by Jacob Neugebauer, Cooper Conner, Zach McMillon, Jay Reep, and Nic Harvey. All of these athletes are returning from last year's squad.
"Like the girls, there were five boys that beat the best time that we had from last year's time trial," said Koonce. "The returners have improved, and we have added four 7th grade boys that have high potential."
Sponsor Content
Comments